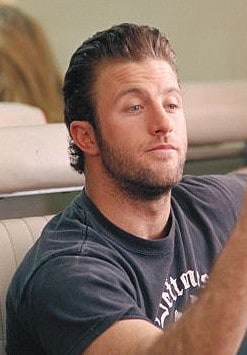 Template # NPC
 Portrayed by: Scott Caan
 Profession: TV News Cameraman
 Age: 32
 Gender: M
 Height/Weight: 6'4" / 220 lbs.
Hair/Eyes: Blonde / blue
 Nationality/Ethnicity: American
 Tattoos/Scars: Tribal tattoo around his right calf
 Clothing/Outfit: Khaki shorts, sneakers, gray t-shirt, L.A. Dodgers hat, equipment vest
Traits:
MBTI type: ESFP (Extroverted Sensing Feeling Prospector)
3 Strengths:
Exceptionally Strong - Nathan's a bit of a gym rat in the spare time that he has; gotta stay strong to keep that camera up and to run!
Social / Friendly - He can strike up a conversation with anyone if it means they'll go on camera and look good enough to have edited into the story.
Proud of his work - He's thorough, thoughtful, and incredibly particular about his work, refusing to leave a job undone or subpar.
3 Weaknesses
Loves to argue - He'd pick a fight with a rock if it looked at him funny.
Perfectionist - Sure, he's proud of his work, as mentioned, but if his work isn't exactly how he pictured it, it can really be hard for him. "Neurotic" can apply here.
Impatient - Nathan's looking to get things done fast. He isn't big on waiting.
Personality:
 Fears:
Not having a backup battery, losing a simple argument, people who bring up deep philosophy, spiders
 Aspirations:
Having a family, moving to Hawaii
 Dominant Emotion:
Happy-go-lucky
 Demeanor:
Nathan is a big guy with a big personality. He's a California kid who grew up worshipping the beach and loves to surf. He loves to joke around and have a good time. For as much as he's an easygoing guy, however, he's also been in an L.A. newsroom for about ten years and loves to argue. He's a self-professed sports and movie junkie. He also loves women and loves to flirt. He tends to live in the moment and thinks practically, but sometimes doesn't think about long-term consequences to actions he might take. Most people who encounter Nathan find him fun, friendly, and dynamic; the few people that Nathan decides to obnoxiously antagonize or who do actually cross him somehow, well, don't.
 Quirks/Oddities:
A little obnoxious at times, can list off random facts about movies and sports at the drop of a hat, feels absolutely down on life if he doesn't make it out to surf at least once per week
 Skills/Proficiencies:
Exceptionally strong, social, physically fit, good eye
Equipment:
 Khaki vest with lots of pockets, filled with gear
 Straps a massive camera tripod on his back
 A metal Louisville Slugger
 A large camping backpack with includes a water filter and a small camp stove
History:
Born in the Central Valley of California; his parents moved the family to the central coast when Nathan was 4
Nathan took at surfing and skateboarding at 10
At 13, Nathan breaks his tailbone and his mother forbids him from skating for six months; to remain involved with his buddies, he offers to film their skating escapades; when his mother found out, she and his father reviewed the footage and were pretty impressed
That summer, Nathan goes to a month-long videography camp and is instantly hooked
At 18, Nathan goes to college for videography
At 22, Nathan graduates, moves to L.A., and gets a job in a newsroom doing sports video
At 28, Nathan is promoted to Assistant Director of Photography and starts to do more news photography
At 30, Nathan is frustrated by all the routine work and responsibility that he asks to go back to being a regular photography, but to add more hard news to his repertoire and not just sports, as he's discovered that he loves real news and that filming it can really be a heck of an intense experience