---
---
---
---
▪︎ Name ▪︎
Galina Viktorovna Sokolov
⎡ Гали́на Викторовна Соколов ⎦

▪︎ Nicknames ▪︎
Gal, Soko

▪︎ Specialty ▪︎
Stealth

▪︎ Gender ▪︎
Female

▪︎ Age ▪︎
30

▪︎ Sexuality ▪︎
Heterosexual

▪︎ Birth Date ▪︎
December 19th

▪︎ Origin ▪︎
New York, NY

▪︎ Hex code ▪︎
#E3662B

▪︎ Faceclaim ▪︎
Cintia Dicker
---
---
"See something you like huh?"
---
---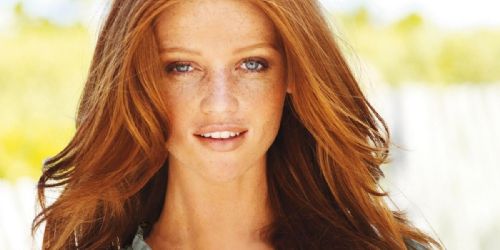 ▪︎ Physical Appearance ▪︎
At first glance, Gala seems physically unassuming and unthreatening. She stands at only 5'2" and weighs about 120 lb. Gala's stature is small and compact, and she sports a doe-eyed face of freckles; however, her body is pure, defined, lean muscle. This is to be expected from her 10+ years of rigorous, combat-style training and her strict, self-restricting diet. At baseline, Gala's skin has a slight olive undertone and her body is covered in freckles. During the long Moscow winters, her skin would pale considerably, but would always bounce back to baseline at the sight of the spring sun. Gala wears barely any makeup unless she is playing a certain role for an operation. She generally keeps her bright, copper hair in a ponytail when she is doing any physical activity and keeps it down for every other occasion.
▪︎ Attire ▪︎
Most of Gala's clothing is tight, formfitting, and made out of breathable material. She prefers leggings and a tank top to most other clothing. If she cannot be barefoot, then Gala will wear tall boots or sneakers. When she is just lazing about, Gala enjoys a nice, big, fluffy sweater that she can sink into. She owns approximately three dresses and one pair of heels -worn exactly once. She does not like the feeling of not having her feet close to the ground. One thing about Gala is that she has no shame, and she has some trouble with reading social situations. So, it is not uncommon for her to answer her door in her underwear or change her clothing in front of people, not realizing that it might make people uncomfortable.
▪︎ Hair Color ▪︎
Copper
▪︎ Eye Color ▪︎
Blue
▪︎ Height ▪︎
5'2
▪︎ Weight ▪︎
120 lbs
▪︎ Accessories ▪︎
Gala usually sports several small weapons on her body. She always keeps her family's signature pocket knife on her at all times -usually strapped to her leg or arm, or in her waistband. The knife is steel and has a brass base with a falcon -her family's symbol- carved into it. While the knife -'Nozh' in Russian- is Gala's favorite weapon, she also enjoys her lightweight brass knuckles that can expand with the push of a button to cover her entire hand. Aside from weaponry, the only sentimental thing that Gala keeps is a simple gold chain with her
mother's wedding band
.
▪︎ Body Markings ▪︎
Gala has many small scars on her body from her years of brutal training. The most prominent of these scars is one that runs from her left breast diagonally to her right hip from when she was held hostage as a teenager by one of her family's enemies. She sports a medium-sized tattoo of a
perched falcon
between her shoulder blades. Gala also has both her ears pierced, three times each.
---
---
"People talk, but I don't think theres anything wrong with me."
---
---
▪︎ Personality ▪︎
To put it simply, Gala is a bit of a crazy woman. Being pretty isolated from everyone but Russian mobsters for a good portion of her life means that Gala has a hard time reading and reacting properly to emotions. She likes to mess around with people and play tricks on them even when told not to. Gala can often times be caught laughing in inappropriate situations or getting angry when the emotion is unwarranted. Gala understands emotions and can read them fairly well; however, she simply has difficulty understanding the proper way to handle emotions. That being said, she has a great capacity to learn and, although she is far from mastering human emotions, Gala is trying her best to learn. She is cutting back on inappropriate gestures -i.e. slapping people's asses and calling them names- and she is attempting to gain something of a filter on her mouth.

Growing up with four older brothers and a strict Russian father can make for a pretty interesting personality. Gala sees everything she does as a competition and she hates losing those competitions. The constant torment from her brothers left her with a thick skin and a high pain tolerance. Her family life also left little room for any shame. Gala is the epitome of confidence -sometimes unwarranted confidence- and resilience. She does not back down from a fight -even when she sometimes should- and she rarely questions her own abilities or thoughts. If Gala has something to say or something to ask, she does not hesitate to say it.

One of Gala's greatest strengths and downfalls is her loyalty. This is mostly a good trait as she is probably one of the most reliable people you will meet; however, this also means that while she currently works under the government, she will never reveal any of the information she has on Russian-American organized crime. Even though she knows that the Russian mafia has been involved in some cruel, horrifying crimes, Gala refuses to be a snitch. Loyalty aside, Gala trusts very few people. She was taught this by her father and it is one lesson that has stuck with her throughout her lifetime.

▪︎ Likes ▪︎
▸ Alcohol
▸ Expensive things
▸ Driving
▸ Tricks
▸ Learning new skills
▸ Animals -especially cats
▸ Fresh air
▸ Flowers

▪︎ Dislikes ▪︎
▸ Taking pictures
▸ Rules
▸ Change
▸ Emotional people
▸ Children
▸ Snow
▸ Losing

▪︎ Strengths ▪︎
▸ Agility & speed
▸ Flexibility
▸ Hand-to-hand combat
▸ Knives
▸ Language proficiency

▪︎ Weaknesses ▪︎
▸ Aim
▸ Others' emotions
▸ New technology
▸ Kleptomaniac

▪︎ Specialty Description ▪︎
Stealth is Gala's speciality and always has been. At baseline, Gala moves without sound and can sneak up on even the most cautious person. Her silence also causes her to have a somewhat heightened sense of hearing and touch. Gala is also extremely flexible and can bend and fit her body into strange positions. This is beneficial when hiding in tight spaces or bending her way around security.

▪︎ Habits ▪︎
▸ Fidgeting
▸ Cracking fingers/neck
▸ Napping in odd places
---
---
"My past shaped me in more ways than one."
---
---
▪︎ History ▪︎
Gala was born to Viktor Sokolov, a prominent Russian mafia spy and his gorgeous wife, Sofia Sokolov, during one of the coldest winters Moscow had seen in over a century. Her four brothers, Alexei, Georgy, Yuri and Vik were 3, 5, 8, and 11 respectively at the time. Being close to the mafia boss meant that Gala's father made a sizable profit from organized crime and was able to give the family a good, comfortable life. They received private school educations and lived in a comfortably-sized family house on a large plot of land.

Despite their wealth, Gala's father had grown up in near complete poverty, and he made sure that his children never forgot how lucky they were. They were made to get good grades, were expected to be fluent in at least three languages -Russian, English, and a language of their choice- and they were expected to start working a part-time job as soon as they turned 15. They were never given anything that they did not earn. The Sokolov children were expected to start training under their father the day after their tenth birthday. It did not matter that Gala was a girl or that she always seemed to be a full foot shorter and weighed at least 90 pounds less than her brothers; she was trained in the exact same manner as they were. The only difference in their training was that Gala was not allowed to train alongside her brothers until she was 13 whereas her brothers began training with each other as soon as they turned 10 -there was a slight fear that one of them might accidentally snap her in half. Gala's father trained them in combat and operative training which included, but was not limited to, hand-to-hand combat, various forms of weaponry, and intelligence gathering. They were allowed limited access to technology and the outside world -for their parents fear of exposure- which stunted all five of them socially, but caused a tight bond to be formed between siblings. Overall, the Sokolovs were a strict, isolated family, but they always found joy in each other; whether it was playing soccer during the summer days, or having their father tell them ghost stories on cold winter nights, the family took comfort in their isolation. As she turned from child to teen, Gala began to grow in strength and beauty. She found her strength in stealth and agility, and she began to give her older, stronger brothers a run for their money. She found that she was fast and light on her feet and could easily trip up her hulking brothers, and sometimes her father as well. Gala's father loved them each equally; however, his daughter seemed to be his pride and joy. Where he knew that the boys would all grow to be prominent men in the Russian mafia, Viktor imagined more for his beautiful, little girl. He cherished her more than anything, and everyone who knew him knew that.

When Gala was 18, she was walking home from school when she was surrounded by a group of men which she immediately recognized as men from a revolting mafia family under her father's command. She was overpowered and was brought to an unknown, isolated location where she was held in a small concrete cell. Her captives tortured her for information about her family and their business dealings -information which she neither had nor would have disclosed if she had. Every other day, a photograph was taken and sent to Gala's father. To this day, Gala does not know what they wanted from him, but she assumes that he never gave it to them. After three weeks of seclusion and torture, a small army of her father's men finally raided the compound and Gala was taken back to her family. It took months for Gala to recover physically, and it is questionable whether she ever fully recovered mentally. Although her father wanted to treat his children equally, he could not allow anyone to get to his little girl again; so, a year after Gala's kidnapping, he paid a large sum of money to send Gala and her brothers, Alexei and Yuri, to New York City to live with the promised protection of a well-known American sector of the Russian mafia.

Gala and her brothers remained as lower operatives of the Russian-American mafia. Yuri married and currently lives in Brooklyn with his wife and two children. Alexei has also recently married and lives only ten blocks from Gala. They keep in close touch with each other and with their family back in Moscow -as per request of their mother and father. Gala found trouble finding work outside of the mafia, so when the Ward was created and she was asked to be part of it, she was hesitant -as she does not trust the government; however, she joined when she was promised immunity for her and her family's involvement in the mafia. Despite the fact that the government essentially had a stronghold on her, Gala enjoyed her time with the Ward. She felt a purpose within it and some security in the people she met. When it was shut down, Gala went back to being an operative for the mafia and lost most contact with the other members of the Ward. She was excellent at her job and was offered several rank promotions within the mafia -always declining per her father's wishes. She made an alright life for herself, but she missed the excitement that the Ward offered. So, when the letter came that the Ward was being brought back together, Gala felt an odd sense of relief that she would be able to get some release from her boring life as a Russian mafia operative.