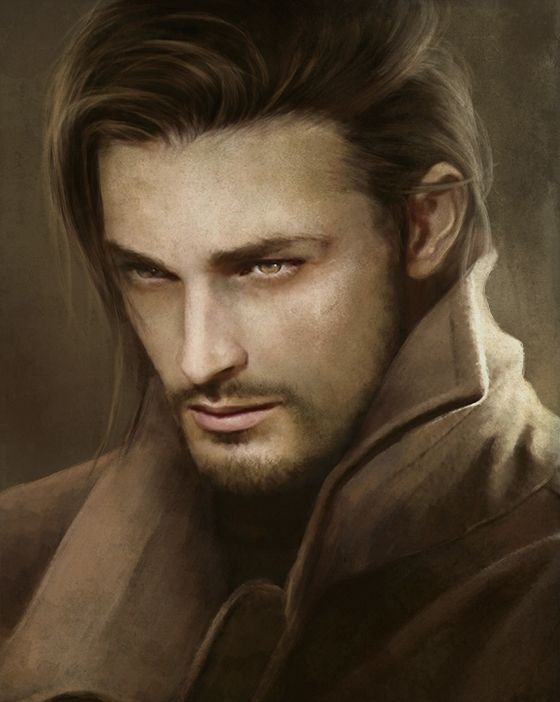 -Name: Alder Sinclair
-Age: 22
- Social Title: Prince of Baldaria, Commander of the Baldarian army.
-Description: Alder is a tall man, towering at 6'2 and weighing in at around 180 pounds. His body is well built from his dedication of training, giving him a statuesque like body that is both beautiful and strong. His hair is an ebony black which reaches down just a bit below his shoulders in a tied up ponytail and is complemented with a close stubble beard.
Alder also has a few scars as a result of wounds from battle. Surprisingly they are not as visible as one would expect due to his background.
-Personality: Alder may be a fierce warrior but he is not a brute despite what many think about Balderians. Alder is a benevolent and considerate man who would lend aid to most people in need regardless of their social status. But do not mistake his kindness for weakness, Alder is no fool and does not take kindly to being taken advantage of his kindness.
Alder also possess a calm and level head which in itself is a great strength he is noted for. When necessary he can become cool, almost detached in personality and appearance. This detachment is his way of remaining calm and clear of mind by suppressing all emotions. This does not mean he completely stops feeling emotion, more like it is his way of insuring does not greatly influence him. Alder takes his role as the Commander of the Baldaria military seriously, but he does not see himself above his own troops.He has no qualms about enjoying merriment with his troops or anyone for that matter. Alder treats his soldiers as equals and does not ask his troops to do something he wouldn't do himself. He has no qualms about enjoying merriment with his troops or anyone for that matter and has made several friends and allies among the ranks. Perhaps his more hands on approach and desire to connect with bis soldiers puts Alder in high regards with the soldiers.
Alder does not care for fame or fortune and does not boast about himself outside of playing. Alder simply states the true facts and lets others believe what they wish about him. This can be a bit of a double edge word as his forward bluntness can sometimes be seen as callousness. Combined with his level headedness means he is not easily provoked by words, no matter if they are the truth or a lie. But threats to those he cares about are an easy way to get some reaction out of him, usually a threat returned in kind. But if someone should try carry out said threat they would find a beast they should not have provoked.
Intelligence is a virtue Alder holds in high regard and believes one never stops learning no matter hold skilled they are. Alder uses his mind first to solves most problems before resorting to physical confrontation. This mindset combined with his knowledges makes him a dangerous tactician to deal with on a battlefield, in a duel or anything where conflict arises. But Alder is a cautious man who prefers to use his intelligence in all aspects, not just combat. At first he can come off as cold and distant to new people but once you get to know him outside of meetings he is quite pleasant to deal with. Though it may take a bit of time for him to warm up to strangers, much less trust them. Nevertheless he is a lover at heart and friends, family and lovers all feel the warmth of his love which he gives freely and asks only for love and loyalty in return.
Likes
- Learning
- Sparring/training
- Reading
- His family
- Sweets
-Dislikes
- Killing needlessly
- People threatening his people or family
- His "Brother"
- Disloyalty
- Infidelity
Skills:
Battlemaster: Alder is a trained fighter and has trained for years in a variety of weapons and combat styles. He is a practitioner of the Sen-Do principles. While he has not a master of every combat art what he has learned gives him a diversity which makes him a versatile and dangerous fighter.
Inquisitive mind: Knowledge is power and Alder this is a core tent he holds true to. Alder holds a high regard for knowledge and sees it as a key component in his life. Alder has a natural talent for learning a new subject. It does not mean everything he tries to learn is easy, just easier than it would be for others. If given enough time he will research all he can upon a subject to better prepare himself for any challenges.
Healer: Before they died Alder was taught various healing techniques from his parents. Since their death Alder has pursued a broader education in the subject of healing as his counterbalance. While not a master healer like his parents were, his knowledge in the field is broad and allows him to keep pace with other healers in intellect and capability. Alder has also retained the knowledge of secret medical remedies and techniques only is parents knew.
Horse Rider: Alder is among the fastest and skilled horsemen in Balderia. His skill in horsemanship is among the most elite riders and is able to command a steed to the highest degree of skill. His ability to fight from horseback with a variety of weapons is also impressive.
Possessions:
- Family rings: Alder keeps in his possession his dead parents wedding rings. He entrusts their care to very few and only with those he trusts implicitly.
- Commanders Mantle: As the commander of the Baldaria Army, Alder wears a brooch as a symbol of his authority. The brooch is made of pure silver and is designed in the image of a fire breathing dragon.
- Awards: Alder did not reach his position simply from being of royal blood. While he could have ridden his way to the top on his association alone he chose to work hard from the very bottom of command. As such he has earned several awards for his service to his country.
- Isento Amulets and literature: Alder is a strong follower of the Isento belief common in Baldaria. As such he has retained copies of the texts in his possession since he converted. He has also collected Isento Amulets since he was but twelve years old, a tribute to his dedication the the spirits and their teachings.
- The Raven Way: Equal in importance to he Isento text, the Raven way is a book of morals which set the basis for Baldarian culture and law. Alder like many others keeps a copy with him wherever he goes and follows it as devotedly as he would the teachings of Isento.
- Healers Cache: As a practitioner of the medical arts, Alder has his own personal set of medical and healing supplies which he keeps on his person most of the time. Aside from supplies needed to practice his side craft it also includes two medical journals left to Alder by his parents, which he protects fiercely and trusts few with their care.
Pets:
Alder owns two female horses of which he has had for a few years. The first is pure white horse with a named Celestia. The other is named Luna who has a black like coat and mane that for some reason appears to be blueish but this is dismissed as a trick of the eye. They have been his faithful steeds for years.
-History: Alder's history is surprisingly not what one would expect of the warrior prince. Alder was born to a common trade family in the lands of Dala. Alder parents were healers who moved from city to city lending their aid to whomever needed it. Life was filled with constant moving for the family of three but they were none the less happy simply for having each other. But one day Alder parents took upon a mission of mercy which would end horribly. Upon their travels they stumbled into the middle a warzone in the lands of Balderia between the Baldaria Eighth Legion and a Handar army. Being healers Alders parents did not hesitate to set up a field hospital nearby to aid in helping the wounded on both sides, despite the dangers from the nearby battlefield. No one knows who gave the order but the Handarians attacked the field hospital, rescuing their own, killing any and all Balderian's and anyone who tried to stop them. Among those who tried to stop them were Alder's parents, who were cut down without mercy. Alder could only watch helplessly as they were cut down and as he tried to wake his parents he too would have joined them in the beyond had the Balderian's, who had received news of the raid, not arrived in time to save him from the massacre. Orphaned and alone, Alder stayed in the Balderian camp as the battle raged, hardly speaking to anyone and only eating just enough to dull the pain.
Three days after the attack on the field hospital, the battle was over with the Balderian's claiming victory. This did little to comfort Alder who continued to reside with the Balderian's, suffering in his grief while others celebrated victory in a battle which claimed his parents. It did not take long for the Baldarian king to come to the field to congratulate the commander, his son Veloran, for his victory over the Handarians. But as he conducted his inspection he found young Alder, still grieving for his family. Though the prince was dismissive of him the king took an interest in young Alder and had him sent to his personal tent. Alder was given a decent meal and treated well by the king who tried to extract what was wrong with Alder. It took time but somehow he managed to coax Alder into telling him why he was there and of the death of his parents. The king was moved by this orphan's plight and upon his departure, took Alder with him back to Balderia.
Alder found the capital of Balderia, Azmir, a wondrous sight and though it did not completely distract him from his pain, it did compelled to investigate this new land. This was what the king hoped would happen and encouraged it, hoping to start a recovery of some sort in the boy. Soon Alder met the queen who was both taken by the young boy and sympathetic to his plight. The king arranged for Alder to stay with the royal family as a guest and gave him all the comforts the family enjoyed. Alder soon met the princess and only other child of the king and queen; Haraya, who much like her mother was taken by and sympathetic to the boy. Both queen and princess practically adopted Alder and doted on him like one of their own. The king also found spare time to spend with Alder, making him feel comfortable with his new environment and helping him recover from the loss of his family.
Prince Veloran however did not follow in line with his family and saw Alder as an intruder. An outsider who did not deserve the luxury treatment he was being given. Practically cold to Alder, Veloran dismissed the young boy as a nuisance who would soon be pawned off to some common family. Much to his horror however, his father did the complete opposite. The king had come to grow fond of Alder for everything about him, from his kind and friendly personality to his unique gifts and drive to learn. As such he announced first to his family and then publically his adoption of Alder into the royal family. Valoran was furious with the king's decision and did not hesitate to show it, something that brought the two men to a verbal conflict for the first time in years. Though the queen and princess were quite crossed with Veloran, Alder was both happy to be adopted by the family but sad Veloran despised him so deeply. Veloran was not the only one to feel this way, as the people of Balderia were also weary of this outsider becoming a prince of their land and vehemently protested. The joy Alder felt quickly vanished at news of the people's discontent and it was only the knowledge Alder would not inherit the throne that stopped the masses from rebelling.
This did not affect his relationship with his new family, with one exception, as Alder was officially adopted by the royal family and thus began the road to a new life. Being a royal did not affect Alder's personality much and thus he remained mostly the same person. His orgins as a commoner kept him humble about his position and only once in his life did he ever have a moment of arogance. Over the years he was given a broad education on many subjects and drilled heavily in combat. Though many trials and tribulations stood in his way he fought hard to prove that despite not being born of the land or bloodline, he was just as Balderian as any blood born. That even if his blood was not of this land, his spirt would forever be so. His determination and will was rewarded over time as most of the discontent towards him changed to admiration and loyalty. Though some still remains to this day the people, through his dedication to them and Baldaria, love Alder as their prince. Though he had his moments of grace and scorn with his family Alder loves them as if they are his own, but he will never forget his blood parents and continues to honor their memory by continuing their mission in his own way. Growing up however, Alder and prince Veloran did not get along. At first Alder tried to form a bond between them but over time the abuse and hate from Veloran turned Alder's relationship with him to a cold and detached one. Make no mistake, he loves his family and would never lay a hand on Veloran unless his "brother" made the mistake of doing so first. Things between them became even more heated when Alder through his dedication began to threaten Veloran's position.
Alder showed over time he was just as fierce, effective and tactical a warrior as Veloran if not better. Though Alder did not boast about it the gossip spread and Veloran was greatly angered at this. After returning from a minor skirmish Alder was challenged by Veloran to prove once and for all he was not only the better warrior but the more venerable prince. Alder didn't care about such trivial things and focused more on his duty to the Baldarian people and country. But nevertheless Alder accepted the challenge and in the throne room, before a witness of friends, family and other people of interests and high rank, the two clashed blades and minds.
Both were fierce and great combatants, but Alder's drive in his training showed. Alder had trained extensively and taken skills to complement his own style of combat and strategy. Whereas Veloran's had stilled, stagnated and in some parts of his skills, atrophied in varying degrees. In the end while Veloran was great in his own right, Alder proved he was better and emerged victorious while Veloran was left broken and humiliated. Word spread like wildfire of Alder's victory over the crowned prince to every level of society, from the grand nobles to lowest commoner, no one was left ignorant of this shocking event. Though it did not change the fact Veloran was the next in line for the throne it cast him in an unfavored light for the people, who even before the duel had a greater respect for Alder. This did however benefit Alder who, having proved his skill and wisdom, was given the position of commander of the army, something that even further angered Veloran. But rather than take one of the more prestigious legions, Alder chose to from and train his own to suit his methods and ideals. It would take a long time and much trial and error but Alder would eventually form what would become the Imperium Legion.
As it stands Alder is considered the second best warrior in Balderia, with father being the only known man who surpasses him. But he is nonetheless a fierce, wise and determined warrior with a love for life, his people and most of all his family.