---
---
███████████████████████████████████████████████████████████████████████
---
---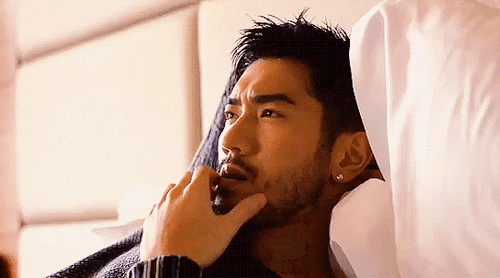 Just give
x
up. I did...
Another Day
- Dream Theater
Hail to the King
- Avenged Sevenfold
Megalovania Remix
- Oscar Santos
---
---
███████████████████████████████████████████████████████████████████████
---
---
F U L L

X

N A M E
English: Alexander Yang
Pinyin: Yang Guowang

N I C K N A M E (S)
Friends: Lex
Family: Wang

B I R T H D A Y
November 5th

A G E
26

S E X U A L I T Y
Heterosexual

E T H N I C I T Y
Chinese American

H O M E T O W N
Kowloon City District, Hong Kong

H E X
Main: #4e3475
Thought: #724CAB
---
---
███████████████████████████████████████████████████████████████████████
---
---

S T Y L E
Alexander's style is heavily influenced by his upbringing and his need to portray confidence and excellence. This has resulted in Lex's wardrobe consisting primarily of expensive: business suits, dress shirts, dress pants, formal shoes, ties, watches, jewelry, and various other accessories. However, when Lex is relaxing or spending time with friends or family he will dress more casually, opting instead to wear: long sleeve shirts, chinos, jeans, sneakers, hoodies, coats, and cardigans. No matter what mood he is in or whatever style he may be wearing, Lex undoubtedly looks amazing.

H E I G H T & W E I G H T
Height: 6' 4"
Weight: 195 lbs

A P P E A R A N C E
Alexander has a tall and lithe body, which he sculpted and maintains with a lot of effort. This effort in his appearance can be seen in other areas, such as: neat and styled haircut, trimmed and oiled facial hair, well maintained skin, and business-like fashion sense. All of his time and effort into maintaining his appearance is in order to convey outwardly that Lex is a highly capable person, and to leave a long-lasting and, hopefully, good impression.
---
---
███████████████████████████████████████████████████████████████████████
---
---

L I K E S
Music: Rock, Metal, Blues, Jazz.
Physical: Exercising, Sports.
Vices: Nicotine, Caffeine, Alcohol
Food: Spicy, Asian, Dark Chocolate.
Misc: Technology, Motorcycles.

D I S L I K E S
Music: Country, Mumble Rap, Pop.
Physical: Dancing, Rock Climbing.
Vices: Excessive Eating, Drugs
Food: Extremely Sweet.
Misc: Children, Self Righteousness.

---
---
███████████████████████████████████████████████████████████████████████
---
---

P E R S O N A
Alexander has several different "masks" that he wears when interacting with different people. You could ask a number of people who have interacted with him and receive just as many accounts. Distant and calculated to some while friendly and charismatic to others, there are few people who can truly say they know Lex. Reason for this is because Lex finds it hard to trust others, and will keep most people at arm's length at best.

At first glance Alexander appears to others: aloof, confident, composed, and mildly arrogant. This is because when Lex is in public he tries to convey a sense of superiority, to observe how people will attempt to interact with him if at all. Depending on his first observations he will then decide whether to expend the effort to get to know them. To those who have piqued his interest he will turn up the charm and become friendlier with them, which is another layer of observations in order to determine if he should continue to interact and become acquainted with them. For those who intrigue him enough he will maintain a friendly and mutually beneficial relationship while others he will treat indifferently.

To the lucky few who Alexander believes important to him, such as family and friends, he will expend as much effort as he would for himself. He would willingly do anything within his capabilities to help and lift them up to their maximum potential. This amount of care can become overwhelming which can result in a falling out between Lex and them. Despite the amount of effort he would use on those he cares about he will not try to change anyone's decision if they wish to distance themselves from him. This is because he believes that those who are truly friends will eventually come back and reestablish the relationship themselves, and those who won't are not worth the trouble.

The unlucky few who become enemies or threats to Alexander or those he truly cares about will be treated with as much venom as possible, while he maintains a cold and indifferent appearance. There is no knowing where the line is that Lex wouldn't cross, or if there even is a line, depending on the level of threat he calculates them to be.

---
---
███████████████████████████████████████████████████████████████████████
---
---

H I S T O R I A
Yang Guowang grew up in Kowloon City District, home to some of the wealthiest and most influencial families in Hong Kong, and his family was one of them. His father, Yang Fang Yuan, was one of the founding owners of Monarch Security Ltd, a business which focused on developing software and instrumentation for computer system penetrative testing and security. With the business thriving and continuing to expand Guowang didn't grow up with any financial hardships but this didn't mean that he didn't have any problems.

With the successes of his parents Guowang was pressured by them to always excel in whatever he did, to climb higher and higher to reach his potential. These expectations placed on him forced Guowang to expend all his time, effort, and intellect to live up to his parents expectations. Despite his best efforts Guowang was never praised or celebrated by his family, no matter what he accomplished because that was his duty. Whenever he would fail, no matter how minutely, he would be treated as trash by his father, who would on occasion physically beat his son. This treatment lead to Guowang developing an inferiority complex as he never felt: what he achieved was never good enough, he was wasting the family resources used on him, and failing was inexcusable.

When Guowang was eight years old his family had gained a new member, his younger sister Yang Wangfei. When his sister was born Guowang felt immense joy at the possibility of having an adorable and loving sibling. Having faced the treatment of his family for so long Guowang was determined that his sister would not share the same fate as he did. Whenever Wangfei would be troubled by something Guowang would do everything in his powers to protect her, even to the point of being beaten by his father for her. No matter how he was treated by his parents because of Wangfei, Guowang would smile and endure. This lead to the siblings forming a strong and loving bond.

Just before entering high school Fang Yuan had the opportunity of expanding his company to New York City, USA. Driven by his own need to excel Guowang's father decided to take the opportunity and moved his immediate family to the states. This change frustrated Guowang because he was leaving all the friends he had made back home in Hong Kong but he never voiced this opinion to his father.

When they had arrived to the United States, Guowang's father spent the majority of his time on improving and establishing the business while the Yang siblings tried their best to become accustomed to their new home. It didn't take long before Guowang was treated as an outsider by those he met when he went to high school, even though he could communicate perfectly in English. A number of students even took it upon themselves to bully and mistreat him while he was just trying to live and let live.

One day while being bullied someone had approached the bullies and had gotten them to stop attacking him. When he looked up to see who it was he saw a beautiful girl named Rebecca. Cleaning himself off, Guowang introduced himself to her with his English name, Alexander. The two walked to a nearby coffee shop where they talked a while and started a budding friendship. This friend of his introduced him to several of her friends, a bunch of misfits and troublemakers who partied hard together. Finally with people he felt he belonged with in this new home, Lex was determined to maintain the friends he had just gained. A task that would prove to be nigh impossible because of his actions.

With his new friends Lex raised hell, going from party to party and engaging in whatever activity the group would decide to do. These experiences were so much fun to Lex as he was finally able to find a place where he didn't need to feel insecure about achieving the imaginary potential his parents forced down his throat. During this time he began to develop romantic feelings towards Rebecca, due to: how well she treated him, the fact that she was his first friend in the US, how attractive she was to him, and how cute and genuine she could be. The fact that she engaged in relatively casual and flirtatious relationships with others frustrated Lex but he ultimately didn't want to change her and hoped that his feelings would reach her one day, eventually.

His parents didn't like what he was doing and the friends he was hanging around with and were determined to force Lex from being with them. This tore and even bigger rift between Lex and his parents to the point where he almost left the house, until he remembered Wangfei and stayed home to continue to protect her. He stayed with his family until he left for college and studied computer engineering, taking his sister, whose English name was Elizabeth, with him.

The roller coaster ride with his friends continued for years until one day, when shit hit the fan. During one of Lauren's parties Soren was noticeably absent, a fact which seemed to have upset Lauren. Attempting to distract her from this, Lex ended up spending the majority of the night with her as they conversed and drank together. Their conversation became steamier as the night went on and the drinks continued to pour, until playful banter became open physical flirtatious. This continued until both their inhibitions were subdued as they entered a nearby room, away from prying eyes. There they engaged in carnal and sensual pleasures for a long time, until they were discovered by Soren. This lead to a huge fight between everyone involved and resulted in the ultimate splintering of the group.

While blaming himself for what happened Alex received more news, which didn't serve to relieve him of his troubles. On a business trip back home in Hong Kong, Lex's parents met their untimely end. When this news reached Lex, despite how they treated him growing up, grew sad but determined to properly raise Liz. Lex decided to work for his father's company full time while still going to college, in order to maintain their finances. This shift in duties and needs for him and his sister made for the perfect excuse to get away from the group and let things cool off for a bit before he tried to mend his relationships with them. Especially with Rebecca who he believed he was in love with but ruined his relationship with her by sleeping with her best friend, Lauren.

Five years have since passed as Lex has obtained a number of degrees and certifications within the field of computer science and ethical hacking. These achievements, as well as the achievements of his father, lead to Lex rising higher and higher in Monarch Securities Ltd, to the point where his influence was almost as high as his fathers was. With his finances secure, Lex had provided all he could to support Liz as she started going to college. With everything at home now seemingly put together Lex receives a message from out of the blue to get the crew back together again for one more hurrah. Seeing this as an opportunity that he had been waiting for, to try and make amends for his actions, Lex goes to the party. A decision he live to regret...

---
---
███████████████████████████████████████████████████████████████████████
---
---

R E L A T I O N S H I P

X

S T A T U S
Single
Several casual relationships

T A L E N T S
| Hacking | With the amount of time he has dedicated into the subject Lex is a well trained hacker.
| Calculative | Able to solve numerous problems through the use of his intelligence and experience.
| Mechanic | Drives and repairs his own motorcycle as a hobby. Can possibly repair other simple machines.

S T R E N G T H S
| Technology | Having studied in the STEM field Lex has an understanding of most electronic and mechanical devices.
| Cold Blooded | Is capable of turning off his emotions in order to focus to the best of his abilities.
| Physicality | Lex spends a lot of effort on staying in shape. This makes most physical activities easy for him.

W E A K N E S S E S
| Inferiority Complex | From a young age Lex has had a problem with this. This can affect him in multiple ways.
| Overthinks | His calculative mind can be both a blessing and a curse. Can lead to inaction if he is still looking for another solution.
| Suspicious | A number of events have aroused suspicion around Lex. One of which was the sudden death of his parents.

---
---
███████████████████████████████████████████████████████████████████████
---
---