---
---
███████████████████████████████████████████████████████████████████████
---
---
---
---
███████████████████████████████████████████████████████████████████████
---
---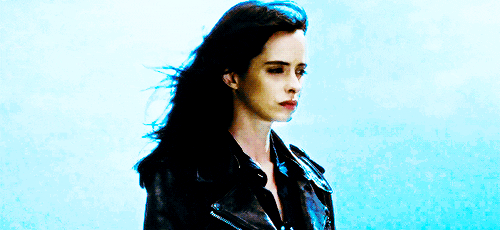 F U L L

X

N A M E
Cassandra Heiks

N I C K N A M E (S)
Cass, Heiks

B I R T H D A Y
April 27th,

A G E
26

S E X U A L I T Y
Heterosexual

E T H N I C I T Y
Greek American

H O M E T O W N
New York, New York

H E X
#085721
---
---
███████████████████████████████████████████████████████████████████████
---
---

S T Y L E
Cassandra doesn't like wearing the typical cop or even detective and agent outfits, though will occasionally drag them out when bored and want to make an impression. She tends to be more independent and wearing more casual clothing. She is a fan of wearing leather jackets as they can tend to hide body armor when there is a need to have it, and paired with a plain shirt under and jeans, most of the time with some sort of rips or tears, all giving off a vibe that Cass could really care less and only cares about getting he job done. For her hair, Cassandra barely does much to it before blow dry it and brush it, and sometimes not even that if she's not in the mood and leaves it looking messy and wearing a hood to cover it up.

H E I G H T & W E I G H T
5"9, 138 lbs

A P P E A R A N C E
Cassandra's appearance tends to put one off that she doesn't want to be disturbed and to just get out of her way. Most of the time she doesn't mean to have her resting bitch face, but she does appreciate it when it prevents people from annoying her or asking dumb questions. She also doesn't wear much make up, party due to not really caring about doing or what people think of her, but also because sometimes when she wakes up she doesn't have time to before rushing after a case or a lead. Cassandra has been known to be fairly pale regardless of how much time she spends in the sun and having dark black hair which doesn't help with washing out her pale complexion.
---
---
███████████████████████████████████████████████████████████████████████
---
---
L I K E S
Working on the force
Going undercover
Working out
Shooting at the firing range
Cliche cop movies
Late night diners
Cigarettes
Whiskey

D I S L I K E S
Donuts
Cop Jokes
Pervs
Loud Music
Pure Silence
Tea/Coffee
F E A R S
Airplanes. Refuses to fly
Losing a partner on the job
Geese. Was attacked by one when younger




Q U I R K S
Needs to have the sound of the city to sleep
Taps her foot when annoyed or in a rush
Carries a flask on her at all times
Doesn't like hugging people when not needed
---
---
███████████████████████████████████████████████████████████████████████
---
---
P E R S O N A
Cassandra has many faces that she wears throughout her job, which is something she is known for. She can be caring and sympathetic to someone who lost a loved one, or the bad cop that needs to throw a few punches to get information about a drug bust that's about to go down. She knows she needs a different "face" when interacting with different people and will often do change persona depending who she is talking to and the situation.

At times her personality will match her resting bitch face, but Cassandra does have a soft heart when she allows people to get past her rough exterior, knowing after working with numerous partners in her line of work that there does need to be trust between he two and she has even formed many friendships and relationships over the years and cases she has worked. When she is finally relaxed with someone, she gets playful and more at ease with them and might even be a little silly at times.\

Outside of work and in her personal life, Cassandra's struggles. She can tend to be a little much for people sometimes and thus has stayed single for most of her life, besides the occasional one night stand resulting from drinking at a bar and staying out late. She speaks her opinion when it comes to her and often likes to push people's buttons, as well as be a little passive aggressive when first meeting people before warming out; all these things tend to push most people away.

---
---
███████████████████████████████████████████████████████████████████████
---
---

[img]img%20or%20gif[/img]
H I S T O R I A
Cassandra doesn't ahve a fancy history, but still prefers not to talk about it much. She was mainly raised by her father in New York city as her father was a private investigator, though him and the cops didn't always see eye to eye. Her mother was never really in her life, quickly after Cass was born her mother left and she only had her dad taking care of her, which for a single dad that was a P.I., he didn't mess up too much

Growing up Cass always went to private schools, from primary school all the way up to graduating, as her father believed would make raising a child as a single parent easier and didn't mind putting out the cash for her, it was always rumored her father came into an inheritance which is why he was able to focus more on being a P.I. without worrying about money being an issue. Private school wasn't exactly easy for Cass, but she made it work and made enough friends to get by, and whenever she wasn't at school she would always follow her dad around and question him about what he did and such, which he appreciated, the little father daughter time they would have together. He taught her how to defend herself in hand-to-hand combats as well as fire a basic pistol, since he would leave one hidden in the closet in case his daughter needed to defend herself against an intruder while he was out.

Though being raised by her most of the time, her dad wouldn't show much love and support, and barely showing his appreciation or that he was proud of her, so she did the something that would spite him, no longer going for his approval, joining the NYPD. During the Academy and training, thanks to her father's teachings and his job, she was quickly a candidate for a top grab, the only issue being her attitude and at times anti-authority behavior, though she was top of her class for marksmanship. After quickly graduating Cass quickly hopped onto her job and started to make a small name for herself, though not exactly for excellent working attitude and motivation, which she did have, but for her attitude. She was moved around alot and even out of state as things started to get too hectic. Though this wasn't bad as it brought her alot of experience and different partners over the years.


---
---
███████████████████████████████████████████████████████████████████████
---
---

R E L A T I O N S H I P

X

S T A T U S
Due to her constant work life and sometimes unwelcome personality, Cass hasn't really been able to hold a relationship. Though this hasn't stopped her from hooking up with someone every once in awhile at the bar, but seems to come off as too much of a bitch, too intense, or just not worth the hassle. This doesn't mean she hasn't gotten close with some people in the past before having to leave it all behind to start somewhere new.

T A L E N T S
When not working on a case of sitting at a bar, Cass is usually at the range honing her marksmanship, even after graduating top of her class in marksman she likes to practice, as she could use her weapon at anytime, especially in a city like New York City. Outside of work, she does a little bit of book writing and even writing a few criminal mysteries and other fictional stories that may or may not be based on non-fiction events. These written under a pen name and published in Rhode Island so she can continue her normal life. Doesn't bring in a ton of cash but a good amount of pocket cash.

S T R E N G T H S
For a woman, Cassandra is known to be able to hold her own in a fist fight, partly due to getting in fights in high school and also because she never wants to be in a situation where she would be weak, but this doesn't mean she doesn't come out with a few scars. After many late nights of scoping out possible hideouts and tracking Cass is able to stay up late nights and able to work off of very little sleep, and this is without coffee since she hates the taste.

W E A K N E S S E S
Refuses to back down when things get personal and has gotten in many fights throughout the years, this sometimes holding her back in moving up in her line of work, but she doesn't mind staying in New York. Cass will never admit it, but she does have a small alcohol addiction, being seen drinking most nights.

---
---
███████████████████████████████████████████████████████████████████████
---
---