---
---
███████████████████████████████████████████████████████████████████████
---
---
Live In The Now

/

x

/

Don't Worry About The Before
Apologize
- OneRepublic
Good Old Days
- Macklemore ft. Kesha
Young, Wild, and Free
- Snoop Dogg & Wiz Khalifa ft. Bruno Mars
---
---
███████████████████████████████████████████████████████████████████████
---
---
F U L L

X

N A M E
Rebecca Wilde Cruze

N I C K N A M E (S)
Becca, Wild, Tigger. And those are the nice ones.

B I R T H D A Y
May 19th

A G E
24

S E X U A L I T Y
Bisexual

E T H N I C I T Y
Caucasian American

H O M E T O W N
Boston MA, but moved to New York beginning of high school. Lost her accent.

H E X


#D02090

&

#EF86A8
---
---
███████████████████████████████████████████████████████████████████████
---
---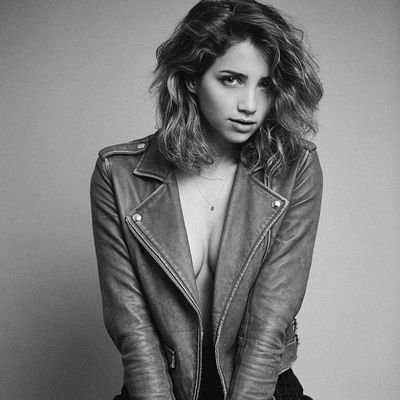 S T Y L E
Rebecca's style is very what she would call with the times and up to date. She tends to follow numerous fashion magazines to stay on top of what's hot and new, or also known as mainstream. Becca has always been this way since high school, always spending her money at designer stores buying designer merchandise, and it wasn't unusual for her to rotate out her wardrobe throughout the seasons. Though while she tends to stay onto of the latest fashions, her favorite things to wear are jackets. Being mostly denim and leather and will try to squeeze them into whatever outfit she is wearing.

H E I G H T & W E I G H T
5"6, 144 lbs

A P P E A R A N C E
Rebecca very much prides herself on her appearance, whether its time to be cute or professional. Ever since she moved to Europe she has kept her curly hair barely longer than shoulder length, and dying it different colors as the seasons or her emotions change. It is normally styled with a blown out look to the side with a slight wave. She stands at about 5"6 without any type of shoes on. Rebecca is usually seen wearing a t-shirt with any variety of design on it she gets from the mall, along with jeans or capris. She has a couple of tattoos around her body. She has an owl on her left rib cage, an infinity symbol on her right forearm, a rose on her left wrist, and a stardust tattoo she regrets getting on her right hip that is usually covered by her pants.
---
---
███████████████████████████████████████████████████████████████████████
---
---
L I K E S
The City
Reading
Owls
Public Transportation
Pop and Rap Music
Horror Movies
Cleaning/Organizing
Sweets/Baking

D I S L I K E S
Slobs/Messy People
Long Hair (only on her though)
Driving at night
Country Music
Soda
Arguing
Tight Spaces
Cigarettes
F E A R S
Claustrophobia
Open Water
Driving at night
Falling in love again



Q U I R K S
Twirls/plays with her hair a lot
Always tries to sit in the back of vehicles, not driving
Loves to make silly faces
Chews on her bottom lip when nervous or embarrassed
Tends to call people hun, babe, darling, etc.
Very touchy with people that she knows
---
---
███████████████████████████████████████████████████████████████████████
---
---
P E R S O N A
Rebecca is a very bubbly, flirty, and very much extroverted. Some people know her as the fun and wild friend. She doesn't seem to get on the bad side of most people, and loves being a very caring friend. When at parties, she tends to do one of two things. Either stick with her friends and have a good time or find an attractive female or male individual to flirt and get to know, along with also have a good time. When with friends she seems to be very free-spirited and just want to have fun, sometimes doing dumb things on impulse, like her star tattoo. People knew she was very flirty and touchy, so they just accepted and went with it when she would get all snuggly with someone, with or without the influence of alcohol.
Even after the accident, Rebecca continued being her happy self, maybe even more than before. Going out with friends, making out with whoever she thought was attractive, and living life however she wanted. Or so it seemed on the outside. Deep down she was doing most of these things to cover up her guilt and try to forget about what she did and what happened.

S E C R E T S
Main: Rebeccase was out driving late at night after a break up with her at the time boyfriend, not fully level-headed, ran a stop sign and t-boned another car. The accident killed the couple on impact, paralyzed one child, and severely injuring another. She only got out of it because the driver had some alcohol in his system from dinner, and the authorities ruled it as drunk driving.
Minor: Has dated some people who were in relationships, a "homewrecker" or sorts.
Minor: Has a crush on one of the group, but too scared to tell them, doesn't want to ruin the friendship. Also worried that they wouldn't believe her about her feelings because of her past of being flirtatious with people and hooking up.

---
---
███████████████████████████████████████████████████████████████████████
---
---

H I S T O R I A
Rebecca had a fairly normal childhood growing up, always having many friends. Her father worked as a for a lawn firm, while her mother had her own bakery, so her life was pretty good, getting most things she asked for.

Through her teenage years, Rebecca started going out more and staying out later. Her parents didn't care too much as long as she eventually came up and kept them updated, this gave Rebecca a lot of freedom. Through parties and just meeting people in New York, Rebecca met Lauren, and the two hit it off as BFFs with their shared interests in fashion and just having a good time. When Rebecca wasn't being a crazy teenager and doing crazy things with Nathan or jam sessions with Soren. Rebecca knew how Lauren was as a person, sometimes not the nicest and sometimes a plain bitch, but the two got along amazingly and thanks to Lauren, Rebecca got to meet most of the rest of the group.

One night after a fight and bad break up with her at time current boyfriend, Rebecca sped off down some side streets, going through multiple stop signs and swerving around pot holes. When she went to run another stop sign, she ended up hitting another vehicle, killing two people, paralyzing a third, and seriously injuring the last person in the car. "Luckily" for her, the driver actually had a drink at the dinner him and his family were returning from, so the authorities said he was a drunk driver and everyone felt bad for Rebecca, thinking she was the victim. No one knew the truth, or so Rebecca thought.

Since the accident, Rebecca tried to only drive during the day, or just had her other friends drive around. After a couple months, she was one of the first to leave and disconnect from mostly everyone. She landed an interview in London as a receptionist and slowly climb up the work ladder until she got to be secretary to the big boss. Shortly after living here, she started her paperwork to become an English citizen, and even changing her middle name to Wilde as an reminder of the good times she had. London helped her cope with her guilt and avoid her fears of driving with all the public transportation she had, and no one there knew about the accident she had.

Rebecca hadn't returned to New York since she left all those years ago, but there were some coincidences that came up to convince her. Her parents were bugging her to visit since Becca kept brushing them off, rumors about Soren's band taking off and having a show, and an anonymous message talking about a party about getting their group back together for one last hurrah. So she talked to her boss to get some days off and quickly got on her way to New York to try to relive some of the good old days, little did she know how much drama it would lead to...

---
---
███████████████████████████████████████████████████████████████████████
---
---

T H E

X

G R O U P
Lauren: When the two met, they quickly became BFFs, with how much they both loved and followed fashion and designers, along with loving to either throw parties or go to them. Rebecca knew about Lauren being a bitch to some people and sometimes having multiple faces depending on the person she was talking to, but Rebecca didn't mind it even though she assumed Lauren would talk about her behind her back. When Rebecca told Lauren she would be leaving the country to travel, Luaren wasn't the most supportive and the two sort of stopped talking. Rebecca was surprised with she got DM from Lauren on Instagram talking about her having a party to relive the good old days and that they should start talking again.

Erin Monahan: Rebecca met Lauren at a party when she noticed her poring drinks that weren't just the regular jack and coke. Becca was interested and quickly started chatting her up and surprised with the flirting that they both fired back and forth in between Erin making her drinks. Erin would quickly have Rebecca taste some of her own cocktails for tasting and 90% of the time they were amazing. She would always see if Erin was going to parties because not only did she enjoy her drinks, but she was very interesting company, something about her just intrigued Rebecca but she wasn't sure how to bring it up as Rebecca was known to flirt with most people. Erin was one of the few things Rebecca actually missed about New York; a good friend, a great flirt, and an amazing drink maker. This would be the first time she would have seen or talked to Erin since leaving, something she regretted.

Kyle Monahan: Rebecca really only knew Kyle through his sister Erin. Erin told Rebecca about him, but Rebecca still treated him like any other guy, maybe a little nicer since he was Erin's sibling after all. But she remembers him as more of nerd and such, occasionally begging him to help her with an assignment in high school once or twice. But besides that, they weren't all that close so she didn't really keep up with him when she left, and couldn't exactly remember if she even told him where she was going.

Soren Bowers: Soren and Rebecca were actually friends before she became good friends with Lauren, as she heard he had a band and she could play the bass. She knew she wouldn't be about the band life but still enjoyed playing songs here and there with him. It was actually Rebecca who introduced Soren to Lauren, since for one of the parties they wanted live music and convinced her to go ask if he was interested. She was surprised when the two got together but found it cute and would tease the both of them about it throughout the relationship, but she also felt terrible when the relationship ended between the two, and not so smoothly. Soren was the only person of the group that when she left held connections with, occasionally checking in with each other about their lives and such.

Nathan Miller: Besides Lauren, Nate was Rebecca partner in crime and sometimes even competitor. The two were always known for being the ones to go to with a crazy dare or stupid idea, and both of them being a bad influence on the other. There was even a week during high school where the two kept trying to out do the others and eventually ended with both of the climbing one of the school flag poles in nothing but their under garments. Rebecca swears the only reason she lost was because the flag pole she climbed had just been cleaned and was slippery. Rebecca remembers giving Nate one last big hug before she left for Europe, promising she will continue to be the Queen of Risks of he stays as the King of Dares.

R E L A T I O N S H I P

X

S T A T U S

Rebecca was one to always be into hook ups, obviously staying safe, but has only ever been a few relationships and those only ever lasted for a few months. She enjoys the thrill of the market, just not much of a buyer. There is one person she has held a crush on over the years, and is interested to see them again, just not sure what to say or do.

T A L E N T S
Rebecca is skilled with playing bass as well as the violin, though its been awhile since she picked either up. Though Becca is more of someone who has numerous "bar tricks" that she can do, and is pretty proud of showing them off at parties. She can open a bottle of beer with her teeth, tying a cherry stem in her mouth, as well as having hyperflexbility, so alot of bending her arms backwards and other double jointed tricks she can do. Oh and Rebecca has been known to be a pool shark at some bars and parties.
S T R E N G T H S
Rebecca isn't one to be subtle at things she is good at and will quickly bring up if she can do something good if it comes up in conversation. While at parties she won't back down from a drinking challenge or game, and for someone her size she is able to keep up with most guys. Another strength that Rebecca has is her ability to lie, which didn't come from being a bad kid and doing illegal things, but from one of her favorite things, bluffing during games. While this could be lying about her role in a board game or bluffing during poker, she has been known to think quickly on her feet and keep a straight face when telling a straight lie.

W E A K N E S S E S
One of Rebecca's biggest weaknesses is one of her favorite things. She is known to be a little but of a dare devil and tends to think in the now rather than the future and acting on mostly impulses. Whether these impulses is a dare to climb the school flag pole, or to slap someone for making a snide remark about her dress. Another thing that might be considered a weakness is that Rebecca refuses to drive at night, ever since her accident. She tends to take mostly public transportation back in Europe and England, but when she does have to drive, she makes she its during day hours.

---
---
███████████████████████████████████████████████████████████████████████
---
---