---
---
███████████████████████████████████████████████████████████████████████
---
---
it's funny how the warning signs
x
can feel like they're butterflies
graveyard
- halsey
life of the party
- all time low
youngblood
- 5 seconds of summer
take my breath away
- mayday parade
give me love
- ed sheeran
---
---
███████████████████████████████████████████████████████████████████████
---
---
F U L L

X

N A M E
Soren James Bowers

N I C K N A M E (S)
Sor

B I R T H D A Y
December 11.

A G E
25.

S E X U A L I T Y
Pansexual.

E T H N I C I T Y
White American.

H O M E T O W N
Camden, Maine

H E X


#4d5676

.
---
---
███████████████████████████████████████████████████████████████████████
---
---

S T Y L E
Soren's style has completely changed from when he was a teenager. In his twenties, he discovered not only colour, but also patterns, and now his wardrobe is full of both. He's mastered the art of balancing them too. When he's not doing band stuff, he has a tendency to drift back to his old style with band t-shirts, ripped jeans, and leather jackets. He's no stranger to makeup, mostly on stage, but has been known to wear eyeliner day to day.

H E I G H T & W E I G H T
6'1, 80kg

A P P E A R A N C E
Soren is often described as striking. There's those ice-blue eyes which give away far too much of his emotions than he would like at times, as well as a strong bone structure. But his most distinctive feature is his smile. Big, a little lopsided at times, and entirely endearing. Growing up, Sor was always skin and bones, no matter how much he ate. But he soon discovered he couldn't just put whatever fuel he liked into his body and hope for the best. Proper nutrition and a regular workout routine has filled out his frame, leaving him more muscular than one would expect at first glance. He's got a number of tattoos ([right shoulder blade][right forearm][left arm below elbow][left arm near wrist]) and both of his ears are pierced several times, including an industrial and rook in his left ear.
---
---
███████████████████████████████████████████████████████████████████████
---
---

L I K E S
rock music - fresh air - playing shows - mountain biking - home baking - electronic music - italian food - parties - passionate people - herbal tea - fruit tea - cinnamon - acoustic shows - black nail polish - subtle aftershave - floral perfumes - converse - cello - violin - singing in empty rooms - drawing - photography - festivals

D I S L I K E S
mexican food - thunderstorms - white wine - straight spirits - greasy food - his hometown - hospitals - generic pop music - coffee - overpowering perfume - cloying aftershave - being late - being told who to be - gyms - horror movies - small towns - bigotry - hypocrisy - planes - airports - beer - identity politics - people assuming he's straight

---
---
███████████████████████████████████████████████████████████████████████
---
---
P E R S O N A
Soren is your typical musical frontman. It seems that he can charm a smile out of even the toughest of interviewers. His confidence is almost infectious, but Soren could never be called cocky. He's worked hard to get here, spending his late teens and early twenties working two jobs to get the band off the ground. He never had anything handed to him, and he never wants anything to be handed to him. It's his dream come true to be able to play music full time, and he doesn't want to take a moment of it for granted. He knows that they wouldn't be anywhere without the people who buy their album, who show up to their shows. He remembers when he was that angry kid who went to every show he could. And so he has all the time in the world for people who hang back after concerts in the hope of saying hi or thank you or who wants a selfie. His manager or other bandmates have had to drag him away on a number of occasions when they needed to leave to make sure they were in their next city in time.

But Soren hasn't always been like this. He almost threw it all away and almost burned himself out after his break-up with Lauren when he became so angry and hurt that taking care of himself wasn't his priority. If he's stressed or angry, he becomes destructive. Usually, it's self-directed, but after the breakup, he cut himself off from lifelong friendships over the smallest of things. He's gotten better at dealing with it, but he doesn't always realise he's done it and the damage has sometimes been done before he can get himself back on track. His self-destruction often gets the better of him. He can't drink if he's angry or upset, because he doesn't trust himself not to lose control and end up blackout drunk. He often just isolates himself when he's feeling like that so he knows he won't do or say anything to anyone. He's made mistakes along the way, but instead of forgiving himself for those mistakes, he holds onto them to use against himself in his darkest moments.

Leaving to follow his dreams is one of the best things that ever happened to Soren. It broke his destructive spell and forced him to look after himself. Despite the stress of touring and of the musical industry, he's in the best place he's ever been. But he's got his secrets, just like everyone else, and he's afraid they'll emerge while he's back around the people he used to call his friends. He's not proud of how he behaved following his breakup, and he's somehow picked up even more secrets along the way. They all seem to come back to his self-destruction, and that terrifies him. But it at least makes him determined to not go back to that place.

He's often aware that the music industry isn't a perfect place. His manager believes in letting them all be themselves. But after Soren posted a picture of himself with the pansexual pride flag during pride, another member of the industry warned him against it, saying they didn't want to get labelled as "that band." So Soren personally directed a music video featuring a same-sex relationship. He's determined to be who he is, regardless of what anyone says, and he knows that his band agrees with him. There are times when he wonders if they are holding themselves back by being so vocal, but he can't hide who he is. But he has the backing of his friends and their management, and that's what matters to him.

---
---
███████████████████████████████████████████████████████████████████████
---
---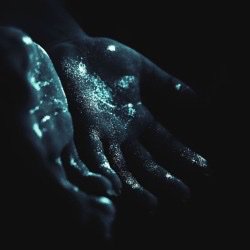 H I S T O R I A
Soren James Bowers was born in a small town in what felt like the middle of nowhere. And from a young age, it seemed he always had big dreams. When he was upset as a toddler, his favourite songs were the only thing that would calm him down. His favourite toy was a toy piano. He was playing his parents' upright piano from the moment he could see the keys. He had a natural talent for memorising and reproducing pieces of music he'd heard. It wasn't much of a surprise when the piano stopped presenting enough of a challenge by itself, so he taught himself to play guitar. He sang in the local church's choir until his father got a new job and they moved to New York when he was eleven.

Soren only ever wanted to play music. His parents hoped that maybe he would be a concert pianist, perhaps, or a classical singer. Instead, Soren fell in love with rock and alternative. Even as a teenager, when it seemed he didn't have all that much to be angry about, Soren fell in love with the anger and the passion behind it. His pocket money went on tickets to whatever concerts he could find- so starting a band was a logical next step at the age of fourteen. The line-up changed, and so did the name, but Soren was a constant. He was always up front, belting his heart out and writing songs in his free time. His teachers moaned his lack of academic ambition, but his parents knew he would go far.

That was how he met the rest of the group at sixteen. He'd known some of them for a while, but Lauren asked him if they'd be interested in playing one of her parties. Soren wasn't going to turn down a gig, especially not one hosted by a pretty girl. He stayed at the party afterwards, where he and Lauren became friends. It took almost two years for Sor and Lauren to finally get together. And at first, things seemed perfect. They were that couple, never seen apart from each other, endearing without being sickening. Soren was entirely smitten, and wrote his first proper love songs about her. But Lauren was never as smitten with Soren. Once they graduated, Soren was working two jobs just to try and fund the band. They were playing regular gigs, but they weren't getting off the ground. Lauren started to lose interest.

Soren wasn't supposed to be at the party. He was playing a gig that night, and had told Lauren he didn't think he'd make it. It had resulted in a screaming match between them (well, mostly Lauren at him), and they'd both stormed off, angry. But Soren felt bad, and went straight from the gig to the party to apologise. There, he found Lauren hooking up with somebody else. Their argument was witnessed by the entire party, and Soren found out in the subsequent days that while he'd been working his ass off and playing shows, she'd been sleeping around.

Soren had never felt so angry or so hurt. At first, all he wanted was to feel numb. He partied hard, getting drunk and hooking up with other members of the group. He told himself it was fine, that it was mutual, that they knew he was just using them to get over Lauren. But really, he was furious at his friends for not telling him anything. He cut off relationships with all of them and threw himself into the band. They were still playing every show they could get- and it finally payed off. A member of an iconic rock band went to one of their shows and was impressed with what he saw, signing the band to his label almost there and then. Soren and the band flew to the West Coast to record their debut album. At first, they partied harder than they had done, even in New York. But when Soren, barely sober, severely hungover, had an emotional meltdown while in studio, they were all taken aside and warned to look after themselves. Too many young bands burned themselves out like that. They all listened to the advice and got themselves back in shape. Soren's voice only strengthened as his physical health improved, and his mental state started to improve.

What he doesn't talk about is his... momentary blip. He'd let himself slip a little, they all had. They'd been recording the album and trying to keep themselves relevant by playing shows. They played a show back in New York, and Lauren had showed up and had weaseled her way backstage. Soren and her hooked up again, but he realised his mistake immediately. They had another fight. Soren fell down a dark hole where there was three days he can't totally remember because he was drunk or worse the whole time. His band mates were the ones to talk some sense back into him and get him back on track. They took a break, got their heads on straight, and began touring immediately after the album was released. Their album got excellent reviews in rock magazines and with some promotion from other stars in the scene, their name was out there, and people started to know them. Soren had never meant to end up at that party. But his bandmates had tagged along with him, so he thought that nothing bad would happen.

How wrong he was.

---
---
███████████████████████████████████████████████████████████████████████
---
---

R E L A T I O N S H I P

X

S T A T U S
Single (subject to change based on relationships)

T A L E N T S
Soren has a frankly impressive vocal range and vocal strength. His main two instruments are guitar and piano, but he can also play ukulele and knows how to play a little cello. He can hear a piece once and replicate it almost perfectly on piano. He's also an excellent cook and baker, able to make something tasty given the most basic of ingredients. He took up mountain biking while recording the album to help destress and is pretty damn good at it at this point.

S T R E N G T H S
Soren picks up new skills incredibly easily. Thanks to his musicality, he's also surprisingly good at picking out patterns in things, making him quite good at puzzles. He's in good physical health, as one of his favourite things to do when he hits a new city is to rent a bike and spend the whole day exploring it. Thankfully, his sense of direction and observational skills are good so he isn't constantly getting lost.

W E A K N E S S E S
Soren is petrified of flying. He had a beloved uncle die in a plane crash and suffers panic attacks on planes as a result. He needs to practically be knocked out to get him onto a plane and ideally for the duration of the flight. He has a tendency to binge if he's not feeling himself, be that in alcohol or Netflix's newest series. He shuts himself off if he's upset or worried, often leading to a vicious cycle.

---
---
███████████████████████████████████████████████████████████████████████
---
---