---
---
---
---
---
---
⌈

If you're going to wake me up, someone had better be dying or you soon will be.

⌋
---
---
⌈Full Name⌋


Eire Seeleheiler



⌈Description⌋


Born into a race of winged sky-dwellers, it seemed a cruel joke that Eire should have emerged with a condition that kept her wings from growing beyond their prepubescent, cherubic size; dooming her to a life on the ground. Despite her childhood spent zipping around in the clouds, she feared she would never again feel the wind in her hair. Sometimes, life presents opportunities where one would least expect them. In Eire's case, the opportunity came in the form of the Wayfarer. She was a ship in need of a healer and Eire was a magically inclined bird that was good with a gun and needed a little boat-shaped wind beneath her wings. It was a match made in Arcadia.



⌈Age⌋


22 | Incredibly young by her people's standards



⌈Gender⌋


Female



⌈Race⌋


Seraph | Arcadian



⌈Honorifics|Titles|Nicknames⌋


E | Seele | Doc



⌈Orientation⌋


Bisexual



⌈Birthplace⌋


Arcadia
---
---
⌈

If it hurts when you do that, don't do it! Didn't think I had to spell that one out for you.

⌋
---
---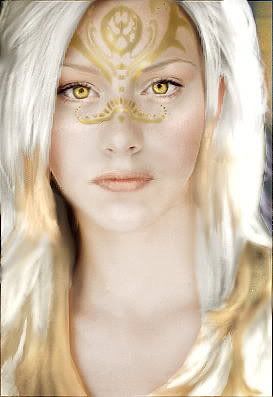 ⌈Marking|Tattoos|Piercings⌋


Traditional Arcadian tattoos adorn her face in gold ink, while matching tattoos adorn the back of her hands and the top of her feet. A septum piercing is the only jewelry that she wears regularly.



⌈Height⌋


5'0" | Shorter than most Arcadian Seraph, but not by much



⌈Weight⌋


85 lbs | A small frame and nearly hollow bones are staples to allow a Seraph flight



⌈Physical Description⌋
Eire has often been described by those of other races as breakable. Though she's in perfect health and fairly good shape, her kind are built for speed and flight over strength and durability. Hand to hand combat has not gone well for her in the past and she doesn't see that changing anytime soon. Her small frame and non-imposing figure tends to make her seem approachable and friendly. She hates it.
---
---
⌈

Don't worry; I come from a long line of living people

⌋
---
---
⌈Former Residence⌋


Arcadia | A series of small, interconnected islands that float thousands of miles from any other landmass. Though there are many separate communities on the islands, none have names. People who dwell anywhere on any of the islands are considered to be "from Arcadia".



⌈Family/Relatives⌋
Twin Brother | Friar
Mother | Heather
Father | Shepard

⌈Friends/Comrades⌋


N/A | N/A



⌈Enemies⌋


N/A | N/A



⌈Rivals⌋


N/A | N/A



⌈Organizations/Tribes/Clans⌋


Arcadian Healer's Guild | Harper's School of Magical Medicine



⌈Former Affiliations⌋


N/A | N/A
---
---
⌈

I never work just to work. It's some combination of laziness and self-respect

⌋
---
---
⌈Disabilities⌋


Besides her wings, Eire is very susceptible to physical damage and gets drunk way too fast. Some may consider that a good thing though.



⌈Personality⌋


While she will usually do good deeds and help when she can, Eire doesn't so well with social interaction. Generally, Eire is a polite person. This might be more for self-preservation more than it is part of her actual personality. Once she gets closer to someone, she tends to be sarcastic [a side effect of her childhood bitterness over her wings]. It's said by some that her sarcasm is just a cover for how much she actually cares for those close to her. Not Eire though, she'd never say that. She's at her most serene when on the bow of the ship sailing against the wind.



⌈Likes⌋

♥ The Wayfarer || There is no feeling like spinning in a circle and seeing nothing but air.
♥ Sleeping || To keep up a high energy lifestyle, one needs their beauty sleep.
♥ Guns || Anything really: shooting them, cleaning them, shooting them.
♥ The Color Yellow


⌈Dislikes⌋

✘ Waiting || If I have the option to leave now or later, it's always now.
✘ Rude Awakenings || Waking a sleeping bear is never a good idea.
✘ Manual Labor || These hands are capable of so much more than swabbing the deck.


⌈Psychological Condition⌋


Eire often falls into a depressive mood when around others of her kind for prolonged periods. Though much better since joining the Wayfarer, she still suffers from minor bouts of jealousy in regards to her twin's perfect wing condition.



⌈Alignment⌋


Neutral Good
---
---
⌈

These guns are like children, they are often used to ruin someone's day

⌋
---
---
⌈Attire⌋


Eire normally wears neutral colors, but her style varies. Somehow she seems to have an outfit for every occasion from ballroom to espionage. For day to day wear, she usually dons an over-sized white shirt haphazardly tucked into a pair a tight fitting breeches and some tall, sturdy boots.



⌈Protection⌋


Eire has begun to amass an armor collection since she began adventuring. Currently, she only has a smart looking hat and a pair of leather bracers.



⌈Weapons⌋


A pair of pistols are often found at Eire's side. Though she hardly uses them at the same time, it never hurts to have a spare.



⌈Accessories|Misc⌋


A tiny, simple gold ring rests in her nose.
---
---
⌈

It's only called a crackshot if you don't have the skill to do it a second time. And I don't.

⌋
---
---
⌈Skills⌋


Once Eire decided to leave Arcadia, she began to train in pistols with a few teachers from around the islands. Healing doesn't offer much in the way of fighting back. Though she's practiced for a few years, she still isn't the best at actually hitting the targets she aims for 100% of the time. She uses her skills with a needle and thread to mend clothes for the crew and make her own creations to save some money when cloth is beyond fixing.



⌈Abilities⌋


Seraph have a natural affinity for the healing arts; It's said they use parts of their own souls to produce the healing effects. Even still, Eire is considered a prodigy. She can close a near fatal wound in under a minute, under 3 if in duress. Though her more powerful healing abilities require physical contact with the recipient, she has a variety of lighter pepper-up spells that can be cast from a distance. Recently, her research has taken her down the darker path of draining life from others to fuel her healing magic.



⌈Racial⌋
What is a Seraph? That's something up for debate in many cultures. The humans tend to think they are 'human-like birds' and races that are more closely related to birds call them 'bird-like humans'. The Seraph aren't sure what their lifespan could be. In the old days, the creatures never had the chance to die of old age often being picked off by the stronger races. Thus leaving them teetering on the edge of extinction. When Arcadia was founded thousands of years ago, the Seraph chose to seclude themselves to the islands for their own protection. Some chose to remain among the other races in tribes. Many that helped found the island paradise are still alive today. Most Arcadian Seraph never leave their homeland. To make it out of Arcadia isn't necessarily discouraged, but it's something that just isn't done. It goes so far that most Seraph will never meet another that was born elsewhere. The Seraph in Arcadia aren't certain there are others anymore.
---
---
⌈

Books are a great way to go on an unforgettable adventure that won't break your leg

⌋
---
---
⌈
Current History
⌋
Eire has been a faithful part of The Wayfarer's crew for nearly 2 years now.
⌈
Past History
⌋
Eire was pitied all her life for her wings. Flying is to a Seraph what walking is to a human. During her 19th Autumn, Eire decided that she would leave Arcadia and see all that Terreth had to offer. How could anyone pity her lack of flight when she had seen more than they could ever dream? At 20, she'd finished her training to become a healer and was working in both the healer's guild and as a research assistant at the School when she caught wind of a lost ship that had docked at the largest island. The humans aboard were treated fairly, but with caution by the Elders and the other Seraph. Eire quickly bartered her way onto the ship by healing those that were wounded in the storm that knocked them off course. Once they'd made it to their destination, they had to part ways. Fortunately, after some traveling: EIRE SOMEHOW MADE IT ABOARD THE WAYFARER.
---
---