---
---
{ The rough girl with a hidden soft side }
---
---
---




Name


Aya Osaka



Nickname


Eyebrows- A mocking nickname that
the kids at school would use against her.
Man-chest- Yet another mocking nickname.
Goblin- ...The kids at school didn't like Aya
very much.



Gender


Female



Age


Fifteen {15}



Abilities


Whimsical- Aya can summon two fox
spirits that she can use to help protect
herself and others.



Face Claim


Izumo Kamiki- Blue Exorcist


---
---




Height



5'5



Weight



140Ibs



Hair Color



A deep purple



Eye Color



Magenta



Scars



Various scars are sprinkled
across her body.



Oddities



Aya is very sturdy for a girl her age.
Her arms and legs are noticeably
muscular.

---
---




Personality




Rough~ Sarcastic~ Easily Embarrassed~ Stubborn~ Protective



Aya's personality could definitely be described as 'rough'. She'd much rather use her fists than her brain. She can be a bit quick to anger sometimes, but she does have a soft spot as well. Most people never really took the time to get to know Aya, they always just jumped to conclusions and called her a no good delinquent without ever really giving her a chance. Because of this, if anybody actually does take the time to know her, Aya will likely became very attached. If you are going to choose to pick a fight with Aya however, you better be prepared, because she isn't holding anything back.

Aya's tough persona is all nicely tied together by her sarcasm. It doesn't really matter what you did or said, if Aya can think of a sarcastic remark to throw at you, you better believe she will. Being that she isn't always the brightest tool in the shed however, sometimes these remarks can end up being totally lame. When this does happen, Aya is quick to get embarrassed, likely opting to lock herself in her room until she's sure that the laughter has died down and her face isn't as red.

Flustered doesn't even begin to cover Aya when she's embarrassed. She breaks out into a cold sweat and every inch of her face, including her ears, turns a bright tomato red. During this time you can practically feel the panic seeping out of her, and she'll likely run away to take shelter somewhere where nobody can find her. This wouldn't be so bad if she didn't get embarrassed a lot. However, Aya's lack of self-confidence makes it so that every little thing seems to embarrass her. Her voice cracked when she was saying hello to you this morning? Boom. Tomato Aya. Her sock has a hole in it? She's running for cover. So far there is no known cure for her embarrassment, but Aya hopes that she'll be able to find one soon.

Aya is pretty stubborn in multiple ways. The first way being that once she's set her mind to something, it is extremely hard to change it. This doesn't mean that it's impossible, but don't expect it to be easy. No matter what the situation is, she will refuse to back down once she's decided what she believes. Aya is also stubborn in the sense that she tries her hardest to seem tough in front of everyone. She refuses to make herself look weak, which means that she'll refuse to be outwardly kind to people. Not to say that she acts rude to people, but she may seem a bit cold at times. If you take the time to actually become friends with her however, you may get to see one of the rare times when Aya actually drops the tough act and just does as she pleases for a while.

Aya is very protective of people. Whether you are her friend or even just an acquaintance, she will protect you until her last breathe. Just don't bring this up with her or else she'll probably end up turning beet red and run flailing to her room. The only people that Aya might not be as willing to protect are people who were rude to her. Although, she might end up helping even them if she's feeling especially soft that day. However, if you are somebody who has hurt the people that she cares about, you can forget about ever receiving mercy from her.

---



Likes



-Fighting
-Action movies
-Cats
-Cracking her knuckles
-Being sarcastic
-Protecting people
-Keeping things organized
-People taking the time to get
to know her

---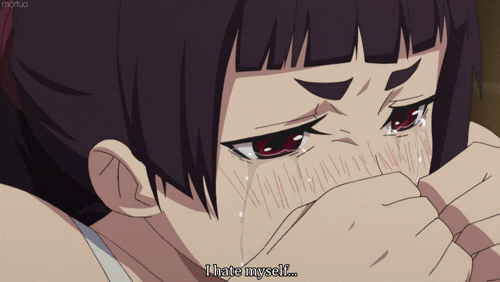 Dislikes



-Bullies
-Sweets
-Being told what to do
-People jumping to conclusions
-Being bossed around
-Being embarrassed
-Herself
-Name-calling
-Perfect people
-Bugs

---
---




History



Aya lived a pretty normal life until the day that her father's job required that they move out of her home country of Japan. She's never been out of the country before, so everything was strange and a bit uncomfortable for her. She had to go to a new school, make new friends, and even learn a new language. All of which proved to be rather difficult for the socially awkward girl.

Since she had transferred schools in the middle of the year, there were many things that she had to learn on her own in order to catch up with the other students. She would often ask the other kids questions about something the teacher had said, or if she had her facts right. It was obvious that the other kids were getting a bit tired of it, but Aya didn't know what else to do. She wasn't smart enough to self-study, and the teachers were far to busy to take the time to give her an individual lesson. It was likely around this time that the other kids began to call her names.

They'd make fun of her for stupid things like her eyebrows, her flat chest, or even her accent. Aya didn't really know how to act with all of this happening, she'd never experienced the feeling of anger and betrayal building up in her before. It was at this point when she began to really dislike herself. And one day, after one boy came up to her and started making fun of her, Aya lost it and began to beat him up. Sure she got in trouble for it later, but while she'd been fighting she had felt so good, for the first time in a while she'd felt confident with herself. The fights began to become a regular occurrence. And while she enjoyed them, they brought her their own problems.

Kids began to call her a delinquent, and teachers would glare at her when she entered a room as if she was going to lunge at someone. Soon, even fighting began to ware off after a while. She began to start feeling self-conscious once again. When she tried to explain to her parents how she was feeling, they just blamed the way people were treating her on the way that she was acting. Aya finally decided that she'd had enough, and snuck out of the window of her house one night with only a small pack filled with clothes, a water bottle, and some snacks. She's not really sure where she was going, or what she was going to do when she got there, but none of that really matters now. Since while she was walking through the forest that night, she happened upon a brightly colored house.

---