Willow
#73D926
Name:
Willow.
Nicknames:
Kitten, Kitty, Cat, Kitty-Cat. She's fine with most nicknames as long as they're not mean.
Age:
Seventeen.
Gender:
Female apparently? That's what everyone else keeps telling her so it's stuck, though honestly she's not too bothered.
Romantic and Sexual Orientation:
Aromantic asexual.
Appearance:
Willow is 5'8" tall and weighs around average at 129lbs. She has a slender figure with long limbs and pale skin, though why it's so pale given the amount of time she spends soaking up the sun is a mystery. She has pure white hair, which is usually somewhat messy from the lack of attention she gives it. The locks reach her knees in length, and shorter ones frame her face, falling into her eyes often. Willow has complete heterochromia as the iris of her left eye is green while the right is blue. Both are brighter versions of the colour and maintain a cat-like appearance.
Willow's outfit choices change a lot depending on her mood, though there is always a single earring in the form of a bell hanging from her left ear and a simple red collar around her neck. Honestly though, some days it's a challenge to get her to realise that she has clothes.
Willow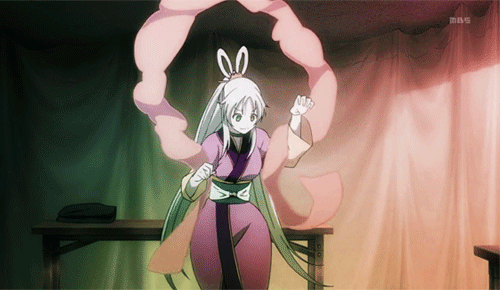 Personality:
Willow's personality is simple and complex at the same time. To most she's a childish young lady who really should learn to grow up. She enjoys having fun, which to her usually involves snuggling with her favourite people or dozing in the sun. She's a curious person; always poking herself where she probably shouldn't be and not at all fond of being told not to go somewhere or do something, she enjoys being free to do what she wishes and sulking isn't uncommon when she's told "no". Most don't bother to get to know her beyond that. She's a simple girl with a simple life.
She is deeper than that, however. While she does have dreams, she often changes between them frequently, as she does with a lot of things she decides her are favourites, this includes her choice in friends as well. She gets distracted very easily, though some offer of food, affection or sleep is sure to grab her attention above all else. She's hyper and lazy at the same time. While she would love nothing more to doze all day in the sun while cuddling with someone and snacking when she gets hungry, those few times that something interests her she becomes full of energy and it's only when she's sleepy or forced to calm down that she will stop her near constant movement.
While all this is going on, underneath the lazy, bubbly front there is a hint of fear that her favourite people will start to leave her alone or ignore her, or even worse – hurt her. After what happened with her birth and later adopted family she will try not to get too attached to people. This won't stop her from curling up on them for a nice nap, however.
Likes:
~ Naps ~
~ Food ~
~ Hugs, cuddles, snuggles, In general, affection ~
~ Sunny days ~
Dislikes:
~ Not getting affection ~
~ Being alone ~
~When nap time is interrupted ~
~ Rainy days ~
~ Being told that she can't do something ~
Fears:
~ Being left alone ~
~ Her favourite people turning against her ~
~ Being hurt, either physically or emotionally ~
Ability:
Whimsical - Cat Form: With this Willow can turn herself into a small white cat, about the size of a kitten. In this form her eyes stay the same colour and the bell moves from being an earring to attaching itself to her collar which shrinks with the change. Unfortunately the clothes don't go with her so changing back leaves her without anything on.
Background:
Willow was born to a normal family who lived in a fairly small but completely normal town. She was doted on by her parents, never lacking for food or attention and the locals who knew her would refer to her as a sweet, if slightly spoiled child. Shortly after her sixth birthday things changed. Waking up from a nightmare, she ran into her parent's room, climbing into bed with them as she normally did for such things. But this time, grumpy from being woken up she was shouted at. The fear from the nightmare coupled with this activated her ability and suddenly sitting before the adults was not a little girl but a tiny, snow white kitten.
They were normal humans who feared anything different, and seeing something so unusual happen in front of them caused the two to act in a way that they likely wouldn't if they were thinking more rationally. They abandoned the girl a couple of towns over, leaving her stuck in cat form without any idea how to change back.
After a month or so of rummaging through bins or begging at shop doors for scraps of food, she was found by an elderly couple who took her in as a companion for their last few years of life. With a safe place to live and lots of yummy food to eat, Willow settled in with the family.
Once she reached ten years old – her cat form growing no bigger to her guardian's confusion – another incident happened. While chasing after a butterfly, she grew rather frustrated when the insect fluttered out of her reach. In her efforts to catch the creature, she accidentally changed back to human form for the first time since the night she changed. Completely naked, and frozen at the realisation she had reverted to her original form, she didn't notice the broom coming towards her from the elderly woman until it had knocked her over the head, knocking her once more into cat form.
Disorientated from both the hit and the rapid form changes, she was struck again a second time before fleeing at the calls of "demon" from the couple.
Once more alone and stuck as a cat, Willow wandered from town to town, living off of scraps and the occasional mouse her small form was able to catch. It wasn't until she was thirteen that she stumbled across safety once more in the form of Cosmo Balthazar and his Whimsical Residence for Wayward Children. It was here that she learned to finally control her transformations. It was here she was taught the language she had forgotten from being unable to speak for so long. And it was here that her once feral self was tamed, allowing the bubbly young lady to emerge.
Now she has been a resident for four years.
Face Claim: Neko – K Project