---
---
Full Name:
Zachary Benett
Nickname:
Zach
Birth Date:
July, 6th
Age:
24
Role:
Shermen Descendant
---
---
APPEARANCE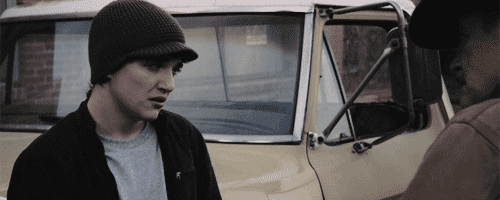 Height:
6'
Weight:
160lbs
Build:
Tall and Lean, and stronger than he initially looks to be.
Eyes:
Blue, but they look darker in certain light.
Hair:
Brown
Distinguishing marks:
A scar on his left hand that extends to the crease of his elbow.
Commonly Seen Wearing:
Gray knit caps, his black jacket, and a necklace with a cross attached to the end.
---
---
PERSONALITY
He grew up a trouble-maker with attitude problems and a tendency to call people out on their bullshit. He was always fighting in school and it was amazing that he managed to graduate at all. He does seem to have a little bit of a mentality issue, and it is noticeable when speaking to him. He seems somewhat distant at times and has a child-like way of thinking. His naive nature however is not an act, simply a side effect of growing up the way he did. He is always seeking approval from anyone older than him. Though when it comes to anyone his age or younger he always seems to be at odds, ready to fight with them if so needed. He is an oddball, and doesn't speak much of his life with his adoptive parents.
Skills:
Fixing things; Namely cars, but he worked construction for a while as a teen and retains some skills from doing that. He's also rather good at keeping organized, cooking, and cleanings since he was on his own for so long. He is skilled as self defense as well, but doesn't really like mentioning it since it brings up bad memories.
---
---
HISTORY
Born to Audrianne Shermen, but given up for adoption at birth because she was unable to properly take care of him under her circumstances. He lived with Ashley and Christopher Benett up until age seventeen when he learned that he was adopted and had suffered through both physical and emotional abuse for no reason. His adoptive parents were not capable of raising a child, but unfortunately nobody could see that. When Zach learned of his real mother he sought her out and discovered that she had been gravely ill for years and was in a state of comatose. It was too late for her by the time he reached her and thus he decided to seek out his true family elsewhere. Eventually he learned of some family in Wichita Falls, and decided to pay a visit and stay a while.
---
---
Family:
His mother, Audrianne Shermen gave him up for adoption, and Zach was unaware of this until getting in contact with her much later. She was ill though and had no time left to answer all his questions, so he did the next best thing; he found more members of his family. His adoptive parents Ashley and Christopher Benett were both furious when Zach mentioned his real mother, leading them to have an argument and for Zach to take matters into his own hands and leave. It wasn't until recently that he managed to find Miriam.
---
---
---