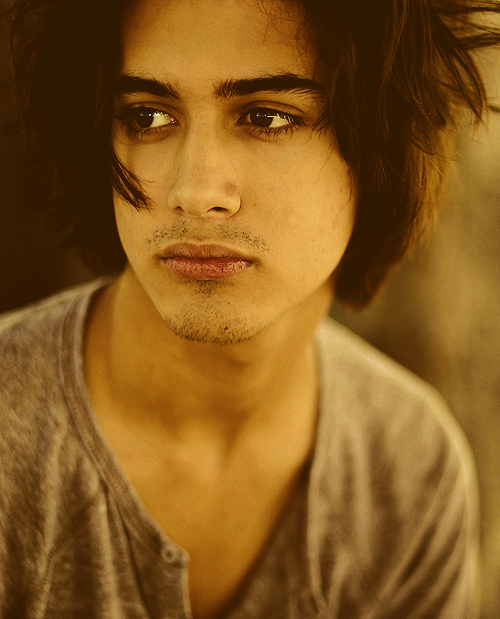 Occupation || Struggling Artist/Record Store Manager
Status || In a serious relationship; Kaycee Jackson
Vice || recovering Pyromaniac
___________________________________
Quirks:
•a tendency to push his hair back from his face frequently
•When nervous he can't keep still.
•doesn't enjoy Indian food
Skills:
•Sick bass line skills. Mans gots some hands.
•Album prodigy. Name the song, he knows the album.
•Picking locks; doors, cars, etc.
•Graphic Design
___________________________________
Personality
Time has done wonders for the young Sivaj boy, taming his wild ways. Many that don't know him find Kaleb a quiet, brooding figure on the fringe of the crowd - which he had always had been in the way. However there was always a subtle edge he carries himself with that kept him from ever going by unnoticed.
Those who know better are well aware of the wild streak within the boy within the man that is Kaleb Dean Sivaj. Everything is always an adventure, filled with unexpected twists and turns that make for a wild tale. He is the devil on your shoulder, urging you to make a fool of yourself; the devils advocate, always playing the opposing side. Once you have Kaleb by your side, there's no dull moment awaiting you.
Most people only see the one side of Kaleb, he was a troubled child all his life, always giving his father hell. When they moved from Brooklyn to Canada at age 12 his father said it was a fresh start, but to Kaleb he just wanted the bustle of the city back. Then he met Summer who pulled him into her circle without so much as flinching. For years he felt invincible with his friends at his side. People at school called them
burnouts
or
losers
, but all it really was is teenagers having fun. They felt like they could take on the world and so much more. It was this time in his life that Kaleb began to experiment with drugs. At first it was pills and bud, then white, then X...after that the sky's the limit.
Drugs followed Kaleb most of his life. When he fled Canada at age 17 with his friend Summer they had dove into a spiral of sex, drugs and music. It wasn't until the two grew apart, each going down their own path, that Kaleb began to really find himself. He had always been a "lost boy", finding his way back to New York when he was 19. While he was homeless in New York Kaleb would find odd jobs just to have money to eat.
Being homeless was a truly humbling experience. Suddenly partying and drugs just didn't matter. Motivated, Kaleb finally took a stand for his life for the better. As time went on and things began to fall in place, Kaleb finally began to smile more. He got a job as a record store clerk, a studio apartment to call home and a bass guitar to pass time. As he grew older his bitterness ebbed away, although it always stays with him.
Now, the charming man has tamed his ways for Kaycee. They have been together since before Kaleb joined Shevvery, a punk/grunge band, about a year ago. An extremely intimate and affectionate male, it's constantly a problem in his relationship with Kaycee, although he's remained loyal to her. Due to their conflicting schedule they don't get to see each other as much as they'd like although they try their best. Nowadays Kalebs life revolves around Kaycee, his job, his music and his sketches. But old habits die hard.
History
Kaleb isn't the type to talk much about his past, preferring to keep it under wraps. There's some things he doesn't mind sharing, other secrets he plans to take to the grave. The one well known fact about Kaleb Dean Sivaj is that his mother died in labor due to severe hemorrhaging leaving behind as well a daughter and a beloved husband. The family stayed at their home in the Queens, a deluxe town house three stories high while Mr. Sivaj traveled to Manhattan daily to his job as a surgeon.
Kyla, Kaleb's older sister by three years, quickly picked up maternal instincts. As nannys rotated in and out of their lives, Kyla stuck by Kaleb's side. As he grew older, Kaleb's father grew more stressed and more bitter, recognizing his deceased wife in the face of his only son. By the time Kaleb started school his father already could barely look at him.
Most of the Sivaj' Siblings summers were spent in India with their grandfather, a scholar and wealthy business man. Poppa Sivaj had much land, and a grand home filled with servants. Although he didn't have many friends, occasionally the man would have colleagues over for brandy and cigars in his study where he sat behind a grand mahogany desk.
One day Poppa invited Kaleb into his study to play chess, perhaps when Kaleb was 8 or 9. While he struggled to strategize his game, Poppa had walked to his bar pouring not one but
two
glasses of brandy. Encouraging Kaleb to drink the brandy, the man then laughed as he watched his grandson cough with hungry eyes. His memory went hazy after that, but Kaleb remembered his grandfather looming over him with a sadistic smile as he sipped his own brandy.
The next few days Kaleb had been bedridden, his entire body sore and raw. When Kyla had asked what had happened, Kaleb merely mumbled as he pulled the sheets up over his head and rolled over. It was after that summer that Kaleb began to act out.
He began smiling less, finding his fuse shorter than ever and when his dad remained behind closed doors, Kaleb would act out even more. He became the
bad boy
at his prestigious elementary school, mouthing off any authoritative figure and deliberately "bending" rules. More times than not Kyla did most of the scolding, or whatever nanny was around at the time. When he completed elementary school, he was not welcomed into the grammar school, and it was around this time that Kaleb's father was offered a job in Belleville Canada, a remote town with wholesome family values and a wealthy community. Although Kaleb and Kyla both didn't want to leave New York, their father left them without an option. He saw it as a fresh start.
When the family first moved to Belleville, they weren't very social, staying in their own lane. Being the only Indian in his class, Kaleb already felt outcasted, but on special Lady fixed all of that. As soon as he met Summer Vorhees, Kaleb and her clicked. Plus they lived three doors down from one another so the two became best friends quick. Sure he loved the others in their group, like Sodapop (Jaylene Sullivan) and Bonesy, they were like family. But as the years went on and memories were made, Kaleb began to fall madly in love with Summer.
The only problem was that Summer was a lesbian. Kaleb kept his passion from Summer, although it was obvious to everyone else. During their adolescence the group spent most of their time in their hide out, a cave along the lake where they could spend days just getting mad trashes while they ate junk food and skinny dipped, or just lazed around in the sun. It was probably the simplest time in Kalebs life, on the surface at least.
Everyone within their circle was lost, trying to find themselves through drugs and partying, casually hooking up with people outside of their group. It was a very dark time, mentally, for Kaleb. Home was horrible with Kyla away for school, leaving Kaleb and his father alone for the first time ever. Every encounter ended up with an argument, although most of Dr. Sivaj's time was spent at the hospital or sleeping.
When Kaleb began blacking out he knew there was a problem. Often he would be so drugged up he didn't even realize it was happening until after the fact, setting small fires across Belleville. One night, after finding the love of his life (Summer) all drugged up on meth Kaleb had stormed off in anger and delusion, setting fire to a cemetery. Sometime after Jaylene found him running through the streets in a daze with a bad burn on his leg. She took him home and cleaned him up, and somehow the two ended up in her bed spilling into each other.
It had the the single most intimate moment in all of Kalebs life, and for once Kaleb had allowed himself to accept the fact that Summer could never love him how he loved her. However the next morning Jaylene had acted aloof and distant, bruising Kaleb's ego. He had planned to only ignore her a couple days, but when he showed up to her house
she was gone
.
The death of their friend then came out, and Kaleb had expected to see her at his funeral, but Jaylene never showed. He remembered holding Summer as she sobbed into his shoulder, trying to maintain the line between friend and lover. Everything seemed to be happening at once, and his father began to press military school for Kaleb's senior year of high school. If Kaleb could have prevented it he would have, but the next thing he knew he was standing in front of his high school in the middle of the night, watching it be consumed by flames.
Once coming to his sense, he banged on Summer's door until she came out, and the two fled into the U.S. for a new life. At first it wasn't so hard, they had a lot of supplies already and a pick up truck to live out of. They spent many nights huddled in the bed of that truck, reminiscing as they held each other, looking up at the stars. She always smelled like lilacs and the ocean. For months they lived out of that truck, doing odd jobs just to makes it by. When the truck broke down in Jersey it seemed like a sign for Kaleb to return to NYC, where as Summer had made some seedy friends just to score. When the two had blow out where Kaleb claimed, "Go ahead Summer, I'm tired of trying to save your life when you've already damned yourself." And walked off.
For what felt like a long time Kaleb was homeless, carrying around his bags of clothes and occasionally finding a girl to crash with for a couple days. It wasn't until he was 19 he got the job at the record store as an associate, paying $30 a week to crash on a cot in the back room. Once he finally got on his feet, Kaleb found a room for rent on Craigslist and picked up the bass again. After that it seemed like life was in the slow lane, slowly allowing the pieces of his life come together.
When he met Kaycee through mutual friends he knew she was amazing. She made him feel comfortable to be himself, and man could she make him laugh. No female could ever make him laugh like she does. They started as friends, but it naturally bloomed into something else, something beautiful.
When Rob and Greco randomly walked into the record store one day and heard Kaleb playing bass and singing softly, they asked him to join their band on the spot, and he said yes. Once his roommate's name ran out on the lease, Kaleb bunked up with Rob for a while, which was fun. Also the only other white lover of the group. Although drugs were no longer a priority in Kaleb's life, they were a very important part of his partying habits that he occasionally divulged in. Eventually though he decided to move out on his own and scored a funky little loft in the Bronx.
Now he remains at the record store as store manager, comfortable in his mediocracy as he waits for his band to
hit it big time
. He and Kaycee argue often, mostly over her jealousy or his flirtatious nature, but they've remained strong so far. Until then this Bronx resident is cuffed and locked down.