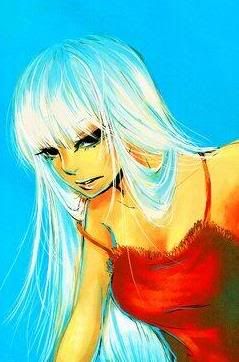 Name:
Juliette Marie Vasquez
Nickname(s):
Marie, Juli, Ette, Stary
Age:
17
Species:
Witch
Bio:
Marie was born in Paris, France to
Anette Keiron
and
Eric Vasquez
on October fifth during a cold, chilling day at noon. With her unnatural, vibrant white hair like her father's, the hospital staff was concerned for young Marie's health, fearing there was some kind of issue with her body; although they feared this, they, being people of fact, never considered the actual dilema. As Marie grew and matured, she soon became aware of her powers; her mother was worried deeply about this, knowing of the witches' horrid past and was terrified that it would repeat itself in the future. Her father, who she only saw on alternate weekends depending on his work and her school, was proud of Marie, as it was passed through his blood to her, this magic. He, although had mastered a majority of the art, refused to teach Marie other than the very, very intermediate basics of witchcraft, leaving her with basically nothing but a few simple spells. After a few years had passed, spurting Marie up to 15, she and her mother moved away from Paris to Seattle, Washington after a heated argument between her father and mother(Marie guessed it was her mother's "spur of the moment" idea). They settled easily, although the new scene was a bit difficult to adjust to, declares Marie, eventually they grew accustomed to the town. So far, they haven't had too many problems, but Marie, most recently, has felt as if she is being watched every moment...
Physical Description:
Born of two fine, attractive French parents, Marie has nice, sharp features to her face, with fully blossomed lips, cool, icy blue eyes covered by long, curved lashes, and a medium-sized nose. She stands at 5'9" with a completely developed body, often clothed by reds, violets, whites and blacks; her limbs are long, spidery, yet graceful and agile, along with her narrow fingered hands and fine nails that are usually painted clear. She has no piercings, one tattoo on her hip of a bloody rose that spirals down her leg, and has moonbeam white hair so shiny, sheen and rich that it seems as if moonlight had became a beautiful waterfall from her scalp(tell her this, and she might be a tad weirded out).
Personality:
Describing Marie's diverse, broad personality is very difficult, as she is like many people in one body, however, I can give you each personality's set. Marie has a good heart; she knows and acknowledges those who need her assistance, no matter in what form, but, often, she doesn't truly do anything to help. It isn't because she likes to watch another suffer, she just doesn't exactly know how to express and gift her kindness to another. However, she tries a majority of the time, which, depending mainly on her mood, can be awkward at times, due to her inwardness about such. She, beginning on a complete opposite, can be very irriatable, crude, loud and vicious whenever shoved to that point; she has a bosy, in-your-face attitude at times, not hiding anything, filtering nothing when speaking. This causes drama and conflict with others very commonly, and leads her to even more violent moods. There are times when Marie can also be withdrawn, soft-spoken and reserved when she feels inferior, lesser, saddened or when trying to clear her head or think. On normal occasions, she is a pleasure to be around, good with conversations, and able to be loose and just laugh. In an altogether ensemble, Juliette Marie is your basic human with magic abilities...
Theme Song:
Welsey//Avery Beats
Equipment:
Batwing Backpack
A vial of mystic gems
A journal of previously learned spells(from her father)
A Wiccan Charm
Extra:
Her father, Eric Vasquez, is in liege secretly with the vampires. (Neither her mother nor her knows this.)
((SILENTSHIVERS: If you'd like, before approval, I'll give you the reasons behind her father's odd alliance. :D Oh, and I'm trying for witch five, please. :P))