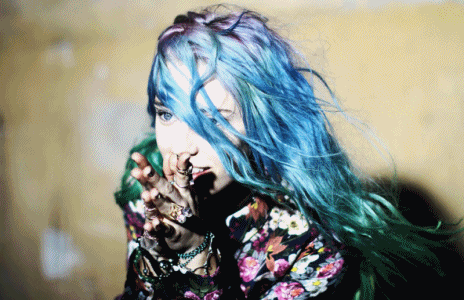 "She's a natural disaster, she's the last of the American girls!"
https://www.youtube.com/watch?v=HR8Ia6vyV5Q
---
---
Full Name:
Violet Jane Khiara
"Violet Jane, that's me but don't call me that,"
Nickname:
Khi
"Don't assume you can call me it, it's for friends but you can call me Khi if I like you,"
Age:
18
"What are you? My stalker?"
Gender:
Female
"I'd like to think this one's obvious to be perfectly honest,"
Sexuality:
Bisexual
"If you're hot, you're hot. I'm not going to question it because who actually gives?"
Race:
Witch
"That's right I'm a witch bitch."
Power:
Phasing
"I'm basically intangible, I can pass through things like a ghost, disappear, travel somewhere else, reappear, reorder my particles and shit like that,"
Birthday:
14-02
"I'm a Valentine's babe."
Home Town:
Alabama
"Sweet home Alabama, something about coming home to you,"
Biological Parents:
Unknown
"I grew up in an orphanage which was pretty shit because I got bullied a lot but what doesn't kill you, makes you stronger right?"
Personality:
Khi is point blank, bat shit insane. She doesn't know what she's doing or where she is half of the time and the other half she's sleeping. She breezes through life by going with the flow and she rolls like a stone without a care in the world about herself or lifestyle. She's not one to stress and if she feels it coming on, she'll go listen to music, smoke or have a drink (or all three). She believes that everything should be about achieving an equilibrium- a permanent state of content and calamity- a brilliant normality. She's ridiculously chilled out and if she's arguing with you or starting a fight, it's in the defence of something or someone else, she doesn't tend to bother fighting for herself because she doesn't care about what people think of her- unless there's violence, she won't tend to bother retaliating. However, Khi has an especially short temper at times and she is often sharp-tongued if you catch her in a foul mood. She's feisty and she'll always be the first person to defend a victim, no matter who they are if she personally likes them or not, she'll defend someone in trouble. Khi thinks this part of her personality roots from how no one ever did that for her when she was a kid and how much she wishes someone had, so it's always been a priority in Khi's life to defend those weaker than herself or in need. She's also a massively infamous protester- everyone knows her as the girl with a billboard and marker pen. She goes all guns blazing for animals right and equality, she thinks everyone deserves to get the most of their life on Earth before they get sentence to infinity in a void of darkness and nothingness- she thinks this time is precious and everyone should be able to savour it without fear, poverty or emotional stress.
Khi is also vegetarian and refuses to wear, use or benefit from animal sourced products- sheep skin, wool, leather- none of it. Everything she wears is faux because her love for life runs to deep in her veins to take it away from another animal for the sake of having something extra on to cover her flesh. She's strong-minded when it comes to this and she won't consume any meat under any situation. She'd sooner die than eat a sausage. However she won't go Vegan because it'd degrade her value of life because she knows her health would be effected and she believes in making the most out of life. However she won't eat 'eggs' or anything that could have been a potential life under different circumstances.
Khi is really protective and the people she loves and cares for, she'd do anything for them in the whole wide world (except eat meat). She'll never not fight in your corner if she's loyal to you and if you care for her, she cares for you. She's an affectionate, friendly person most of the time but has a colder side to people she doesn't take warmly too and she isn't afraid to show her opinions- she'll rant and ramble about her opinions all day if she had someone who genuinely wanted to hear them but she doesn't force her views on other people. She doesn't believe in that, she thinks everyone has a right to their own individual idealogical view and to draw their own conclusion on every matter that one can ponder over. She doesn't think people have the right to dictate other people's views and opinions- this is why she doesn't promote hers but rather expresses them productively for the greater good or benefit of someone else.
"No freedom till we're equal. Damn right I support it,"
---
---
Appearance:
Khi is quirky but somewhat attractive and in her own very unusual way, she is actually quite pretty. Khi has rippling blue eyes, the colour of a rich tropical lagoon and they're the perfect almond shape and typically wide. She has a long, thin nose and slender face. Khi has a petite, slender figure and coming in at an average height but slowly below average weight, she knows she ought to eat more and more healthily but that's a vegetarian problem. She has a snowy, 'English Rose' like skin tone which comes from her Mother who's of an English descent- that's all Khi knows about her that she was English. Khi doesn't really tend to wear make-up unless she's going out with friends or to do something, her skin's fairly clear so it doesn't tend to worry her too much unless she has a break-out then it's more than likely she'll whip out her brushes and foundation but this happens very rarely. Khi is self-confident so she's no stranger to skirts, shorts, dresses and quite likes having her legs out since she considers them one of her best features, if not her best. She loves going bare-foot and loathes shoes but she'll wear them when necessary but if she could never wear shoes again, she would. Khi's fashion sense consists of hippie, indie and grunge like designs but it tends to vary a lot from day-to-day and the occasion of course. However, it's very rare she isn't wearing some kind of shorts or a dress and she's prone to wearing POP culture t-shirts or band merchandise, she loves the whole distressed looks and she probably doesn't own a pair of jeans that aren't shredded all over or in some way or form, distressed. She's also prone to wearing shit loads of bracelets and rings but she's slowly dropping out of that habit but it's still a common occurrence to see her geared up with jewellery. Then there is obviously her hair. Khi is obsessed with hair-dye and there basically isn't a colour she hasn't had her hair, it's currently dyed like a 'rainbow' as shown in the pictures above but she's already planning to dye it again, she just doesn't know how yet.
"I'm a goddess on my knees, you know!"