Witches Brew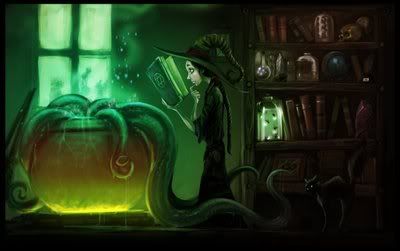 "Double, double, toil and trouble;
Fire burn and cauldron bubble."
NOTE: This is an RP which had the makings of awesomeness but never quite took off because the GM ominously disappeared and hasn't logged on since. I've recreated it and will continue to 'pretty it up' as time goes by, but for now don't wait on me to provide the trimmings, just submit a wicked cool character and let's get the party started. (End note.)
This is not your average witchy tale. These witches are not ugly, most witches are not, however. Myths portray them as old, green skinned ladies with large warts on their noses. That is a bit insulting to them, you know. Actually, most witches are humble beings. The ones who deal with white magic that is. Luckily, the three main witches in this particularly story deal with just that: White magic, only. There are tell tale signs in spotting a witch that deals with white magic, and one who deals with black magic. If a witch studies the art of using white magic to heal, and so on, their aura is very "clean." Most mortals are extremely drawn to them. Unlike one who deals with black magic, their aura being cloudy, humans shying away from them; almost like a vampires aura. Anyway! Onto our story..
The three witches mentioned come from a well-known line of white magic users. The Harlan Witches(they are also, long with white magic users, elemental witches). Their ancestors are known in the supernatural community as great healers, using herbs and such. If it tells you much, their great, great, great grandmothers are still alive. Shows you have powerful their magic is. Two of the witches are sisters(different fathers who skipped out on their mother). Two years ago their mom was "killed in a car accident" on the way home from having dinner with friends. Well, that is what the sisters were told. The real way their mother died was never told. Due to that turn of events the two sisters were sent to live with their Aunt Margret who is fifty-four, however, she has a daughter around their age. In came the third witch. Their cousin.
Having lived in the same town for twenty years and not aging physically(because of a certain elixir), Aunt Margret decided it was time to move. So, they did.. To the small, cozy town known as Ashwick(made up, don't complain!=P). Ashwick is set back in a woodsy area, the type of place where most of the people are rather friendly.. And everyone knows everyone. When a outlandish woman and three odd, teenage girls move into town, you can imagine the uproar and gossip (imagine if they found out what they were). Ashwick is home to the Ashwick Panthers. They excel in sports, especially football, and their rival is the next town over, the Blackwood Bears.
Upon arriving it was two days before school started back, the beginning of October. Even though Margret was a considerably fun woman who loved goofing off, and making random potions, she was surprisingly strict when it came to school. The girls had to go when it started. But of course, being the sly girls they are, they came up with a devious idea to keep the school year interesting. Besides messing with the humans, and came up with a silly, little bet. The first one to make a human male fall in love with them first, without using magic, wins. Wins what? Why a smooth-covered, new spell book, of course! Each girl has it in their mind that this is going to be a piece of cake. Mortals are already drawn to them! The first day of school it was set that they would pick out their victi- human boy. After that, they must do everything to get noticed by them. They must talk to them, flirt, find a way to spend time with them even after school, befriend them, anything. Before the Halloween Masquerade on the thirty-first, however, they must have been kissed/kissed the mortal boy. If not, they're out of the bet. By the end of the year the boy has to say "I love you." And this all has to be done without magic.
It might not seem hard to you, mortal, but here's the catch. Witches use magic for everything, even love. Most witches who get married have a spell over their husband, literally. So, to do this easy little "task" is quite challenging for them. How will they ever survive this torture? Yes, torture. That's all love is.. Disaster just a' brewin'!
The Basic Plot
Hopefully the little "story" above explained the story pretty clear, but if not this will(I'm hoping). So, basically, three witches, all related, move into a small town called Ashwick. They cause a bit of an uproar because they move into a large, "creepy looking" house at the top of a hill that's been abandoned for years. (Many parents have told their kids the place is haunted to keep them away from it) Along with that, their aunt(and mother) Margret is a crazy character. She wears old looking clothes, her hair slung in a bun, and she's a bit of a kook. But that's besides the point. The three young witches are always looking for new things to do and get into, so they come up with an idea to challenge themselves. They decide to make a bet on who can make a human boy fall in love with them first without using their magic to do so. So, when they go to school the first day(which is at the beginning of the role play), they pick out the human boy they want to make fall in love with them.. And the game begins. They must try getting close to the guy any way they can, even if it's secretly. First befriend them, etc, etc. Part of the bet is they have to have kissed the boy at least once before the end of the Halloween Masquerade ball at the end of the month.
Conveniently enough, the three boys they pick are three good friends. They all play on the school's football team: Quarterback, Line backer, and the Wide receiver. They also are, three of the most popular boys in school. Jocks, naturally. This will make the bet even harder.
Besides that, I'm leaving the plot pretty open. Open to new suggestions and ideas!! I would love if you shared some either through OOC or PM. Events that could happen, etc. Anything to make this role play last. It's pretty character based, so do not be afraid to add things. I will be adding another Forum in the OOC tab. There I will list events that are going to happen, in order.
If you have ANY QUESTIONS please ask me
Things You Need To Know
✩ The Harlan witches are great at healing, especially using potions dealing with herbs. They are also great elemental witches. However, each witch in the Harlan line has one element they're best at.
✩ Witches usually have a familiar that is practically always around the witch. It is an animal and that can talk to the witch telepathically, only to them. Unlike most myths, a witches' familiar is not only a cat, owl, or toad. It can be any animal that picks them first.
✩ Witches do not melt when water touches their skin. =P If it did how would they take baths?!
✩ Most witches are one with nature and love animals, definitely those who work with white magic.
✩ A witch uses magic, spells and potions for pretty much everything. They could not live without it, literally.
✩ Witches can shape shift into one chosen animal, strange as it may seem.
✩ A tell tale sign that someone is a witch is weird eye coloring. Many witches have outrageous looking eyes. Silver, gold, black in color.. Perhaps brighter than the average human. It just depends.
✩ Witches DO ride on brooms! They can place a spell on one to make it levitate and fly. They find it rather enjoyable, a past time. However, most rarely get to go flying.
✩ Many love Halloween because they can dress in "traditional attire," and get away with it.
✩ There is a council called The High Council. It is made up of four witches, and three warlocks(the male version of a witch). They are extremely old due to a heavy "non-aging" spell, and have order over all witches/warlocks.
✩ The Council strictly forbids any witch/warlock to expose their abilities, what they are, to any mortal. There are severe punishments for both the witch/warlock and human.
✩ The ultimate punishment the Council can do is stripping a witch/warlock of their magic. It practically kills them, and if the witch/warlock is very old, and was using an aging spell.. They're dead.
✩ There are other supernatural beings in this role play. Vampires, Werewolves, etc. But will not be mentioned until later when we decide bring in new characters. (If this role play lasts that long.. Which it will!! =P)
✩ NPCs are welcomed!! Especially by those who portray a human male. Portray family, friends, ex-girlfriends, etc. Please? =3
✩ Will Add More Soon! Check back!!
Character Roles::
Gender | Age | Main Element(if witch) | Familiar(if witch) | Animal they can Shift into(if witch) | Football Position(if boy) | Extra Something(if boy) | Open/Reserved/Taken
The Witches
Older Sister; Witch One
Female | Eighteen | Wind | Surprisingly, a small Raccoon | A Raven |Taken by Meesha
Younger Sister; Witch Two
Female | Seventeen | Fire | Ironically, a Cat | A Mountain Lion | Taken by ChildOfNone
The Cousin; Witch Three
Female | Seventeen | Water | A white German Shepherd/Wolf mix | A Wolf | Taken by Surfergirl
The Jocks(Human Boys)
Jock/Boy One
Image
Male | Eighteen(birthday soon) | Wide receiver | Is, secretly, in the Drama Club, needs more people in the club | TAKEN by shmband
Jock/Boy Two
Male | Eighteen(almost nineteen) | Quarterback | Is failing Calculus, needs tutoring | Taken by reveries
Jock/Boy Three
Male | Seventeen | Line backer | Helping decorate for Masquerade Halloween Dance, needs help | Open
Character Sheet(s)
Witches CS
Code: Select all

[center][img](image here)[/img][/center]
[b]Full Name::[/b] (Their last name is Harlan)
[b]Nickname::[/b] (If they have one)
[b]Gender::[/b]
[b]Age::[/b] (In Character Role)
[b]Familiar::[/b] (Mentioned in character role, you can add a link to a picture of it)
[b]Animal they Shift into::[/b] (In Character Role)
[b]Element Best At::[/b] (Mentioned in CR)
[b]Grade They're In::[/b]
[b]Personality::[/b] (At least five sentences)
[b]Appearance in Description::[/b] (At least five sentences!)
[b]Likes::[/b]
[b]Dislikes::[/b]
[b]Fears::[/b]
[b]History::[/b] (Optional!!)
[b]Other::[/b] (Anything I missed or you want to add?)

The Jocks/Boys
Code: Select all

[center][img](image here)[/img][/center]
[b]Full Name::[/b] (First, Middle, Last)
[b]Nickname::[/b] (If they have one)
[b]Gender::[/b]
[b]Age::[/b] (Mentioned in Character Role)
[b]Grade They're In::[/b]
[b]Football Position::[/b] (In Character Role)
[b]Personality::[/b] (At least five sentences)
[b]Appearance in Description::[/b] (At least five sentences!)
[b]Likes::[/b]
[b]Dislikes::[/b]
[b]Fears::[/b]
[b]History::[/b] (At least five sentences)
[b]Other::[/b] (Anything I missed or you want to add?)

OK it's really very simple. Either this roleplay will take off, or it will die. Which happens is up to you. I won't reserve characters, but you may express an interest in a character and I may, as a result, hold off accepting someone else's submission for that character until I see yours. It ain't "first served", it's whoever serves up the best CS and gives me the impression they'll pull their weight.

- Try and give us a decent post each time. No word minimum but if you're constantly less than 100 words it could be a problem. 200 words is a nice target, 300 words is a good days work. 1000 words (other than for an intro post) is probably just a load of self-indulgent pap but feel free to prove me wrong. :)
- Please post regularly, don't hold the RP up without good reason. 'Writers block' is not a good reason. I'm not asking you to win the booker prize, just a good enough post that'll keep the RP flowing. Thanks!
- The usual common sense stuff: no god-modding, no Mary-Sues, no flagrant erotica (site rules apply), etc....

Might add more rules as we go! :) But rules aren't the fun part, right?
Taking place in...
11 posts here • Page 1 of 1
11 posts here • Page 1 of 1
Arcs are bundles of posts that you can organize on your own. They're useful for telling a story that might span long periods of time or space.
There are no arcs in this roleplay.
There are no quests in this roleplay.
Here's the current leaderboard.
There are no groups in this roleplay!
Welcome home, Promethean. Here, you can manage your universe.
Arcs are bundles of posts from any location, allowing you to easily capture sub-plots which might be spread out across multiple locations.
You can create Quests with various rewards, encouraging your players to engage with specific plot lines.
Settings are the backdrop for the characters in your universe, giving meaning and context to their existence. By creating a number of well-written locations, you can organize your universe into areas and regions.
Navigation
While not required, locations can be organized onto a map. More information soon!
There are no groups in this roleplay!
By creating Collectibles, you can reward your players with unique items that accentuate their character sheets.
Once an Item has been created, it can be spawned in the IC using /spawn Item Name (case-sensitive, as usual) — this can be followed with /take Item Name to retrieve the item into the current character's inventory.
Give your Universe life by adding a Mob, which are auto-replenishing NPCs your players can interact with. Useful for some quick hack-and-slash fun!
Mobs can be automated spawns, like rats and bats, or full-on NPCs complete with conversation menus. Use them to enhance your player experience!
Current Mobs
No mobs have been created yet.
Locations where Mobs and Items might appear.
You can schedule events for your players to create notifications and schedule times for everyone to plan around.
Add and remove other people from your Universe.
The Forge
Use your INK to craft new artifacts in The Witch's New Brew. Once created, Items cannot be changed, but they can be bought and sold in the marketplace.
Notable Items
No items have been created yet!
The Market
Buy, sell, and even craft your own items in this universe.
Market Data

Market conditions are unknown. Use caution when trading.

Quick Buy (Items Most Recently Listed for Sale)
None
Discussions
Topics

Replies
Views

Last post
Most recent OOC posts in The Witch's New Brew
There have been no posts in the OOC topic for this roleplay!