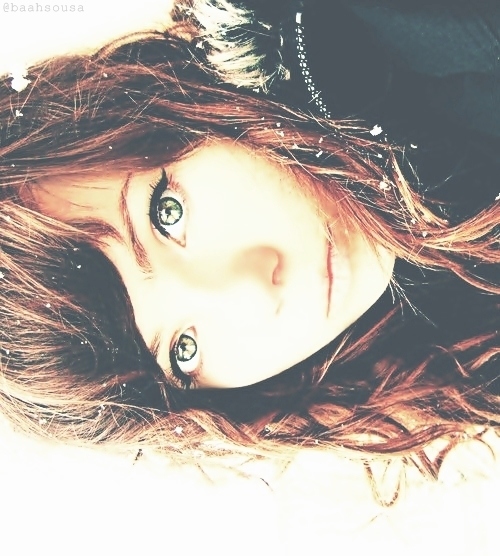 Full Name::
Phoebe Harlan
Nickname::
Fee, Fee-Fee, Phoebes or any other nickname anyone might come up with, she's not picky.
Gender::
Female
Age::
17 years old
Familiar::
A Siamese cat named
Simon
Animal they Shift into::
A
Mountain Lion
Element Best At::
Fire
Grade They're In::
11th grade/ Junior Year
Personality::
Phoebe is a girl of many interests which in turn helps her get along with all types of people. She is very outgoing and friendly. A very curious person by nature, she likes to ask many questions. You give her something new to talk about and she'll eat it all up with gusto and enthusiasm… unless it's about politics and government; Phoebe can't cram all that goes with the subject in her head. She is inventive, creative and all around wacky (the good kind)! Being the active girl that she is it might not come as a surprise that she is always in motion, always moving in little ways that may seem nervous or anxious but are really just shivers of her restrained energy.
Phoebe has been asked on many occasions if she's ADD or bipolar, she isn't. She just has a really complex personality, some might say too much of it. Some people might find her always chipper mood annoying and her hyper person a bit too much but Phoebe brushes away any negative vibes that come her way. Always the image of positivity, Phoebe always seems to sport a smile on her face or a wicked grin. Because really, what's a witch if not a bit wicked? Well, not really, Phoebe tries her hardest to be on her best behaviour but she has her moments when she just can't help but have a little mischievous fun. Once in a blue moon Phoebe's good nature runs out. Yes, it is possible. A warning to those who cross her path: try not to comment on her mood. In these little miracle moments it's as if Phoebe is a whole different person. She's moody, grouchy or just plain depressive. It happens. But really, she's a very lovable girl with a never ending positive bubble surrounding her.
Appearance in Description::
Phoebe is the kind of girl guys have to take a second look at. While maybe not as gorgeous as her older sister or cousin, Phoebe has charms of her own, be assured they are not the magical kind. With big light green doe eyes and long lashes she looks the picture of innocence in the making. If it weren't for her ever expressive eyebrows and the constant wicked smile her plump rosy lips seem to carry she'd actually pull the look off. And yet another tell-tale would be her untameable curly chocolate brown hair that always seems to rebel against the brush.
Besides a pretty face, Phoebe was also blessed with a pretty rockin' bod if she does say so herself. With long legs to help her out she stands at 5'7", just an inch below her older sister. With wide hips, a skinny waist and a chest most girls would pay for it can be said that Phoebe indeed fits the "hourglass" figure description but then again, what Harlan doesn't? What can we say? It's in the genes.
Likes::
[=]Meeting new people.
[=]CHOCOLATE!!! (Any sweets, really.)
[=]Learning something new.
[=]Having fun!
[=]Kids
[=]Family and friends!
[=]Making new spells, trying out old spells
[=]Music
[=]Singing
[=]Dancing
[=]Books
[=]Art
[=]Some sports
[=]Motorcycles!!!
[=]When people call her bubbles!
[=]Acting
[=] And much more!
Dislikes::
[=]The cold
[=]Boredom
[=]People who are big fat meanies!!!
[=]Sluts
[=]Ignorance
[=]Bullies!!!
[=]Frowns
[=]Government/Politics
[=]Tomatoes…
[=]Playboys! (Dislikes them but still likes to ogle them if they're eye candy material) XP
[=]Getting in trouble
[=]Getting caught in the act of doing something bad.
[=]Empty promises.
[=]And a few other minor things!
Fears::
[X]Being alone forever.
[X]Witch Trial stories/movies/discussions.
[X]People finding out about her being a witch.
[X]Being the cause of something bad.
History::
Phoebe is younger sister to Faye Harlan. Despite never having known who their father was the two sisters lived quite happily being raised by a single parent, their mother. Unfortunately, two years ago their mother was in a tragic car accident that killed her. Both the Harlan sisters were hit with the news hard. While Faye might have had some suspicion about the car accident excuse Phoebe couldn't never truly wrap her head around the fact that their mother was gone. As they say, in complete denial. It took a while for the reality of the situation to set in but when it did Phoebe went in one of the worst blue moon stages ever. She wouldn't eat, she couldn't sleep, she hardly talked and she never smiled. She was completely lost and utterly depressed. After that, the anger set in. One that could almost rival her sister's temper. Maybe even bypassed it slightly.
But her sister was there for her. And eventually the pain of it became number. Never forgotten but she could act as normally as she had before. Due to the loss of their mother they were passed on to their Aunt Margret, an eccentric fifty-four year old woman that brought a bit of color into their lives. Besides their Aunt they also got to meet her daughter, their cousin.
Living with them took away the harsh edge that had surrounded Phoebe and healed almost all wounds. Then, they had to move again after twenty years of living in the same town. Given the fact that physically they hardly aged at all, they were bound to move some day so as their secret to be left in the dark. So, move they did. Into a small town named Ashwick.
Other::
"Double double toil and trouble!" ;)