---
---
|| Basic Information ||
|| Full Name ||
Angelica Rose White
|| Nickname ||
Angel/Angi | A shortening of her name, often used by her friends.
Rosie | Used to tease her because she hates it
Snow | Used by the pack due to her white fur.
|| Gender ||
Female
|| Age ||
29
|| Sexuality ||
Bisexual
|| Mate ||
Pending...
|| Role in Pack ||
Female Alpha
---
---
|| Appearance ||
Angel has waist long, bleach white hair which falls in waves down her back, She is often seen wearing it down and loose with a few sections randomly braided or tied in a loose ponytail at the nape of her neck. She has electric blue eyes which are seen as impossible due to the hue of them however it is mainly due to her thick black eyelashes and pale skin complexion that gives her eyes this effect.
Angel has surprisingly pale skin despite her time spent in the sun and also has a small and petite body coming in at around the height of 5"6' and weighing in at 115lbs. She has lots of hidden lean muscles, though the majority of this resides in her legs due to her love of running in wolf form.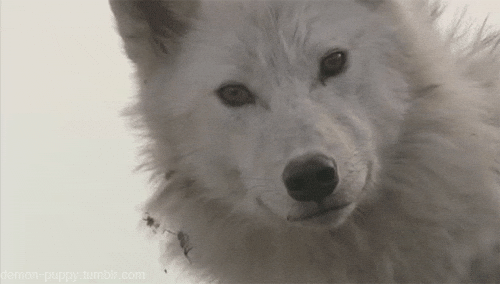 Angels wolf form took after her pale complexion and hair color, ending up a beautiful, pure white. This is where she got her nickname 'snow' from.
She has short white hair that covers the entirety of her body with no other colours mixing in with her coat. She does have a thin set of rings around her eyes which almost mimics eyeliner as it makes her blue eyes stand out against the white and black fur.
She is quite a small wolf who is more agile them deadly, more speed then strength which has proven a challenge for her, but she is able to hold her place through her intelligence and wisdom and not just her physical ability.
The fact that she has a white coat can be both a bonus and a negative. With her white coat she is able to blend in perfectly in the snow... Sadly this also means she can't blend at all into the woods.
---
---
|| Personality ||
Intelligent || Charismatic || Wise || Protective || Mature
Angi has always been caring and protective. Always the one to know what to do when something goes wrong, and always the one to try and protect those who she holds under her protection whether they deserve it or not is irrelevent for her.
Often considered an extreme mother hen by her friends, Angi hates the idea of any harm coming to those she cares about and will protect them to her last breath even if that means she will be the one who sufferes in the end.
Mature, Wise and intelligent, Angi tends to be able to come up with a course of actions that will have the least negative effect and bring about a positive outcome for all involved in the situation. Using her sweet tongue to get people to see her point of view, there is little Angi cannot do when she has a clear mind and a set plan.
However despite how mature and wise she can be, Angi has one fatale flaw of being stupidly reckless when it comes to her family and friends. She will die for those she cares for and often loses prospective of the situations and needs someone to pull her back or else she can do something seriously dangerous, either to herself or others.
|| Likes ||
+ Reading
+ Running
+ Being mentally challenged
+ Intellectuals
+ Looking after others
|| Dislikes ||
- Fighting
- Others getting hurt
- Cruelty
- Pain
- Lightning
---
---
|| History ||
Angi grew up as the eldest sibling to 6, a drunkard father and a dying mother. Having to grow up fast, she was the one who always put food on the table and protected her brothers and sisters from the dangers of the world so they could have the childhood she never had.
Bitten:
It was not uncommon for her father to beat Angi, she was used to it. However, One day he took it to far and nearly killed her, if Thomas (Second eldest) hadn't knocked him out and told her to run
Angi had ran, bloody and beaten, scared out of her wits. Not paying attention to her surroundings she soon found herself with another mark on her body. A wolf bite mark.