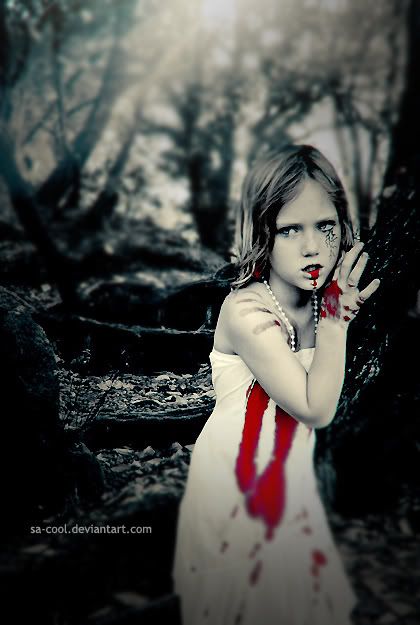 Disclaimer: I do not own this picture, unfortunately I no longer have the information on the pictures owner. If anyone knows, or asks me to take it down as such, I will do so. Until then I am using it to express the dual nature of my character and as amazing artwork.

.:|The basics|:.

Rank: Omega
Full name: Lillian Danny Coste
Nickname: Lilly
Race: Human / Werewolf.
Occupation: Student , Elementary School

.:|Physical Appearance|:.

Age: 10
Eye Color: Blue
Hair: Dirty Blonde
Height: 4'1"
Weight 68lbs
Build: Average, slim
Distinguishing marks: Small scar on her left cheek.
Predominant feature: Dimples

- Lilly is your average little girl. She has wild blonde curls and big blue eyes. She's tanned from .running around outside a lot in the summer and living on a farm, doing her chores, giving her a bit more muscle mass than your average little kid. She's scrawny and small.
.:|Wolf Form|:.

In her wolf form she is very small, considering she is still a pup, with puffy dark blonde fur and dark brown 'paws'. Considering her age she is easily the smallest and could be mistaken for a dog rather than a busy tailed wolf.
.:|Personality|:.

Habits: Nail biting, hair chewing and thumb sucking.
Biggest Vulnerability: Age
Priorities: Lea Learning to come to grips with what happened and how to grow up with it, hiding from her parents.
.:|History|:.
Lilly comes from a happy home at the edge of town, by the forest. She is one of the families to be hit the hardest by the 'savage wolf attacks', parts of her father's cattle started to be killed and eaten. Not understanding the dangers of a wolf- having only seen them in the children's movie Alpha and Omega – Lilly was wondering through the trees on the outskirts of her papa's farm when she was bitten.

While it was not savage, Lilly was taken to the hospital and got a tetanus and rabies shot, now she'll have to figure out what is happening…Who would have thought a ten year old would a werewolf?