---
"To avenge my sister..."
---
---
---
---
---
---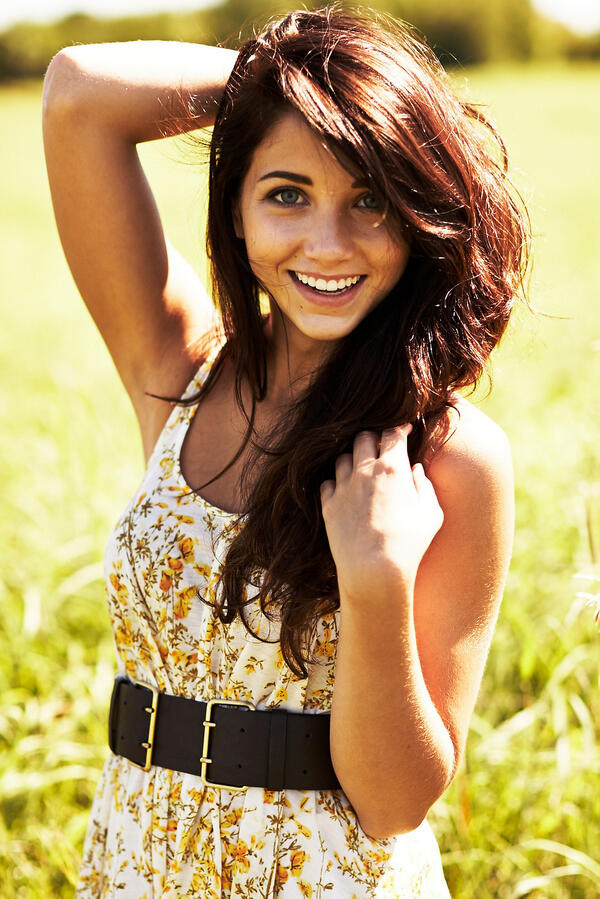 Appearance and Personal Info:



Nickname:
Ella, Ari, Arie (Most preferred).

Role:
Kid #1

Weight:
114

Height:
5'5

Sexuality:
Heterosexual

Eye Color:
One is a bright blue, the other is crimson.

Hair Color:
Brown

Skin Tone:
Porcelain

Age:
16


---
---
---
---



Details:



Habits:
-Biting her nails
-Chewing on her lip
-Glaring at people when she's mad
-Clenching her fists

Strengths:
-She isn't emotional about anything, except her sister.
-Is good under pressure.
-Knows lots of karate moves
-Can look innocent on cue.

Likes:
-Orange
-Revenge
-Coffee
-Steak
-Staying awake
-Sunsets
-Rock music

Dislikes:
-Sleeping
-Demons
-Brown
-Anyone who makes fun of her sister
-Bringing up the past
-Any mention of her sister

Weaknesses:
-Mentions of her sister
-Not very good with guns, and long distance weapons.

Curse:
Whenever she touches someone, she'll have visions, about sad, terrifying things. Also, one of her eyes are red, because she sees the past with that eye...But not in a good way. Ariella sees the heart-wrenching, tragic scenes. But sleeping? Not so many sweet dreams in her life. She'll have nightmares about things that happened in HER past...Don't be surprised if she wakes up screaming.


---
---
---
---



History:


Ariella was born in a small house, with one sister, and zero brothers. Her parents were caring, and always looked out for them, no matter what the situation. Ariella loved her life, she felt it couldn't ever be better. It was truly perfect...Until her parents died. Her Dad, a business man, had gone missing one dark night. There wasn't a trace of him, anywhere. He wasn't found for years. But one cool morning, Ariella was on a walk with her sister, Nellie, and they both ran into a well. They tried to get some water, but all they got was their Father's dead corpse. It was absolutely nauseating...also, Ariella was nine at the time, her sister was four, so you could probably imagine them being scarred for life.
When Ariella told her Mother what they had found, she demanded they take her to him. Agreeing, she, alone, brought her Mother to the well to see the deceased corpse of her Father. Reminded about the sorrow, pain, and struggle she had went through for his death, she (Being Ariella's Mom) kissed her daughter goodbye, and jumped into the well. Soon, she died a week later, refusing to eat, or drink anything Ariella threw down to her. Soon, Ariella was thinking about suicide herself, but then she realized there would be no one there to take care of Nellie.
Ariella lived in peace with her little sister, thankful Nellie wasn't old enough to remember how their parents died. It was a couple years later before sorrow struck again.
It was that day of the year. That wonderful day. And Nellie was chosen to be sacrificed. It hit Ariella like a tsunami...She was too surprised to anything about it. All she did was watch as her 12 year old sister screamed "Ariella!!" over and over again, struggling for her life. All she did was...nothing. Before she knew it, she was pounding her hands against the ground, crying, "It isn't fair" several times.
Ariella cried for days, and days, she refused to leave her house, she even did self abuse with a knife for a year. Sometimes, she still does, with anything she can find. If you ask about the scars on her wrists, she'll probably start to tear up. In her opinion, it was all her fault. She could have done something. But no, she just had to stand there, and watch her sister die. She'd do anything to get back at those demons. Anything.

---
---



Personality:


Ariella isn't the nicest person you'll ever meet. More like most strict, cold hearted, secluded person you'll ever meet. She doesn't seem to have a care in the world, she never cries, (In front of people, that is.) and never seems to care about what is happening to you. Whether you got a paper cut, or are balancing above a volcano, on a rope, that's burning on both ends, she won't seem to care.
Ariella also loves to be alone, in complete darkness. She'll talk to herself when no one is there, sometimes even smile and marvel at the happy days. If you hear her, you'll probably learn a lot about her past, and her feelings about everyone she knows. If she ever finds out you were listening, though, you're probably dead. On rare occasions, she'll let you go, but make you swear not to tell anyone. It depends on what you heard.
Also, Ariella does favor art, and she's rather good at it. When she was younger, she painted murals on the side of her house, that by now have probably faded away.

---
---



Other:


(Anything else you want to add?)


---
---