❝You don't stop having fun when you get old, you get old when you stop having fun.❞ ~ Ritu Ghautorey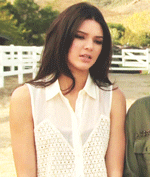 Full Name
Sammie Alexandra Tyrant

Nickname
Sam ; Ty

Age
18

Gender
Female

Sexuality
Heterosexual
---
---
Hair Colour
Brown
Eye Colour
Brown
Height & Weight
5'9 & 130
Distinctive Markings
No tattoos, No birthmarks, but she does have an "X" scar on her upper left thigh, from an accident she
had as a kid on her bike.
Clothing Style
Sammie likes to be updated on the latest fashion trends. She will constantly scan the celebs looking for that perfect outfit for her.
Everyday:
She usually has more of a "rock" theme going. Wearing things like big, bangly bracelets, chains, darker colors, boots, ripped jeans/leggings, etc.
http://images-ff.asos-media.com/shmotterstorage/55354/outfit_large_3b56b473-ad31-4962-9074-cc34abd450bc.jpg
Formal:
Loves her converse, and wears them to even the most formal events. Sammie loves the short dress/leggings look, and thinks it fits her more "rock" theme.
http://www.avenue7.com/MakeThumbnail.ashx?height=500&width=500&&file=~/Images/ComboImages/128943380478437500dc85e5a0-bdb9-49c3-809a-b51cecf8d5ff.jpg&qual=80
---
---
Personality
Sammie Tyrant has always been the "fun girl." The girl who's out with her friends until midnight, has multiple best friends, and loves to rock out to whatever hip music is currently flowing through the radio, while wearing whatever hip fashion trend is flowing through the U.S. teen girls.
But, don't those girls usually have all the boys? Don't they date on/off until they're out of high school? Sammie has never, ever, ever been asked out, by anyone. She's always the one chasing after some loser guy, or the girl who plans parties and inviting a ridiculous amount of people just to feel normal.
Honestly, she hates that about her. All of her friends, acquaintances, co-workers, enemies, frenemies, cousins, family, aunts, uncles, mom, dad, sister, companions, (I think you get it.) Everyone has been with someone except her, and it's driving her insane. But, at the end of the day, she sighs as she leans her head back against her bed, and says,
"It's for the best.".
Back to the Personality...
Sammie's definitely a partyer. She'll call up who she knows will go out and have a good time with her, every other night. When she was invited to this, she almost exploded. A party... that she was actually invited to? She knew she'd end up making all the reservations, calling to see who's coming, and get stuck with making all the plans, but, she was invited!
Likes
- Cuddling
- Chocolate
- Marshmallows
- Long Hair
- Make-Up
- Singing
- Performing
Dislikes
- Gummy Candy
- Rudeness
- Gossip
- Flirty Girls
- Stuck- Up Boys
- Being off key
Fears
- Never finding love
- Never having a family
- Being alone.. forever.
Strengths
- Her Personality
- Her Looks
- Her Bravery
---
---
History
Sammie grew up in an interesting household. Her mother, Samantha, named Sammie after herself, and was always power-hungry. She
always had to have her way, or no one would be happy. Her father, Jerry, was the complete opposite. They do say, opposites
attract. Anyway, Jerry would always fed Samantha's thirst for power, leaving Sammie, and her sister, Tyra, to fend for themselves often.
Tyra, being the oldest, usually stayed home and watched Sammie, while their parents would either go out and gamble away their earnings,
getting drunk in the process. When Tyra turned 18, she took Sammie who was 13 at the time, and they ran off, tired of their parent's troublesome ways. Tyra found a job at a fast food joint, and constantly work doubles, and overnight, leaving Sammie alone. Sammie was alone for most of her life after they left their parents. Jerry and Samantha didn't seem to notice, honestly. To them, the girls were always in their rooms, trying some new Make-up trend, or scanning online stores for deals on clothes. So, naturally, being alone, made Sammie depressed. Yes, she did go through that "stage" in life that every young, teenage girl goes through. Depression. She never got to the point where it was so bad, she harmed herself, but several close calls. During those close calls, Tyra would always swoop in and be the amazing big sister she was, pulling Sammie out of the 6ft hole depression dug for her.
With time, Sammie and Tyra grew older, and soon grew apart. Tyra was married now, and had a little boy of her own, at age 23. Sammie moved out of the house they'd renovated on, first to help with Tyra's husband moving in, and then a second time, for the little boy. Sammie missed her sister, and the long nights they'd had, talking. They used to stay up until 5 in the morning on weekends and just wing the whole weekend, doing whatever they wanted right then and there. But.. with Tyra as a mom now, she wasn't even capable of keeping herself in line much, much less Sammie too. So, Sammie moved out after she graduated high school, into a little apartment. After she returns from the trip, she's saved up enough money to move up North somewhere. She isn't sure where yet, but she's leaving this place. The memories are too much for her to handle anymore. Another reason she's leaving is because of fame. She'd always sang in gigs with new bands, but never thought about it being a career until recently. She's heard of an agent up north, who's good with beginning singers.
Family
Mother - Samantha Michaels
Father - Jerry Tyrant
Sister - Tyra Michaels

Secrets
- Never been in a relationship.
- Has always liked Rylee, but never been able to admit it to anyone, or herself, for that matter.
- Also has a curiosity to know Leo better than what they do know of each other. Almost like a pull..
- Crush on James, since the 10th grade.
- Afraid she is a "whore" because she likes so many guys.
- Can sing.... really well.