Name:
Bilbo Baggins
Age:
50 years old
Gender:
Male
Race:
Hobbit
Apperance (Picture or detailed discription):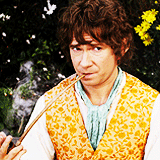 Gear:
Well, for sure no shoes. He does get an elvish sword or dagger along the way, and further more carries a backpack with sleeping stuff it seemed.
Personality:
Bilbo was a very friendly and well-mannered hobbit fond of food, drink, a full pipe, his friends and good cheer, and was known for greeting strangers and friends with hospitality saying: "At your service and your families". Being related to both the Tooks and the Baggins two family groups that were fundamentally opposite in their mentalities, with the Tooks being more fond of adventures and wandering, and the Baggins who were more fond of the settled life, Bilbo had two different sides to him something he referred to as the "Took side" and the "Baggins side". This meant that he secretly relished having adventures but still wanted to remain settled and was very afraid.
Likes:
Nature, a pipe, being home, a settled life, adventure.
Dislikes:
Being on adventure, settled life, disruptive people.
Strengths:
Climbing, talking, coming up with a smart thing in dangerous adventures.
Weaknesses:
Afraid for unexpected things, has never fought with a sword
Love Interest:
Has no real love interests.