---
---
❝ If there's any message, it is ultimately that it's okay to be different; that it's good to be different, that we should question ourselves before we pass judgement on someone who looks different, behaves different, talks different, is a different color. ❞ ━ said by Johnny Depp
---
---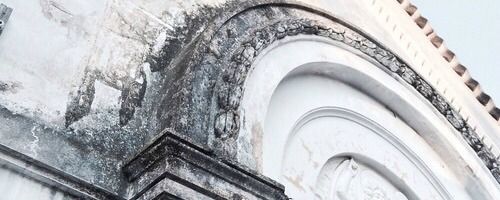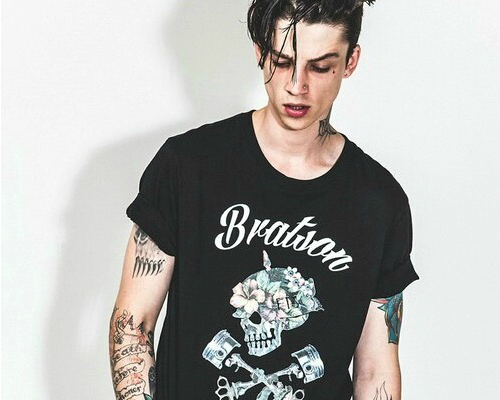 xx

♦

xxxxx

FULL NAME :
xxx
Angelo Mecozzi
xx

♦

xxxxx

NICKNAME ( S ) :
xxx
Angel, Angie, Ink Boy


xxx

"Only my little sister calls me Angie, but it's a nickname best kept a secret."
xx

♦

xxxxx

GENDER :
xxx
Male
xx

♦

xxxxx

AGE :
xxx
Twenty-four
xx

♦

xxxxx

BIRTH DATE :
xxx
March 21st
xx

♦

xxxxx

SEXUALITY :
xxx
Heterosexual


xxx

"Women drive me crazy, in a good way, except for my mom and my sister."
xx

♦

xxxxx

OCCUPATION :
xxx
Tattoo artist
xx

♦

xxxxx

MARITAL STATUS :
xxx
Single
xx

♦

xxxxx

FLOOR :
xxx
4th
---
---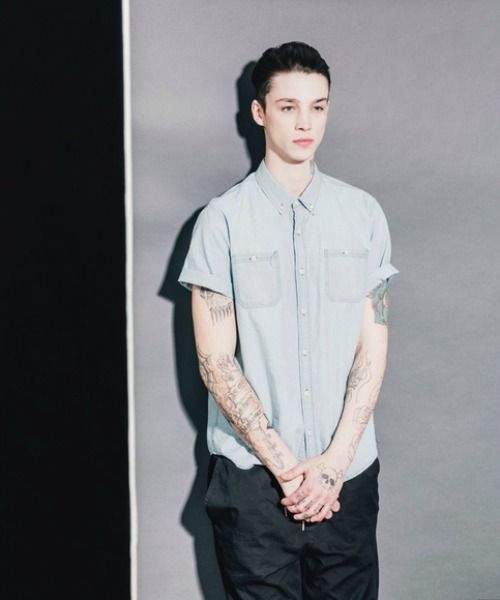 xx

♦

xxxxx

HEIGHT :
xxx
6 ft 2
xx

♦

xxxxx

WEIGHT :
xxx
128 lbs
xx

♦

xxxxx

EYES :
xxx
Blue
xx

♦

xxxxx

HAIR :
xxx
Dark brown
xx

♦

xxxxx

ETHNICITY :
xxx
Italian-American
xx

♦

xxxxx

OVERALL APPEARANCE :
xxx
The first thing people notice about Angelo's physical appearance are his tattoos. Not only are his hands, arms, torso, legs and neck covered, but he also sports a small cross right below his left eye. His designs make him look rougher, contrasting to his skinny and lanky build, and his still boyish-looking face. His nose is slightly permanently crooked due to breaking it too often as a young street fighter, and his eyes are almost always swollen and bruised due to his constant habit of not sleeping enough at night.
xx

♦

xxxxx

CLOTHING STYLE :
xxx
Angelo's style is fairly simple; his wardrobe consists mostly of vintage distressed tees and skinny jeans. He's always wearing either leather boots or Chuck Taylors, and you'll never ever see him wearing flip flops.
---
---
xx

♦

xxxxx

LIKES :
xxx
Of course Angelo's main interest are tattoos. He loves everything about them; designing them, doing them on someone or getting them himself, it is probably his most favorite kind of art and expression. With that said, he also likes drawing and sketching a lot. As a kid, he was never into sports and more into arts, later on developing his passion for tattooing. He's really into parties, drinking and smoking heavily but not to the point of unconsciousness. You'll always see him around other people as he loves socializing and getting to know everyone around him. Other than that, Angelo enjoys warm cups of Turkish coffee in the morning to cure his hangovers, and surprisingly, reading crime novels. Like every other stereotypical heterosexual boy, Angelo loves sex. He loves women, especially on top of him (if you know what I mean). He's not big into commitment so the most you'll see him with a girl is a month or two tops.
xx

♦

xxxxx

DISLIKES :
xxx
If there's one thing Angelo hates the most in this world, it has got to be heights. Sure, he's always been a pretty tough guy, getting into fights constantly as a teenager and having his body covered in ink from a young age, but put him in a plane and he'll freak out like a little girl. Rollercoasters, tall buildings, anything not ground-level is instantly on Angelo's hate list. He does not like watching TV, and would prefer to read a book any day over binge-watching a series, so he does not do the popular "Netflix and chill" thing. He hates expensive clothing, usually buying his stuff from thrift or second-hand shops. He's not a big fan of sea food or pineapple, and his least favorite season is winter. He does not like being cold.
---
---
xx

♦

xxxxx

PERSONALITY :
xxx
WIP
---
---