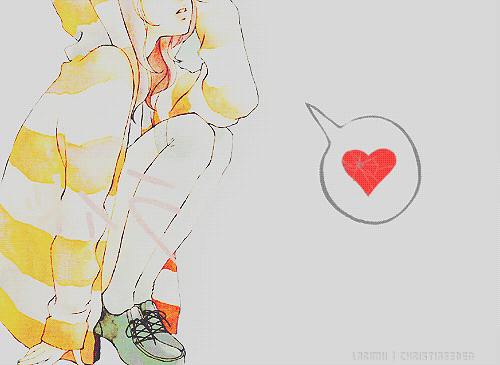 First Name:
Haru
Last Name:
Tanaka
Nicknames:
"Please do inform me when you find one."
Just call her by her first name
Age:
"Twenty. Oh yes, I know, it's just my beauty sleep."
Seventeen
Gender:
"Are you stupid?"
Female
Looks:
"Yes, I know I look awfully a lot like my mother... Of course you slut, that is my dad!"
Standing at a rather normal height of 5'7, you can say it's the only feature that is rather dull to the girl. Her body is slim and petite, owning a very distinguished lenght of waist and hips, giving her a beautiful carved out hourglass figure, and her skin has a gentle tanned tone with glowing pink cheeks. Her hair falls down in long glonden curls a few inches below shoulder-height along with bangs that are cut at various lenghts that frame her face. Her features are soft but pronounced, with a straight nose, and small yet full lips. Her eyes are large, the color of deep honey with amber flicks and a thick black rim sorrounding the iris.
Personality:
"Don't like it? Well, guess what, still looking for a little bit of care over here"
You would think Haru is the rude, over reacting Queen bee of the hive. Sorry to say, but your wrong, this girl is much more intelligent and cunning than to use those nonsense ways. Instead, she used something called Charm, a thing that with no time, like breathing, came natural to her. Sometimes, that means that a flirty smile and a small flutter of eyelashes is involved, but that is something she doesn't like getting into, something that one of her little minions can do. As suprisingly as it may seem, Haru is a patient person, but don't push you luck,you never know what evil thoughts ponder in her mind, and she can be as rude and dangerous as she wishes to be depending on how much of the line you crossed. The girl believes that she is worthy of speaking when she needs and wishes to, but of course, she is not foolish enough to get herself into trouble with the authorities or people as such because of it. She has a tendency of being over confident at times, but she quickly regains her mind.
History:
"Little too interested, now aren't you?"
Haru was borned to two American parents, her mother coming from Latino backgrounds and her father from a Japanesse family tree. The girl was born in the United States, and lived there until she reached the age of five, when her parents decided to switch lifes and move back to her father's world of Tokyo. Things were not easy in the low-class school she was first put in. Being the stranger, she was bullied more than once. One day even, this boy tried to help her, and did end up saving her for that day. After a few months, her parents were able to find and buy an apartment in a better neighborhood a luxury compared to the place they had rented at first. With the move, a whole new, better school came. There, she was the princess of the school, the prettiest, the most wanted, and the most followed. And what could she say? She loved the feeling. She quickly learned and mastered the language, along with that, mastering the school which she soon felt free to call hers. Haru soon found a wonderful small group of hers which over time became her most loyal companions and the sidekicks to her crime. She loves them, but knows to keep her distance from them, because like she changed, so can they. Haru never got too close in relationships and kept her drama level low, those things unuseful in her beautiful life. As years past, she and her members took into the art, like she wishes to call it, and learned quick, amazing ways to make things land into her hands.
When Thirteen was formed around the same time the All-Saints was established, she knew right away that this would only bring an unuseful addition to the stress with dealing and ruling over her own gang, trying to keep it all in control and making sure that nothing went wrong. Obviously, she disliked this gang, but couldn't help but feeling a disgusting feeling over the Gang's leader in her stomach after two years or so. From there, more than ever, did she wish to break and tear the group of apart. She hated the emotions that she wasted on the guy, because she knew they would bring nothing but trouble.
She left the house at sixteen, managing that her parents never found out about the gang she ruled, and made her home in a well-hidden and low-lying apartment in the heart of Tokyo.
After years of perfection, the overdue karma seemed to fire agaisnt her. During her latest theft of the famous and
expensive
coin collection at the famous antique store, the All-Saints where caught. Well, almost. In the middle of a cat-mouse chase, the two-girl's "Borrowed" car crashed into a rather unlucky figure. In the midst of the chase, the car of course, would not slow down and get caught for surely. They got away, thank the lords on their behalf, and Haru couldn't help but forget their victim after a night of celebration. To her bad luck though, it turned out to be no one else but the well-hated, or she makes herself believe, leader of XIII.
Role in the Gang:
"Let's say I control of these little lovely girls."
Gang Leader
Gang Affiliation:
"This is my world, love."
All-Saints
Equipment:
-Natural charm:
She keeps this wherever she goes, appearing as the innocent girl that no one would ever believe to cause Japan's latest crime scene. She loves it, and you can say at times, she can be overconfident with it
-Pocket knife:
Useless? Think not. Always portable and at hand, it can be the deadliest weapon, it's all up to the beholder."
-Daggers:
What would the world be without them? Geesh, they're just great
-Guns:
They are not her favorite, too loud in her opinion, an attention seeker. She rarely brings them along with her unless she believes it is a necesity back-up"
Likes:
-Blood
"No darling, I don't believe it's gross."
-Knifes,
"A girl's best friend in crime."
-Quiet, peaceful time to herself,
"You always need a little getaway."
-Cotton candy, only blue though
"What? A girl can love."
-The feeling she gets when she finishes something,
"Another sucessful mission."
-Boys,
"Please, only a weirdo girl wouldn't"
-The thrill of trying new things,
"What's life without the spice of adventure?"
Dislikes:
-XIII,
"Duh, those useless 'thieves' as they call themselves are just wasting their time and the territory that should be mine."
-Broccoli,
"Ugh, I don't even want to try it, they look disgusting."
-Loud places,
"Sadly, those are usually the ones that have the best stuff."
-Dirty and messy places,
"No, I won't go crazy, but it's not something I favor."