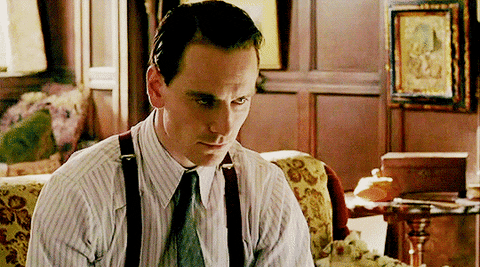 The son of (Underboss) and Sylvia Hampton, Stephen has been groomed to take over for his father and to become a close associate with the oldest Earle. Though his father works for the family, Stephen wants to take overthrow the Earle Empire. A valued member of business, Stephen is slowly building his allies right under the Earles' noses.
---
LABEL:
The Muscle
AGE:
32
BIRTH DATE:
13th of February
OCCUPATION:
Soldato for Earle Family
FACE CALIM:
Michael Fassbender
SEXUTALITY:
Bisexual
---


 

CRIMINAL RECORD:
Public Intoxication, Disturbing the Peace, Assaulting An Officer


HOBBIES:
Drinking, Gambling, Smoking, Fornication, Familial Events, Reading, Drawing


POSITIVE PERSONALITY TRAITS:
Extrovert
Confident
Forceful
Pragmatic
Independent


NEGATIVE PERSONALITY TRAITS:
Aggressive
Insensitive
Touchy
Condescending
Blunt


PERSONALITY SUMMARY:
While not in a position of power, Stephen Hampton is a very intimidating and dangerous person to be enemies with. He is not afraid to use his brute strength to prove a point or publically humiliate someone whose wronged him. He is not a 'kind' man. Despite this, he is a doting father to his young son. Any aggression felts away when his boy is around. His approach to fatherhood and other people is tough love. He doesn't take other people's feelings into account and is very judgmental of other people. Stephen will tell people exactly what they need to hear, not what they want to hear. His approach works in reverse for him since he takes what people say to him seriously.
---
If you cross me, I will you ruin your pathetic, little life.
---
PARENTS:
(Underboss) Hampton & Sylvia Bracken
SIBLINGS:
Elizabeth 'Lizzie' Earle
SIGNIFICANT OTHER:
Rebecca Hampton (Deceased)
ISSUE: 
One son, Jonathan
ANY WANTED CONNECTIONS?:
Many One Night Stands, Many Business Friends, Enemies with all Rival Families
---
 
DID THEY SERVE DURING THE WAR?: Stephen served in the 7th Infantry as a soldier. The war was neither pleasant nor painful. Violence and killing is second nature to the oldest Hampton. Instead, the war showed Stephen the uselessness of fighting another man's battle.
SIGNIFICANT MOMENTS IN THEIR LIFE: Childbirth, Spouse's Death, The War
THE PAST: Growing up, Stephen's father did the best he could with a young child who had a violent temper. Stephen spent most of his childhood getting into fights, constantly in detention. His father expected him to take over his role as Underboss for the next Earle, who his father insisted he befriend. Stephen didn't care for this business, only getting involved when money became tight after getting married. His wife, Rebecca, was one of the few women to hold his attention. She was the balance he needed. The aggressive man calmed even more after the birth of their son. It was only of the best days of his life, knowing he created life instead of destroying it. Life was great, until the war began. Stephen left unscathed, but his mind swirled with thoughts of independence. Why was he working for the Earle family? He could easily be the boss over the oldest Earle. With those thoughts in his head, he only decided to act when the Earle family caused the death of his wife. A shootout at a local dinner between the Earle and rival family resulted in Stephen's wife being a causality. The Earle family knew she worked there and didn't care. With her death fresh in his mind, Stephen swore to destroy the family from within.
POSSIBLE PLOT POINTS: Trying to take over the Earle family, Befriending the Oldest Earle, more potentially
---
There's more pleasure in the slow suffocation of your ennemies.
---