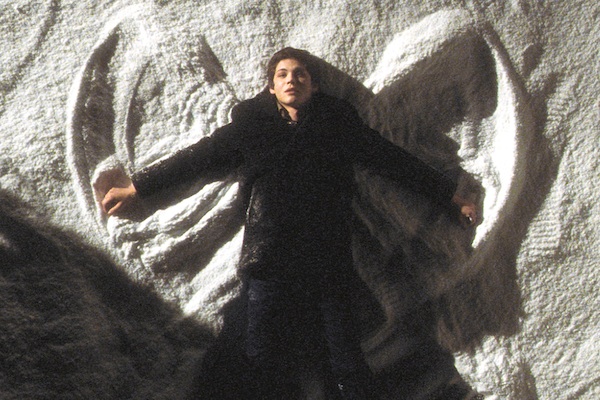 "Sing me to sleep...
And then leave me alone...
Don't try to wake me... In the morning...
'Cause I will be gone...
Don't feel bad for me...
I want you to know...
Deep in the cell of my heart...
I will feel soooo glad to go..."
Name:
Kyle Bateson
Age:
18
Hometown:
Dallas, Texas
Job:
Unemployed
Likes:
Listening to people talk, playing guitar, writing poetry, watching people, going to the movies, white chocolate, chess, coffee, reading, and Tylenol PM.
Dislikes:
People arguing or fighting, being alone, prejudice, dark chocolate, Dr. Pepper, and talking about his past.
Hopes:
Kyle wishes to one day settle down on the Western coast of the US, in Oregon with a small family. He isn't sure what he would like to do for a living, or even how he would find something to do. Despite his outlook on his hopeful future, he often contemplates on whether or not he'll ever make it to the point where he'll be able to establish this dream.
Fears:
Kyle is prone to flinching when people raise a hand to him. He has somewhat of a fear of being touch and has some intimacy issues. It is typical for him to keep his distance from the rest of a group so to be sure he isn't in any danger of being touched.
Background:
Born in the city of Dallas, Kyle grew up in a small apartment downtown, where he resided with his mother and step father. Not knowing much about his biological father, Kyle was always curious as to who the man was, but every time he attempted to get some information from his mother, she would tell the boy to stop asking stupid questions and leave her alone. When he was 3, his mother married an older man named Jerry whom was a very abusive person. Not particularly towards his wife, Carolyn, but more so towards her son. Kyle later found out Jerry had a strong distaste for children, almost a hatred. Often, when Carolyn was out working, Jerry would invite a few of his friends over to play poker. Kyle would try his best to stay out of their way, but Jerry almost always found a way to force Kyle to confront him. At these card games, it never failed to have alcohol come with it. So, with Jerry constantly intoxicated, he gave himself more reason to not only beat Kyle, but to humiliate him by doing this in front of his friends. Bringing pain to this child brought tears to Kyle's eyes and enlightenment in Jerry's. This went on for several years, Jerry assuring that if Kyle ever attempted to tell anyone, (especially his mother), he would be sure Kyle would never be able to do so again. Although it would not matter if he had told Carolyn any of this, reason being she had her share of taking her anger out on Kyle. Oddly enough, Kyle's earliest memories of his mother are those of a caring and loving woman. Now, though, she always found a way to insult and degrade her only child, never caring of even his most major accomplishments. Although not necessarily distant, there was no way he would ever be able to tell his mother how he truly felt. Unfortunately, Kyle didn't believe he would ever find anyone that he could tell. Emerging into his teenage years, Kyle had begun playing the guitar he had received from his mother the previous Christmas.
One day, when Kyle was 15, he came home from school to see Jerry ruthlessly beating his mother. He was obviously drunk, but it had still come as a shock to Kyle, being as he had never witnessed Jerry laying a finger on Carolyn. His mother told him to get out, still in the process of being beaten. Kyle, though, didn't move. Taking a moment to turn directly towards Kyle, he spoke in a disturbingly calm tone. "You better listen to your mom, you worthless bastard." Although this kind of command wasn't unusual for Kyle, something stuck him. Not saying another word, Kyle turned around, walked downstairs, off down the crowded streets and never turned back.
Kyle often tries to remember what had happened between that day and the day he arrived in New York city. For some reason, Kyle developed a sleeping disorder, Insomnia. He suspects it's from the troubles of living on his own in a sort of nomadic lifestyle for nearly two years before finding refuge in New York. Hitchhiking his way from Texas all the way to Seattle before eventually making his way to the Big Apple, Kyle has encountered a large variety of people, feeling both close and distant to every one of them. Watching people along his travels has become sort of a hobby, no - an obsession to Kyle. He is intrigued by the different lifestyles people lead, both for the better and for the worse. There are a lot of long, splotchy moments in this period of Kyle's life. The combination of his increasing sleep problems and the reoccurring, haunting memories of his past have forced Kyle to make himself forget most of his past. He loathes the times when people choose to inquire as to where he has come from, who his family is, etc. Having already reluctantly revealed his history to the group of which he now considers friends, maybe even family, he has yet to tell a soul of his deepest, most dark secret(s).
Other Info:
On account of his Insomnia disorder, Kyle has taken to using Tylenol PM to help him sleep. Unfortunately, Kyle has recently begun taken a considerably large amount of these pills at once on a regular basis.
Kyle is a big fan of the musician, Gary Jules and the band, The Smiths.