This Supernatural Love
Jai Cameron: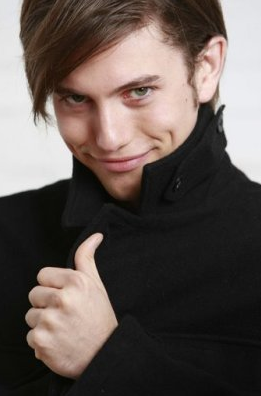 ''My life isn't as happy and glorious as it seems to others.''

Demons I Imagine Dragons

Character's Name
Jai Lucas James Cameron

Other names (Nicknames, ect)
Jai, J.J, Cameron, Lucas, Shaggy

Character's Age
19 (Held back senior)

Face Claim
Jackson Rathbone

Character's Race
Human

Character's Gender
Male

Character's Ethnicity
50% American, 10% Canadian, and 40% German

Character's Orentation
Heterosexual

In a Relationship with
Sadina Rae Brooks/female were wolf








Character's Appearance
Jai is a tall, charming guy. He's usually the tallest out of most people, standing at six foot, five inches. He's has light
brown hair that he has a little bit about his shoulders. He tends to has his hair up in a
small pony tail, he's looking into shaving his hair, depends on what his girlfriend thinks.

Jai has dark green eyes, light tan skin and has a flawless complexion, with just a few scars in different areas on his back and chest.
Jai has a smooth and comforting smile that can light up a room and make almost anyone smile back.
Anyone who could look at Jai can easily see that he's really a nice person underneath his skin, since beauty and looks are really only skin deep.

He tends to let his facial hair grow out to only a few inches and then shave it down so he has and likes the slight stubble look more than no facial hair at all.
But of course that doesn't mean he's not well groomed. He's very well groomed, and takes at least three showers every day. He just doesn't like feeling or looking dirty, it annoys him for some odd reason. And girls at school who do not know him very well, will flirt with him, just because he's good looking and sweet, even though some know he's already taken.







Character's Personality

In a word, Jai is different than the rest. He's a tad bit slower for someone for his age, but that doesn't mean he's completely uncapable of taking care of others or even himself for that matter. He has a few mental disabilities, but they don't ever slow him down too much. He has anxiety, Dual Personality Disorder, OCD, ADD, ADHD, and P.T.S.D (Post Traumatic Stress Disorder) but we can get to the reasons for those later on, shall we?

While he is slightly different than others, he is gifted in other things that make him special. He has a love for fixing cars, playing with his band and doing concerts whenever they get the chance, sparring, and he has a passion for being in the great outdoors and not inside. If you force him be in a small space, he will start to panic, wrap his arms around his legs and rock back in forth until he calms down again.

Another thing which happens to him when he can't protect or defend himself or someone else, his dual personality comes forth, and the nice, sweet, kind guy he really is, is gone. And the person you see before you isn't Jai anymore, but Xander. Xander is Jai's bolder, tougher side. And when he was younger, Xander was
the one who could make all the pain and torment go away. Just by looking at Jai when he can't defend himself no longer, you can tell he's gone and Xander is in his place. Xander's presence is more dominant, and intimidating. Normally, Jai would avoid direct eye contact with someone he wasn't close to, but Xander would stare them down until the other person got uncomfortable and had to leave.

And why yes he does have many short comings, he's still a sweet hearted, loyal, protective, and selfless young man. When you get to really know him, you can get to look past his faults and I swear, you will fall head over heals in love with him and will not want to ever let him out of your life.
But basically, he is a bundle of nerves, and one day he is going to explode and all hell will break loose.




Likes





✔Girls




✔His girlfriend




✔Outdoors




✔Sports


✔Helping others
✔ Being with his girlfriend
✔ Performing with his band; Shaggy Standard
✔Music
✔ People who respect him
✔ Writing
✔ Reading
✔ Swimming
✔ Biking
✔ His motorcycle
✔ His car


Dislikes



✘Jocks




✘Abuse




✘Blood




✘Pain


✘His girl friend getting hurt
✘ Xander taking complete control of him
✘ Xander hurting others because he can't control him


Hobbies

♡ Playing his guitar
♡ Billards
♡ Gambling
♡ Sparing
♡ Video Games
♡ Hiking
♡ Drinking
♡ Performing with his band


Character's History

Jai was born in Oregon actually. He was put up for adoption immediately since his birth mother couldn't take care of him, and his birth father was a convicted killer and was put in jail. When Jai was two, he was adopted and lived in Quebec, Canada until he was eight. He was put into foster care again because his adoption parents were later counted as 'un-fit' to take care of a child since they were using drugs and drinking.

He was put into foster care again, and just three months later, he was adopted again. Things were good for him at first. He got a proper education and a nice family, or so it seemed. One night when Jai's foster father came home one night, and his foster mother was at work on her night shift; Jai was dragged out of bed and was abused, sexually to be exact. After an hour of pure horror, his step father past out from drugs and alcohol. The next morning, when his mother came home, she noticed that Jai wasn't his happy, playful self, and she knew something was wrong.

When she asked him what was wrong, he didn't tell her, he was too frightened of his father to do anything about it. She thought it must have just been a bad dram or something and forgot about it. For a total of four years, Jai went through sexual, physical, emotional, and mental abuse. When Jai finally got the courage to stand up to his father, who was drunk at the time. Jai had gotten the phone and started to call 911 and report his father, now that he was eleven and knew that he couldn't hide it any longer. When the operator asked what was wrong and how she could help, Jai was about to answer when his father burst into the door, grabbed the phone and hung up.

He went right for Jai and started to hit him, all of a sudden, something in Jai snapped, and he grabbed his father's arm and bit down hard. His father threw him against the wall and Jai picked himself up and ran out of the room, his father not far behind. Jai ran into the kitchen and ran up stairs and hid in a spare room.
His father came up the stairs and started looking for him. When Jai heard his father come into the room, he gasped and gave away his hiding spot. His father came right at him, and before Jai knew it, he felt a warm liquid start to slowly make contact with his skin. He opened his eyes and saw that he had stabbed his father and it was blood that he felt.

As Jai looked down at his father who was lying on the floor bleeding to death, he smiled ad had a strange and dark look in his eyes. As Jai was standing there, sirens and shouts were heard coming from outside. Police and EMT's rushed inside and found Jai with a knife in his hand and blood all over him. One of the officers grabbed the knife away from Jai and took him away, Jai smiled with a dark and evil grin, and watched as his tormentor breathed his last breath. That was the very first time that Xander had made himself known; Jai's dual personality.

Jai was brought to the hospital and his adoption mother was called in and was told that Jai was found with blood and a knife and that he had killed his father.
He was now his regular self and Xander was gone. And when he was questioned on what happened he said he couldn't remember and something bad happened. When questioned further more, he eventually fessed up and told them how he was secretly being abused by his adoption father for four years. At first they didn't believe him, they did a few test which came back positive as he had really been abused.

He was then taken from that home and put into children protection services. When he was fourteen, three years later, he was adopted by a very trustworthy family, who had a clean record and had children of their own. He was adopted for the last time and was treated very well. And his life was still messed up from the abuse, he suffered with P.T.S.D. and several other problems as stated up above. He had to and still has to take medication for his depression and anxiety.

When he entered high school at the age of fifteen, his life slowly started to improve. Of course he was naturally bullied as most teens are in High School.
His grades started to slowly slip when he turned sixteen, mainly because his O.C.D. ADD and ADHD kept him from getting perfect grades, but he had succeeded in sports and anything that involved physical movement. Since he had Dual Personality Disorder,he had gotten into a couple of fights at school, and was put under suspension for aussalt against another student who had been picking on a younger class mate.

Jai always was and is the person who stands up for the weaker man, or woman. When he met his girlfriend, Sadina, he changed drastically and for the better. He stopped drinking and taking non-perscription pills because he knew how much she loved him and he loved her and did it for her, and her only. Sadina and him have been dating for three years and he will do anything to keep her safe and happy even if it means him getting hurt.

(More will be added when Torex finishes her CS and more will play out and be told as the RP goes on)