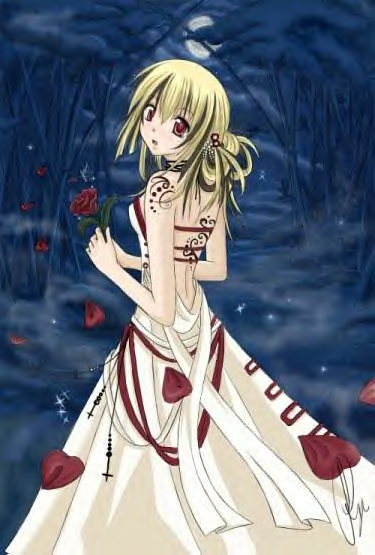 ~☨--------------------☨~
Name:
Vive Oreson
Age:
Nineteen
Gender:
Female
Hair color:
Blond with streaks of black.
Eye color:
A Light Maroon
Height:
I think around five foot six? Yes I grew two and a half inches!..What? I was kind of short...
My "gift" is apparently:
Shape shifting.
The symbol on my new body?:
Like the symbol on her forearm in the picture, eight dots in a curved line, varying in sizes, with a thin line curling towards the back of her arm. A black-sh maroon in color. Though the design on her back is still there but it's just decorative. The people who crafted her new body thought it would be a nice touch.
Bio:
Vive was born on a rainy summer night, the thunder ringing loudly through the hospital as Risa Oreson-Taknawa, gave birth to the second daughter born to her and her husband Joseph Oreson. Vive's life was a not so simple on for as long as she could remember, and not always the most loving. The early years, all she can remember is harsh words and coldness from her seemingly gentle mother, she was quite good at the act. Though some believed what made her turn on her youngest was the fact that Vive was the mirror image of Risa, only with her fathers eye color, claiming the child stole her youth...Her mother had never been a stable woman, something that to this day that Vive prays isn't hereditary.
Her father, for the first seven years of her life was always busy with work, or at Granpa's. It was always weird that she could at lest find three well dressed men in the house at any given time, or one watching over her and her sister, when Mina would take her to the park to get away from the house. Her father made time for them as often as he could, though the business always kept him busy. On occasion Grandpa would drop by, gifts in hand, and a big warm smile of his wrinkled face for his two only grand children. He lived by the notion grandparents should shamefully spoil his grandchildren. Others had always depicted Michel Oreson as a intimidating man, which in a sense, build wide he was, at less to Vive, the little girl that would have tea parties with the big hulking sixty year old, mafia boss.
Though when she was eight years old her mother found out that her father was having an affair, and that's what finally made the unstable woman fall over the edge. Vive never likes to talk about what happened, she just says "Moms in the wacky house, and dad married the secretary". Hardly ever bothering to elaborate, but it seems it's part of one of her many nightmares. Though this same year was the year she meet her new next-door neighbor and best friend, Joey. Ah, the many crazy antics the two got into. He helped her keep her mind off of the weirdness of her life, and helped her remember why she should smile. The twos been through the worst situations, never turning there backs on each other. Imagine her excitement when his mother married her cousin, though it had broke Joeys heart just a little... He was part of the family now...Though then at the early age of twelve, she found out exactly what the family business was...and the first time she ever saw anyone die. That event is partly why guns had always made her a little jumpy.
Life after that was just a bunch of preparing for being part of the business, hanging with Joey, trying to stay sane, and trying to get along with the pushy blond bimbo that was her stepmother. Her sister had took more the role as the feminine figure in her life, doing the things mothers were suppose to. She was the perfect sister in her eyes. Her sister was there for her when the family wasn't. Imagine the happiness she felt when her sister asked her to be the maid of honor for her wedding...Though this might have just screwed up the day.
Personality:
Vive has always acted a bit...eccentric. When she was a child she learnt crying often made things worse for her instead of made it better. Her mom taught her that from numerous experiences, it, over the long run had made that mental connection in her head, that might not be all that true. The same mental connection is also probably what makes her hide when she's in pain or hurt, seemingly ashamed when people find that she is.

She's been known in her childhood to be a bit of a prankster, a kid to cause mischief. Often taking her lumps in stride with a grin or smirk. She has a habit of being sarcastic, and a little blunt a times. Her bluntness isn't always on purpose, sometimes her mouth just works faster then her mind. This fact having more often then not got her in a few sticky situations.

Though under that, Vive's is a true sweet heart with a bit of a temper. She gets annoyed before she gets angry, but once she snaps, she snaps. It's not a pretty site when you make her finally crack. She being a bit thick headed by nature, once she gets an idea in her head, it's hard to change it, but this stubbornness is what makes her so loyal once you she finds a reason to like and trust you. She's lived by the notion of why judge? She's a little wary by her up bring but in all she won't judge you, until you make her do so, but even then it's just her opinion.

Vive's sweetness is often seen in her gentleness to those hurt or children, and even in her habits of pouting when teased, or blushing at a drop of a hat on the most random of situations. She's always been excited to learn something new. Though under everything she's honestly a girl who's life has just turned her sweetness a bit bitter, who just needs a litt help before you see the real girl under it all, even if she more often then nots unwittingly gets herself in trouble.
I:
Can fight. It's nothing fancy, really. Joey use to drag me to his gym all the time, saying I needed to toughen up and learn how to throw a decent punch. Long story short I learnt how to kick box, my fighting isn't always by the book, but hey it does it's job. Though...I've always wanted to learn how to use weapons, other then a gun. It always looked so, so...well fun.
Extra:
Vive, is big softy for animals, and children and has been known to have a real sweet tooth. She's' also been called a Klutz a good deal of her life. At a young age her father enrolled her in a gymnastics class, saying she needed a positive outlet, hoping to keep her out of trouble, which it did make her behave a little, especially when she joined her high school team, it made her quit smoking her freshmen year. Though another thing she was enrolled in when she was a kid was piano, her grandfather claiming every young lady should know how to play some sort of instrument.

One thing Vive really dislikes at the moment is that her Grandpa is trying to talk her into going out with some guy from another family...She know it's more political then anything....He's her date to this wedding. You don't say no when Grandpa personally insists.
What was I Doing Before I got Dragged into This World?...:
"Where is she?!" Karen asked pacing to and froe as Mina was sitting in front of the Makeup artist, getting her make up perfect. "She'll be here." Was all Mina said as Karen looked at the clock. "She's the flippin' Maid of Honor, she should have been here before me!" Karen growled in her usual worry wart way. "She wouldn't miss my wedding...She'd hijack a bus before she'd miss my wedding...or a cops horse. depends on which incident you want to talk about. Mina said, he make up artist sighing as Mina moved back to laugh a bit at the memory of her sister being chanced by a cop on for as the horse jumped over a hedge just as she was crossing the stage at graduation, her only excuse being bad traffic and gymnastics practice ran late. That grin on her face as Grandpa just chuckled at her antics as father was lecturing. "She's going to hurt herself one of these days! She needs to learn how to act like a lady!" There step mother Trixie said, matter of factly as Mina resisted the urge to throw some of the make-up at her. This is coming from her?
Though there attention was soon turn to the door as it was flung open, a big eyed brunet toppling in the room before she slammed the door shut with her foot. Her hat falling off her short-sh hair, she panting as she pushed herself up on her elbows, her gray eyes closed for the first few minutes before she smiled lazily at the girls in the room as they all stared at her. "I...I r-ran the l...last ten....blocks." She gasped out as Karen tried to pull her up, she getting to her feet after a moment or two. "Well at lest you didn't still a cops horse this time..." Trixie said, shaking her head at her antics. "He saw me coming"
It was about three hours latter before the girls were dressed, the three brides maids dressed in long red halter dresses, that's back reached just bellowed there shoulder blades as two crossed black sashes was tied around there waist, a bow tied in the back as smaller black, satin bow was tied around there necks as they carried red, black and gold colored flowers, tied by a black ribbon. While her sister was in a corset white wedding dress, gold ribbon tying up the back, a small gold tiara holding the veil in place. Her bouquet filled with, white, red and gold flowers with the smallest bits of black in it. The perfect Bride. Though this perfect bride was starting to lose her nerve she pacing back and forth, breathing shakily. "Mina...Mina! Sis, you need to stop, your going to trip over your dress." Vive said grabbing her sisters arm. "I'm not so sure this is a good idea any more...I mean...W-what if like months after we're married I we find out we don't love each other anymore? What if I go crazy like mom and he goes and runs off with his secretary?!" She asked, shaking her little sisters shoulders almost making the small roses fall from her hair. "That's not goanna happen." She managed as Mina stopped. "How do you know?!" "Well, firstly, the way he looks at you, I've never seen anyone look at someone with so much love, so much tenderness...Dad never looked at mom like that." She said that smile never wavering as she squeezed her sisters hand. "He loves you, Mina....and if either one of us is going to end up in the wacky house it's goanna be me." She said, a large grin on her face as she looked at the clock. "Come on, it's about time to start." She said pulling her sister out with her, there father waiting for them at the door, She giving her sister a tight hug before, she passed her big sister off to him. "Thanks Viv..." "Just remember, your the one in charge of stopping me from running when it my turn." She said winking at her sister before she looked at the brides maids and groomsmen stood lined up, the best man being the man her grandfather insisted she will date.
She sighing as he offered his arm to her. She's not going to have a choice in this is she? She forcing a smile on her face as the music began to play, the march beginning. She starring up at the large stain glassed windows, smiling at her soon to be brother-in-law before she went to her side of the alter, the other bridesmaids following suit as the flower girl soon walked down, then finally Mina. Though it was around then, as the music played loudly that her head started to swim, the coroner of her vision began to darken, befor she lost all sense of which way was up and which was down, she toppling over. "Vive?...Vive?!" The last sound she heard was a man shouting her name as someone shook her shoulders before all went black...
~☨--------------------☨~
Her before getting dressed for her sisters wedding