N A M E


Levi Anderson



N I C K N A M E (S)


Lee, Grumpy Vamp (GV)



B I R T H D A Y


November 7th



S E X U A L I T Y


Demiromantic Pansexual



S P E C I E S


Vampire



H E X


#6e6e6d
H E I G H T | W E I G H T


5'9" | 165 lbs.



A P P E A R A N C E


Levi has been described as classically handsome by most of the population, a interracial version of James Dean is his favorite description. Tight curls sit on top of his head that must be picked weekly, or risk losing his precious afro. His light brown eyes seem to be glazed over, never appearing to focus. A sharp jawline, strong nose, pouty lips, and a furrowed brows add to his brooding appearance. The freckles covering his face make him appear less hostile despite looking like someone who constantly looks pissed at the world. Levi is well built with a slender frame with the outline of muscle. He's not the tallest or biggest guy around, but he doesn't need the bulk to look manly.



S T Y L E


It's no surprise to anyone that Levi owns a lot of black clothing. "It goes with everyone" so he claims. He does keep a few light colored items so he isn't overwhelmingly dark. Fashion is simply something he rarely cares about, unless a situation calls for it. He likes to look presentable, not caring for the 'just rolled out of bed' look. He prioritizes practical clothing over anything else on his rare shopping visits. Leather jackets are a favorite of his and he owns several, along with ripped or faded jeans. His style has been described as the 'biker, bad boy' look, but he'll throw on a polo and a pair of khakis to shake things up.
P E R S O N A L I T Y


As much as Levi can't stand it, he is the stereotypical vampire. Brooding, reclusive, and difficult to get along with are a few words used to describe him. He doesn't play by the big man's rules and little can be done to stop him when he sets his mind on something, or change his mind. This is especially true when meeting people. He trusts his gut when meeting people and if you've made a bad first impression, he's already forgotten about you. He's critical and takes mistakes very personally, especially his own. Levi finds himself to be an independent person, not relying on any one person for anything. He is thankful for some of the people in his life for getting him to where he is, but his successes are largely his own.

He may be difficult, but Levi is someone you'd want in your corner. His loyalty can be shaky, as he never puts his total trust in someone, but he can be trusted when given the right incentive. Levi doesn't do anything recklessly. He rarely does something for the hell of it and needs all the information available before doing anything. Levi is a man of logic and order and could've been considered a stick in the mud if he didn't seem like trouble. He likes to keep his affairs in order and is a total workaholic with his studies.

Despite lying being easier and less troublesome than the truth, Levi can't find it in himself to lie to others. Most of this comes from a promise to his mother who told him lying will get you into more trouble, something he cares to avoid. Another reason he prefers the truth is so when he does lie, people are more likely to trust him. It's a slippery game, but lying makes him feel dirty. Monsters are the liars and cheaters of this world and being more of a monster than he is right now only adds to his despair.

Reclusive and cold, there is some warmth hiding under his gruff interior. The few who've captured Levi's friendship and affections are always welcome around him. His humor is very dry and he is very awkward with anything of an emotional nature, but he does make the effort to do right by those he loves. Few have captured his heart and even less have kept it. He longs for acceptance like everyone else, but is accustomed to the loner life of most vampires.
L I K E S | D I S L I K E S


Despite not needing to eat, Levi loves greasy foods. He'll always munch on a greasy burger from any fast food restaurant. Levi's pet horse, Dusk, is his best friend. As dangerous as it, Levi loves heat and sunlight. He misses the day before when he could lay in the sun. Jazz and Blues are his music of choice from his favorite era. He finds cigarettes to be very calming. He always has a pack on him or one hanging from his ear. He'll never admit it, but Levi loves to dance. He's fairly well trained, but doesn't do it as much as he likes.

Werewolves are his least favorite of all the supernatural creatures, anything that could hurt him really. Loud noises startle him and make him irritable, loud people are even worse. Authority also aggravates him. Messes pain him greatly, nothing upsets him more. The smell of garlic causes him to gag. Levi despises exercise, preferring to be lazy. History classes bore him to tears. He was around in the era so why does he need to know about it.



S T R E N G T H S | W E A K N E S S E S


+ Levi is observant and intelligent, something he has mastering from blending in in the shadows. It's not brag worthy, but Levi is a talented harmonica player. Out of all his powers, dream manipulation is his best.

- He is a horrible people person and teamwork is a challenge for him. His bloodlust and emotion control is his hardest ability to control. Following rules is difficult for Levi to do, unless he respects the leader. His stubbornness is his biggest downfall.



F E A R S


Levi wouldn't say he has any big fears. He prefers not to die in any brutal way, which is impossible for his kind. He doesn't have great control over his bloodlust and emotional control so he fears hurting someone on accident, especially ones he cares for. If he had to say, failing to protect those around him. He's lost many people and blames himself.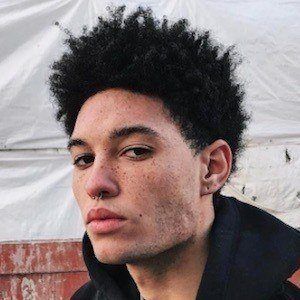 S C H O O L

X

Y E A R


Levi is currently in his fourth year at Thorn Hill, but has been attending since his first year. He wanted to come the minute he found out about it, but his sire wanted to train him personally before letting him be around other supernaturals.



T H O U G H T S

X

O N

X

H U M A N S




XXX

"It's a dangerous move for the academy to allow these humans into our place. The humans think us monsters and who's to say this isn't a plot to be rid of us. I don't trust their 'welcome the humans' spiel nor will I come to trust them [humans]."

Levi is not thrilled by the admittance of humans into Thorn Hill Academy. He was the first to speak against humans when they began to move into town. He has firsthand seen the way humans react to supernatural creatures and their responses, and actions, are never pleasant. Levi only cares for humans when he's feeding from them, otherwise he couldn't care less. He sees them as monsters and doesn't plan on making their stay here any more comfortable.
H I S T O R Y
Before the turn, Levi was the child of a female slave and her plantation owner in America. He grew up working in the fields, scorned by his fellow slaves for being a interracial. Life was difficult with no freedoms and harsh punishments brought on him. Levi was always aware of who his father was, but the man refused to acknowledge him as his child. Levi's mother was the light in his life, always smiling and comforting.

It wasn't until his eighteenth birth that he was turned. Anders was a white man whom had become friendly with Levi, praising his survival instincts and natural, but not educated, intelligence. The night of his turn, he overhead his mother being attacked by their owner in the main house. Lacking any control, and angry of the cruel treatment he experienced, Levi killed his father, sucking him dry. His mother succumbed to her wounds before reminding Levi he was a good boy. He lost any emotional control, killing the entire household before fleeing with Anders.

Levi learned many things from Anders. He became educated, was taught that he was equal, and learned control of his newfound abilities. Levi didn't spend much time with others outside of Anders. The two had a father-son relationship, Levi even taking the name Anderson (meaning son of Anders). Anders calmed the rage lurking underneath Levi's emotionless exterior. Bloodlust remained a problem for Levi. His actions became noticed by townspeople who resorted to rioting against him and Anders, causing them to move constantly.

When Levi reached one hundred, Anders decided to let the young vampire try on his own. He set Levi up with a small loan of a million dollars before leaving him behind. He searched for Anders, but was never able to locate him. Levi took the money and turned to investments and opening several business chains among the mortals. His money was tripled and he became 'The Benefactor,' an unknown person who donated money to charity. Levi lived in isolation, only leaving his mansion in New York to feed.

After making his mark in New York, controlling most of Wall Street, Levi wished for a simpler life. He had heard of Thorn Hill Academy before, but never sought it out due to Anders and his need to be alone. He owns a small cottage outside of town when he needs to retreat, but the town itself was a perfect fit. Being around his fellow supernaturals felt nice to be among for a change, and he's finally had some friends. However, the humans' arrival has taken away any sense of safety. Tensions are rising and Levi is just along for the ride.