GENERAL INFO
Full Name:
Laavi Korpiklanen
Birth place:
Western Norway/had to flee north in early years
Birth Date:
19. December. 3000
Age:
21
APPEARANCE
Laavi has the masculinity of the viking, but he moves gracefully and acrobatic in his bright mood. In his bad mood he is strong and fierce. His claws and fangs can come out in human form, but only if agitated strongly, and they are as deadly as a bear's strike. His bright, bright blue eyes one would think possible to see through had it not been for the wall of goofiness in his person. Straight backed he greets you respectively. As swiftly as a pup he jolts away in fun and games. And like the viking wolf he is, he growls and snarls when being threatened.
Height:
183 cm
Distinguishing Marks:
Human: Viking look. Usually he lets his beard grow to a handful, and rarely does he shave clean. Is it getting too long, he just cuts it, leaving a short stubb of beard.
Wolf: He's a slight taller wolf as his legs are over average long, and his bones are thicker, which makes his changing a little longer than usual. His fur is white with a little blonde here and there.
PHOTOS
He wears pants of strong fabric. Jeans or metal clothing. Usually he wears a black t-shirt or other metal clothing.
His wolf form, only Laavi's eyes are bright blue.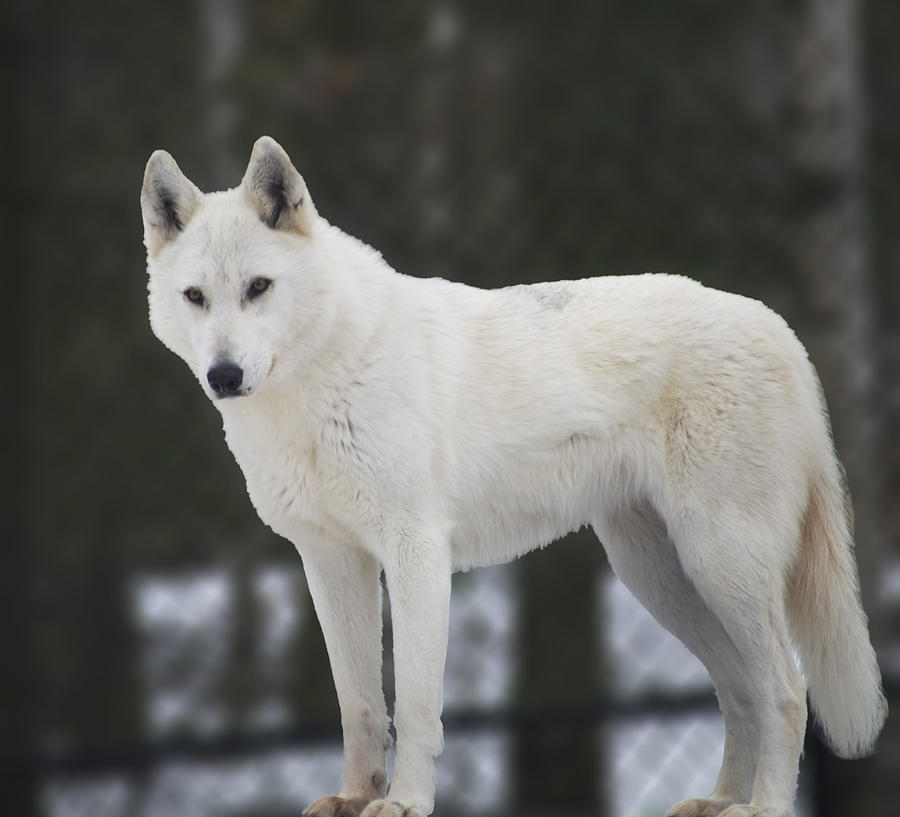 http://images.fineartamerica.com/images ... lstrup.jpg
PERSONALITY
Laavi acts very similar no matter what form he is in, though he knows he is not supposed to sniff another person in the ass when human. Or to take a shit just about anywhere. He might as well joke about it though as he is a goofy young man who wants to have fun most of the time. He's an optimist and enjoys howling and play fighting with his comrades.
Laavi is as honest as his hair is blonde, and speaks his mind to whoever he wants. He is curious and seeks good company and loyalty.
Role:
Hunter 2
Skills:
Music, dancing, fighting and surviving cold weather.
HISTORY
This wild norwegian boy was brought up in a free home and his childhood was as fun as it was dangerous. He was highly regarded by his friends and he was loved greatly by his pack. The war had made him lose a few loved ones and he grew angry and bitter towards humans, but his wise father taught him patience and love. He said that every being speaks for itself, though precautions needed to be taken and they fled longer up the mountains to hopefully live in peace and feast on reindeers, among others. A cold tragedy started killing his pack members and they had to sail away to new lands. He was the only survivor being in his strong late teens and was picked up on a warm coast half dead. He roamed this new land with optimism and curiosity. He got together with a street pack and they made a living by playing metal music. Laavi played the bass and sang their songs of passion, party and fighting. He wasn't aware that he soon were to be mixed up in an issue regarding a female human.
Relationship Status:
Single. Heterosexual.
Family and Friends:
Dead family. Jack, Robin and Gunther(his band).
Known Languages:
Lupien, norwegian and english.
Theme Song:
Vodka by Korpiklaani:
https://www.youtube.com/watch?v=qcNtKpnBNUw
The text is on the video.
and
The crown of winter by Forest Stream:
https://www.youtube.com/watch?v=f7fdyssDs7Y
Stay...
As the Legend comes true...
Among the virgin snows we are Her silent envoys
We make you dream
About what's happened
Long ago
So long ago...
I've seen you off by a vernal sunrise
To meet again in autumn dusk
And overcome with sudden uneasiness
A fine delight of my throbbing heart
Be standing quiet, blessed with oblivion
Inhaling the freshness of your enchanting cold
And feel this strange severe fondness
You grant me captured to behold
These calm and solemn snowfalls
In which I am drowning, revealing
That the death is no more
Being lost from this Earth
I am yet to be found
Among the stars not known
Before
"I am not the only one,
Who drifts away into the Might of this Night
The decision's yours so will you join me?
We could, if dared, defeat the Height..."
- Please go dance with me
Before I fall asleep,
And teach me one more word of
Your perfect tongue...
As you are the only one
I want to talk to
I wish to talk to
I'd like to talk to...
- You...
No! Wait... I know... I'm doomed to talk to...
Bring the Crown!
Bring the Crown!
For a prince of this Misery
In the glow of the Northern Lights
To become a true king...
And till the end of the time He'll dwell unopposed
Once being beheaded - Forever be Crowned...
I open heart for my eyes to see
The skies are crying turning grey
Today I seem to fail to find the decent cause
That would persuade me to stay
---
[/center]