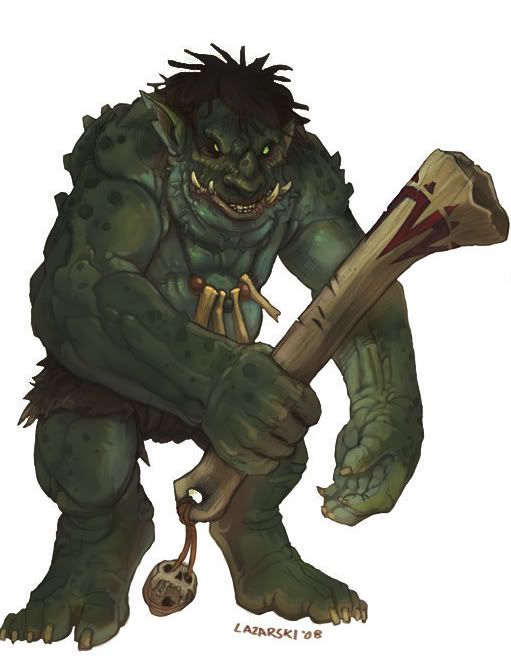 Player: Quantumlegacy
Character Full Name: Rongor
Nickname(s): Rancor, Rongor, Oh Shit,
Association(s): N/A
Race: Troll
Age: 78
Sex: Male
Skin Color: Dark Green
Hair: Grey
Eyes: Green
Weight: 345 lbs
Height: 8' 2"
Usual Apparrell: Soiled Brown Loincloth, Finger Bone Necklace
Rongor stands at eight feet and two inches when he's standing his tallest usually mid mighty swing. Any other time with his hunch he stands to be just under eight feet. He has dark green skin with hard warts and dark splotches all over. His belly and his palms are lighter then the rest of him. He's got two rows of sharp teeth and four other tusk like teeth jutting from his lower lip. These are actually attached to his jawbone and don't work as teeth. His right ear is missing a chunk from it where he tussled with an infamous knight that was tasked with his removal. He wears a necklace made from the bones of his toughest fallen enemies. He also wears a extremely soiled brown loincloth he's never washed. For a weapon he carries the femur of a giant he found rotting after he assumed some adventurers got a hold of it. The skull attached at the bottom is of the knight whom ruined his ear.