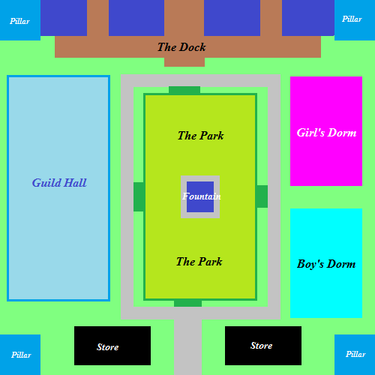 The Tidal Serpent Guild owns a large square plot of land on the south-west edge of the city. Four giant square pillars made of glowing blue stone stand at each corner of the property, bending to reach a point high above, at the center of the property. Below that center point, on the ground, that spot is occupied by a fountain with a statue of a Water Serpent roaring into the sky.
Around that fountain is a garden, with ponds, flowers, and trees. Benches are placed randomly around the space and guild members often spend time there to relax or picnic. Outside of the relaxing environment of the garden there is an entire different atmosphere. The street around the garden is lively, often bustling with activity.
Right along the river is the guild's own dock, a lot of the members still being sailors or preferring to travel by sea. Opposite the river and dock is the entrance to the Guild Square, the road being between two small buildings. One, is a shop which the guild rents out to help pay for guild expenses. The other has always been passed down to the the guild master to do with what they wanted.
Leaving the dock, to the left are the dorms. There are two dorms, one for the boys and the other for the girls. Each building has a common room on the first floor with a kitchen area and plenty of different forms of entertainment. The floors above all have multiple, two person dorms that each contain a living area, two bedrooms, a large bathroom, a small kitchen, and two desks.
Opposite the dorms is the Guild Hall, a beautiful building made of pale blue stone. The entire front 3/4ths of the first floor is a tavern/restaurant tables, chairs, and benches scattered around the space. The back part of the building's first floor is split into two rooms, a kitchen and an infirmary. The second floor has a three-bedroom loft/apartment that the Malaerion family resides in. There are also a few guest rooms up there and a request board separate from the one downstairs with S-Class jobs on it, the higher ranked jobs being kept in the Guild Master's Loft.
Though it can occasionally get rowdy in the Guild Hall, the guild members try to keep it to a minimum when inside, it being the one thing Oceana is strict about.
11 posts here • Page 1 of 1