---
---
"I had everything, opportunities for eternity. And I could belong to the night."
- Make Me Wanna Die, The Pretty Reckless
---
---
---
---
█
█
█
█
█
█
█
█
█
█
█
█
█
█
█
█
█
█
█
█
█
█
▌

▌
▌
▌
▌
▌
▌
▌
▌
▌
▌
▌
▌
▌
▌
▌
▌
▌
▌
▌
▌
▌

N A M E
Arabella Elizabeth Fields
N I C K N A M E
Bella, most commonly. But Belle or Bells are often used too, by those she knows best.
G E N D E R
Female
A G E
Twenty-two
N A T I O N A L I T Y
American, with German and English heritage.
A L L I A N C E
The Youngbloods
S E X U A L I T Y
Hetrosexual, but isn't opposed to experimentation, should the right person take her fancy.
---
---
"When the light hits your eyes, and it's telling me I'm right."
- Just Tonight, The Pretty Reckless
---
---
█
█
█
█
█
█
█
█
█
█
█
█
█
█
█
█
█
█
█
█
█
█
█
█
█
█
█
█
█
█
█
▌

▌
▌
▌
▌
▌
▌
▌
▌
▌
▌
▌
▌
▌
▌
▌
▌
▌
▌
▌
▌
▌
▌
▌
▌
▌
▌
▌
▌
▌
▌

H E I G H T
A little taller than average at five foot seven.
W E I G H T
Bella is slightly underweight, at one hundred and seven pounds. But on her naturally slim frame, this suits her.
H A I R C O L O U R
Naturally mousey brown, but she has been dyeing it light blonde from a young age. To join the maniacs she has lightened it further to a bleach blonde in order to fit in.
E Y E C O L O U R
Crystal blue, like her brother's but without the green he has.
S K I N T O N E
Pale, as is characteristic of her German and English decent.
G E N E R A L

__

A P P E A R A N C E
Before the blackout and as a member of the Youngbloods, Bella was the perfect blonde haired, blue eyed girl. Her hair was a light, angel blonde and her eyes a pretty blue. She wore natural make-up, usually just with a little mascara, minimal eyeliner, blusher and pink lipstick to warm her looks. She enjoyed wearing pretty dresses and skirts, usually in pastel colours. They were mostly all tailored, curtsey of their family money, to fit her slim frame.

To fit in with the Maniacs, Bella has altered her looks significantly. She bleached her hair almost white blonde and let it grow out long, leaving it unstyled to fall messily around her face and down her back. Her make-up has become a lot more dramatic. She no longer wears blusher, instead she pales her skin further with powder. Her lips are scarlet with a generous covering of lipstick and her eyes are very dark with thick black eyeliner and eyeshadow. Her clothes are far more revealing than those she used to wear, usually tight, short and often ripped. She has also begun building an impressive collection of lace lingerie and sexual outfits for use with Ares.
---
---
"No, I've never been, I've never been free."
- Under The Water, The Pretty Reckless
---
---
█
█
█
█
█
█
█
█
█
█
█
█
█
█
█
█
█
█
█
█
█
█
█
█
█
█
█
█
█
█
█
█
█
█
█
▌

▌
▌
▌
▌
▌
▌
▌
▌
▌
▌
▌
▌
▌
▌
▌
▌
▌
▌
▌
▌
▌
▌
▌
▌
▌
▌
▌
▌
▌
▌
▌
▌
▌
▌

P E R S O N A L I T Y
In the old world, Bella was always the perfect little sister of the mayor of New York City (FC: Ian Somerhalder). She did everything she was meant to, appearing at dinners and smiling for the camera. And for this, she reaped the rewards of the lifestyle. She enjoyed people looking up to her, and the privileges that came with her position. In this new world, Bella has been no different. For her, the transition into the post-blackout world has been a significantly easier one than for most. Bella is a girl who believes in order and hierarchy. She understands her place, at the top, and demands the respect she believes she deserves. She's arrogant about her position as the sister of the leader, using it to manipulate people and get what she wants. The only person's presence in which she feels inadequate is her brother's. She loves him deeply and has constantly sought his approval and praise. The decision to disobey him and go to the Maniacs to look for James (FC: Avan Jogia) was possibly the hardest of her life.

Bella's fatal weakness is the desperation with which she looks for love. Deep down, she lacks the confidence that anyone will ever properly love her and want to spend their life with her. She dreams of a boyfriend who truly loves her, who isn't just attracted to her money or her looks. When she found James, she thought he was perfect and that they were in love. She had their idyllic future all painted out in her head, and she thought they were going to be together forever. But the blackout happened and their relationship fell apart. But she still clings on to what they had and the hope of winning him back, as is characteristic of Bella. She's easily manipulated by those she believe love her and will do anything to please them. Even to the detriment of herself.

Bella thought she would hate living as a maniac and having to pretend she enjoys disorder and recklessness. She particularly resented having to leave her brother's protection, where his power allowed her to have whatever she wanted. However, though she refuses to admit it to even herself, Bella is enjoying the hedonistic, impulsive and even violent lifestyle she's discovered among the Maniacs. She is enjoying having stepped out from underneath her brother's shadow, living for herself and not having to follow all the rules and appear perfect all the time. She has learnt to embrace her ability to seduce men, and appreciate the pleasure being with them brings, particularly in the case of Ares (FC: Ash Stymest). She hasn't lost sight of who she was before, or what she is with the Maniacs to do. But her rebellion, of sorts, is changing her in a way she is certain her brother wouldn't approve of.
---
---
"You make everything seem hazy, love comes with such a cost."
- Follow Me Down, The Pretty Reckless
---
---
█
█
█
█
█
█
█
█
█
█
█
█
█
█
█
█
█
█
█
█
█
█
▌

▌
▌
▌
▌
▌
▌
▌
▌
▌
▌
▌
▌
▌
▌
▌
▌
▌
▌
▌
▌
▌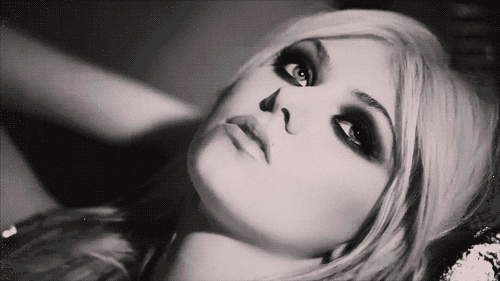 L I K E S
▲ Luxury ▲ Wealth ▲ Admiration ▲ Champagne ▲ Order ▲ Tidiness ▲ Gymnastics ▲ Winston Fields ▲ James Williams ▲ Ares Bennett, in a way ▲ Sex ▲ Love ▲ Relationships ▲ Her Looks ▲ Music ▲
D I S L I K E S
▼ Rejection ▼ Stella Markum ▼ Disrespectful People ▼ Poor People ▼ The Phoenixes ▼ The Countryside ▼ Katrina Lyons (FC: Lights Poxleitner) ▼ Break-Ups ▼ Rain ▼ Being Challenged ▼ Her Natural Hair Colour ▼ Being Away From Her Brother ▼
Q U I R K S
♦ She has a birthmark on her inner thigh ♦ Due to size, she's a lightweight when it comes to alcohol ♦ She learnt Latin in school and likes to write in it ♦ She has no appendix, as she had it taken out when she was four years old ♦
S K I L L S
✺ She's very intelligent and a quick learner ✺ She's a good actress ✺ She can be seductive, when she needs to be ✺ She can still do gymnastics, a skill she learnt high school ✺ She's an exceptionally good liar ✺
---
---
"I am not afraid, I won't burn out in this place."
- House On A Hill, The Pretty Reckless
---
---
Face Claim
FC: Taylor Momsen
Writer
LittleMissGeorgia
---
---