I'm not my father, but I'm no superhero either.
---
---
♔ Full Name ♔
Ebony Lily Flinders
♔ Nicknames ♔
Ebony
♔ Age ♔
19
♔ Gender ♔
Female
♔ Romantic Interest ♔
TBD
♔ Sexuality ♔
Heterosexual
♔ Role ♔
Mammoth's Daughter
♔ Alias♔
Steel Bullet
♔ Face Claim ♔
Michiko Malandro | Michiko to Hatchin
---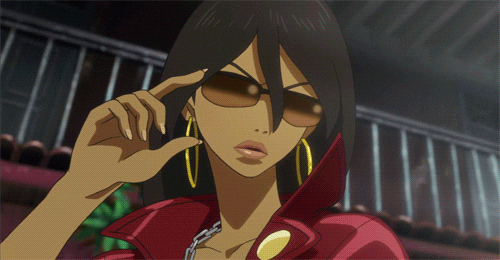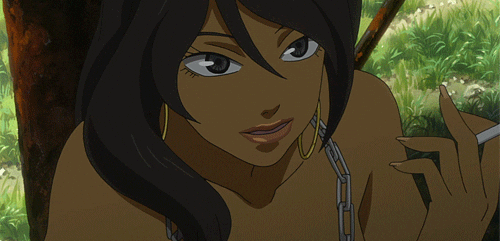 ♔ Height ♔
5'9"
♔ Weight ♔
126lbs
♔ Hair ♔
Long, silky ebony hair which gave her her name. Often worn up or loose. If up, she has no fringe and if she lest it down then her hair falls to hang slightly over her face.
♔ Eyes ♔
Steel gray, Almond shaped eyes which are framed by a set of heavy eyelashes of the same ebony as her hair. She often wears a set of sunglasses over her eyes.
♔ Skin ♔
Her skin is a love coffee colour, darker then her fathers but lighter then her mothers.
♔ Body ♔
Ebony has a runway body which she used to become a model with her height, curves and toned muscles.
♔ Tattoos ♔
Finger
|
Collar Bone
|
Ankle
|
Shoulder Blade
|
Lower Back
♔ Piercings ♔
Belly Button
|
Left Ear
|
Right Ear
|
Tongue
♔ Physical Description ♔
Ebony is a tall, curvy and well toned women with coffee coloured skin that makes her all together striking and intimidating due to her height over some guys. She has long, silky black hair that falls to her mid back and falls in naturally soft waves, she likes to wear it down or up in a plait or pony tail but nothing else. Her almond shaped, grey eyes are surrounded by heavy lashes that's give them an intense look that adds to her overall striking appearance.
As well as these basic feature, she also has an array of tattoos and piercing all made for different reasons and signifying different things.
♔ Style ♔
Bony can most commonly be found wearing some type of top that shows off her cleavage, shoulders and midriff; a hoodie or jack of some kind, make and colour of the top; and a set of different styled jeans ranging from ripped to slouch. For accessory, her choice goes mostly with what she has decided to wear, though you can always find her with a set of sunglasses which she uses to hide her identity when out in town, for both her model status and 'super villain' status.
She likes heavy, loop earring; bandanas; heavy bracelets; heavy necklaces; and many other types of chunky jewellery.
Another thing that can always be found on Ebony are a set of combat boots with a steel tip toe. These boots can be considered weird by most people but she loves them for whatever reason. Probably because they are the best things when it comes to fighting.
---
Professional
|
Easy Going
|
Street Smart
|
Charismatic
|
Independent
|
Brutally Honest
|
Vain
|
Simple Minded
|
Hot Tempered
|
Childish
Ebony has always been a relatively easy going person who doesn't worry to much about planning and just moves with the flow of events while retaining a profession head on her shoulders due to her work as a model. She knows how to run with a unexpected situation as easily as if it was pre-planned. She is all quite street smart, Ebony grew up with her mother after Mammoth left. Her mother lived on the streets and was poor, meaning Ebony got into crime at an early age and learnt the ins and outs of any street crowd. She knew what and what not to do that would enable her to get information or a decent group behind her back and this latter stood her in good stead when she turned into a 'super villian'. Ebony doesn't considered herself a super villian despite what others might say; Ya, she's brutally honest and has a shady history but that doesn't mean that she wants to kills people. No, they have it all wrong. All she wants is money and if the bad side is able to promise more of it than hayho, guess who she is supporting.
Along with all this comes Ebony's natural Charisma which was able to get her into modeling despite her past as well as get her in and out of many a situation. The fact that Ebony can charm a mother from her baby all while pointing a gun at her is not easily missed and Ebony will often use her silver words in order to get what she wants. Ebony is also independent, born in the slums, she knew what to do to survive and that was no rely on others. She grew up self sufficient and taught herself the necessary requirements to live.
The bad points about Ebony is the fact that she can be surprisingly childish, hot tempered and simple minded. She will often get into petty fights with a child or someone younger than her just because they started it and her reasoning and responses for some of her actions can hold the mentality of a child which will make most others facepalm. Her mind is often simple, not in the way that she is stupid, but that when she gets one thing in her head that's what she wants and she will do so much to get it, often not looking at the bigger picture.
Ebony has also grown vain during the year and most consider it quite comical. You only really see her vanity when she has grown to trust you and let slip one of her many self compliments.
The last major bad(?) point about Ebony is her brutal honesty. Now this can go two way, it is either a good thing that she doesn't lie to others but this isn't the case. Ebony does lie to others, often, in order to get her way or to get out of a situation however that doesn't stop her from being brutally honest. More often then not, the times when she is honest are generally the worst of times. Like if your cat dies, instead of lying and trying to comfort you, she would probably say that the cat was better off dead.
---
♔ Loves ♔
♥ Modelling - Ebony has always been looked down upon as scum and worthless, but when she is modelling she feels like she is on top of the world and that others are finally looking up to her as something more than what she was.
♥ Sunglasses - Sunglasses are both useful and fashionable, and after wearing them so often, she grew to love them.
♥ Money - After growing up without any money, Ebony has become quite money orientated and is willing to do anything for it, even work for the 'bad guys'.
♔ Hates ♔
✘ Being Worthless - This probably came from the fact of how everyone used to call her Worthless. That was a bad time for her and she doesn't ever want to go back.
✘ Judgemental People - People who judge by appearance or first impressions are idiots, or as far as she's concerned. If one is not willing to look deeper before accepting someone, then they are not worth the air they breath.
✘ Pity - She hate it, whether it's because it makes her feel worthless and helpless that others think they need to give her pity, no one really knows.
♔ Powers ♔
✪ Superhuman Strength - Ebony is Mammoths child after all, she did inherit his incredible strength just not in huge form of bulging muscles and a giant body.
✪ Invulnerability - Another power inherited from her father. Like his strength, she also got his ability to take punishment and handle it well.
✪ Healing - To top off her brilliant offensive fighting, Ebony also received the powers of healing from her mother.
♔ Flaws/Weaknesses ♔
⌘ Childish - Ebony has an almost childish mindset and this is probably due to the fact that as a child she had to grow up fast so now that she doesn't have to worry so much about survival, she has gone back to almost reclaim her childhood? Yes, it's as confusing as it sounds.
⌘ Hot Tempered - Ebony is easily irritated and can be set off from many things, though mostly this is insults and sarcasm.
⌘ Simple Minded - Ebony has a tendency of not looking at the bigger picture and is more solely focused on the here and now, which has caused her problems before.
♔ Fears♔
❖ Being Worthless - Ebony isn't worthless. She doesn't ever want to be worthless. She terrified she is worthless.
❖ Losing it all - Ebony has come so far now and seen the good life that she keeps feeling that one day she will wake up and have lost it all. Back to scavenging and fighting for food.
❖ Losing those she cares about - Despite what others might think due to her being the 'bad guy', Ebony is actually very scared that she will lose those she is trying the hardest to protect.
♔Secrets ♔
❖ Has an adoptive sister called Natalie - Ebony found Natalie scavenging for scrapes in the slums. She took her in and they became closer. Natalie's is only 7 years old.
❖ Her mother is dying of cancer - She is currently receiving the best treatment but many doctors have given up and claim she is a lost cause.
❖ She never actually met her father - Despite knowing who he was and what he did, Ebony never actually met her father.
---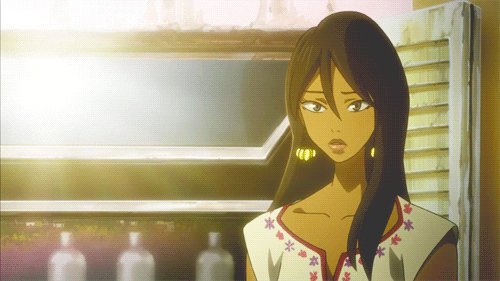 Ebony was born into the Slums where her mother lived. Her mother was a good women but weak and dependent on other men to help her, she tried to raise Ebony on her own but it soon became clear that she wasn't very well suited for the job. So instead of making her mother due what needed to be done, Ebony decided to take a rain check on her childhood and become an adult so that she could provide for her mother and herself.
She began to do small jobs on whatever she could find but it that wasn't enough. She learnt how to steal and pickpocket, how to act innocent and cute while committing the persons Bank card password to memory. She learnt how to fight and who not to piss off if she wanted to survive. Ebony learnt the way of her he streets and soon became a master of living with it.
By the time she had reached her mid teens, Ebony's mother had been getting extremely sick and no one knew what was wrong, or more like no one cared enough to send her to a hospital to check what was wrong. Ebony began to work extra hard and one day, through fate, luck or some godly plan, She pickpocketed a man who caught her. Instead of handing her in to the police like many others would, he gave her the once over and told her to follow him.
She knew the rules, 'stranger, danger." And all that crap but right now she had nothing to lose, so she did. Turns out she had tried to pickpocket the worlds current, biggest fashion designer who was looking for a young, new model to show off his cloths.
Ebony fit the bill and so she was taken in. She brought her mom out of hue he slums and had her diagnosed, learning her mother had cancer. She continued to work as a model in order to pay her mothers hospital bills and get herself a small, one bedroom apartment, her mother receiving most of her salary in order for her to receive the best treatment.
After 3 years of working, Ebony had turned 17 when she found Natalie. Natalie reminded her of herself, and not really thinking of the consequences, she took the child in to live with her. The pair got along like a house on fire and soon Natalie became her unofficial adopted sister. A year later she joined the H.I.V.E, but for what reason, no one knows. Not even Natalie.