---
---
---
So funny it thinks it's people.
---



♔ Full Name ♔


Colleen O'Jeneus



♔ Nicknames ♔


Nothing really everyone just calls her Gadget.



♔ Age ♔


Sixteen



♔ Gender ♔


Female



♔ Romantic Interest ♔


Gadget has to admit guys are cute, but she really doesn't have time for romantic attachments. She's typically busy working on a new weapon or something to make the lives of the members of H.I.V.E easier. She doesn't see the need for love or romance, and was surprised her father even managed to have a family. Oh well mistakes happen.



♔ Sexuality ♔


Gadget definitely likes guys, but as stated she really finds love and relationships frivolous.



♔ Role ♔


Gizmo's daughter



♔ Alias♔


Gadget



♔ Face Claim ♔


Gumi Vocaloid


---
♔ Physical Description ♔


Most assume that Gadget must look like her mother, because there is little to no resemblance between her and her father. Other than the fact that she appears much younger than her actual age, having a very childish facial appearance. She is short only a little over five foot but then again she towers over her father. Layered bobbed, green hair and green eyes, all things that make people wonder who her mother really is.



♔ Birthmark/Piercing/Tattoo/Scar/Noticeable Features ♔


Most don't notice at first glance, and if she is wearing something that reveals this, but Gadget doesn't have a navel.



♔ Personality ♔


Gadget, is not as rude and disrespectful as her father. However she is aware that her IQ is higher than most, and doesn't hesitate to let other's know this fact. Either by spouting fact or the probability of a plan being successful she will definitely let someone know that their stupid. She for the most part keeps to herself, creating new weapons, its computers, components, and equipment that make her happy.

On a side note she kind of has a daddy complex, her father has had little to no contact with her through out her life. She attaches quickly to older male authority figures for this reason and will do just about anything to make them happy. This has always made her seem like the teachers pet to some of her colleagues but she doesn't really care. She feels like if the other's really wanted to be as looked fondly upon by someone in authority they should try hard to impress the people in charge too. This still doesn't change the fact, that her father looks down to her and she feels like she could never live up to the expectations he expects from her. She can get depressed sometimes thinking about this. Another thing that bothers her is that she knows nothing about her mother, and her father has only told her "It doesn't matter if you have a mother, you don't need one." She had tried hacking her fathers personal files for clues but has had little success, its hard to hack the files of a master hacker.


---
♔ Likes ♔


♥ Computers
♥ Building things
♥ Blowing things up.



♔ Dislikes ♔


✘ Her calculations being wrong.
✘ The Titans
✘ Being underestimated



♔ Powers ♔


✪ Technological genius
✪ Basic combat skills
✪ Weapons specialist



♔ Flaws/Weaknesses ♔


⌘ She may be smart but her fighting skills are mediocre at best, she relies heavily on her technology.
⌘ Relies heavily on leadership, someone has to tell her what to do or she's really clueless.
⌘ Gadget's calculations are not always a hundred percent and many times those mistakes can blow up in her face.



♔ Fears♔


❖ Disappointing the boss.
❖ Thunderstorms
❖ The Titans defeating H.I.V.E



♔Secrets ♔


❖ Something that is even unknown to her, is she is not a naturally born being. Her father created her in a lab.


---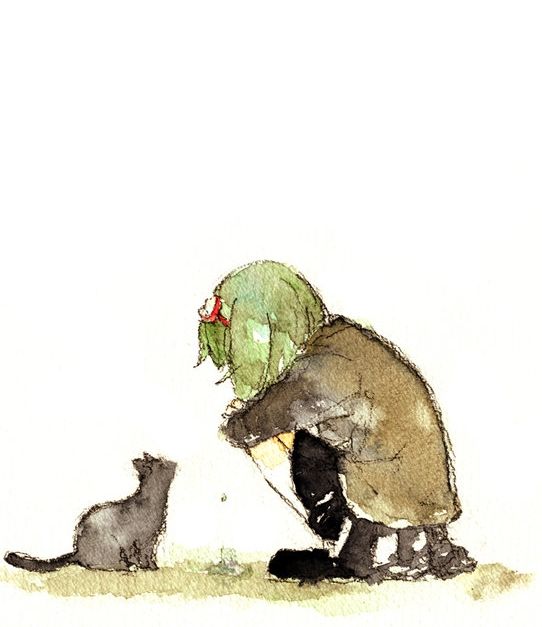 ♔Bio ♔


Gadget was 'born' sixteen years ago and has known nothing but life in H.I.V.E she had been trained and taught since she was old enough to walk and speak. Unknown to her she is a very successful experiment created by her father and the medical staff at H.I.V.E, her brain is basically a computer that was downloaded with all the knowledge that Gizmo could manage to cram in, partially organic and partially synthetic. Her body for the most part is organic and can be injured and break as easily as a normal human being. However when it comes down to it she was grown and born from a tank in a laboratory.

Her childhood well can't really be characterized as a childhood. She spent most of her time perfecting what had been programmed into her brain before birth. Days of endless training, learning, and practice, no time playing or having fun like a normal child. This has made her a bit socially awkward, Gadget feels more comfortable around computers, and books than she does her peers. Her life revolves around one thing, getting the attentions of her father. To show him how smart she is, how she is like him in every way, but the truth is, despite the fact that Gadget as an experiment was a complete success. Gizmo lost interest of her very quickly and left her to the trainers at H.I.V.E to deal with not long after her birth. He moved on to more interesting projects, and really has little contact with her now. She lives for the day when her father will, throw a compliment her way, but sadly it will probably never happen.



♔ Other ♔


Gadget wears goggles that are very reminiscent of her father and can often use various devices like he did in the past.