---
---
---
You asked me and what army? Why, the company of myself, of course!
---

Aw, yeah, Imma PLUSHIE!


♔ Full Name ♔

Maxwell William Numerous



♔ Nicknames ♔

Maxie, Numero Uno, take your pick, dude.



♔ Age ♔

17, two months from the big 18.



♔ Gender ♔

Male, last I checked.



♔ Romantic Interest ♔

Cyborg's kid is cute, but I'm not too sure about her age, and Starfire's kid, WHEEEEEEEEEEEEEEEEEEW-WHEE, that's a shellshocker right there!! Not to mention that bombshell of a lady Mammoth had with some woman!



♔ Sexuality ♔

Straight. Think about that for a second. I can create clones of myself. If I even had the SLIGHTEST inkling of being gay, do you think I would ever leave the house?



♔ Role ♔

Villain who's kind of bored of fighting the New Titans again and again. I mean seriously, they get a menagerie of malicious malcontents to fight against, we get THE EXACT. SAME. THING.



♔ Alias♔

Maxonemillion



♔ Face Claim ♔

MVP from Marvel Alliance


---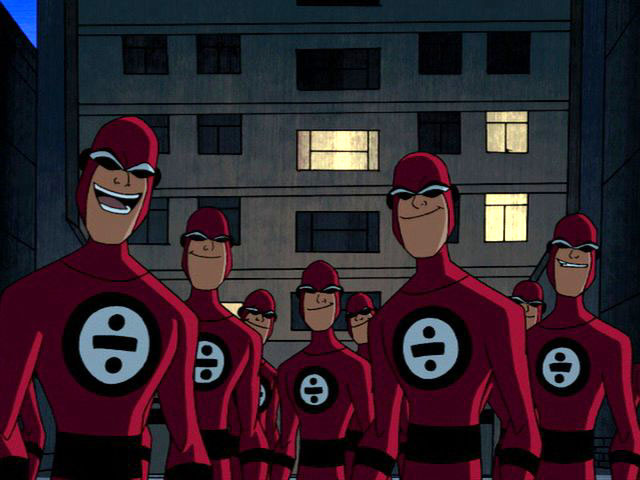 ♔ Physical Description ♔

What, is what you see not enough for you to get?



♔ Birthmark/Piercing/Tattoo/Scar/Noticeable Features ♔

Other than my stunningly good looks and kickass chin, nothing.



♔ Personality ♔

Dear sweet Jesus, here we go with the psychoanalysis. Well, for starters, I'm actually a pretty decent guy outside of my moonlighting, you know, helps old ladies cross the street, works a 9 to 5, the stuff you'd expect of a perfect guy. Hell, if it paid or had free medical for the family, I'd go off and be a hero. I try to be as reasonable as possible with everything I do, and don't let greed, arrogance, or flat-out stupidity get to my head.


---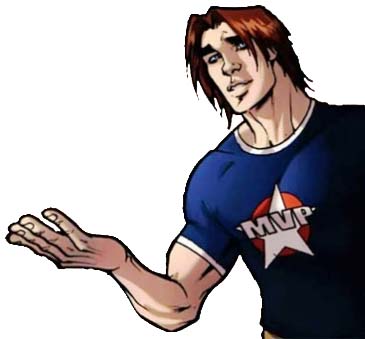 And over here, some more info.

♔ Likes ♔


♥ A good tussle every now and again, you know, enough to get the blood pumping, not enough to seriously injure anyone.
♥ Money, sheerly because it allows me to keep myself from being in debt.
♥ Ladies of all kinds!



♔ Dislikes ♔


✘ EXCEPT obese chicks. Come on, you can't even take care of yourself? Is it THAT hard to keep yourself eating right and exercising?
✘ People who think that they're better than others just because they were born to a different lifestyle.
✘ Institutions like hospitals charging you insane amounts for what should be affordable and open to all.



♔ Powers ♔


✪ Copy: I can make an insanely high number of copies, each identical to me in every way and capable of acting autonomously. I cannot form them further than ten feet away, but they last for up to 24 hours and follow my instructions to the letter.
✪ Enhanced strength and endurance: My dad was capable of lifting an entire bridge with his clones, meaning each clone would lift a couple tons worth. While not AS strong, I can deadlift 2000 pounds no problem and run for days on end.
✪ Information Retainment: Each clone, while it's around, learns stuff. When it disappears, I learn everything it did. This had the end result of letting me learn three different martial arts, six languages, and one hundred recipes that use dark chocolate.



♔ Flaws/Weaknesses ♔


⌘ If I make too many clones, I believe the number was 247, they all snap back into me and I lose consciousness. They also disappear if I'm K.O.'d.
⌘ Sure, I'm strong and can make copies, but I'm still relatively human. I can't fly or do shoot fireballs or any of that cool stuff. Which sucks.
⌘ Tell anyone and I kill you, but I'd probably abandon any crime I was up to if Starfire's kid asked me nicely. Nobody's asked yet, though.



♔ Fears♔


❖ Losing a loved one
❖ Being told I'm worthless
❖ Abandonment



♔Secrets ♔


❖ Max is in denial about his affection for Pretty Pretty Pegasus. His mind is saying no, but his heart is saying YES.
❖ Despite his blue-collar accent and lifestyle, he is incredibly intelligent thanks to having used his clone's learning abilities to go to multiple schools at once growing up.
❖ The only reason he commits crimes rather than stops them is because he's paying for all of his dad's medical bills after he was diagnosed with Huntington's Disease. Max has yet to know if he carries it as well.



---
♔Bio ♔

You know my dad, Billy Numerous, right? He married, quit the villain business YEARS ago. Turns out my being born was the big slap of reality he needed to pull his life together. And yeah, for a time, I was raised with the best intentions. Then... Reality decided it needed to visit me as well, and gave my dad Huntington's disease at the age of 48. The treatments they have here in Jump City are more than capable of at least keeping his muscles from atrophying, but they're also expensive, and since he's been becoming more and more of an invalid every day, I took up his old ways to help pay the bills, alongside my current job working with a friend of my dad's, a good contractor who appreciates having twenty hard-working boys for the price of one.

And NOW we get to hear about my LOVELY tryst with the Titans 2.0. As of this writing, I've fought against them three times, won the first two, and lost the most recent. You know, the whole "villain wins to show how dangerous he is, then the heroes find a way to beat him" schtick. And I'm actually kind of jealous.



♔ Other ♔