---
---
---
Why would I break boards? They don't hit back.
---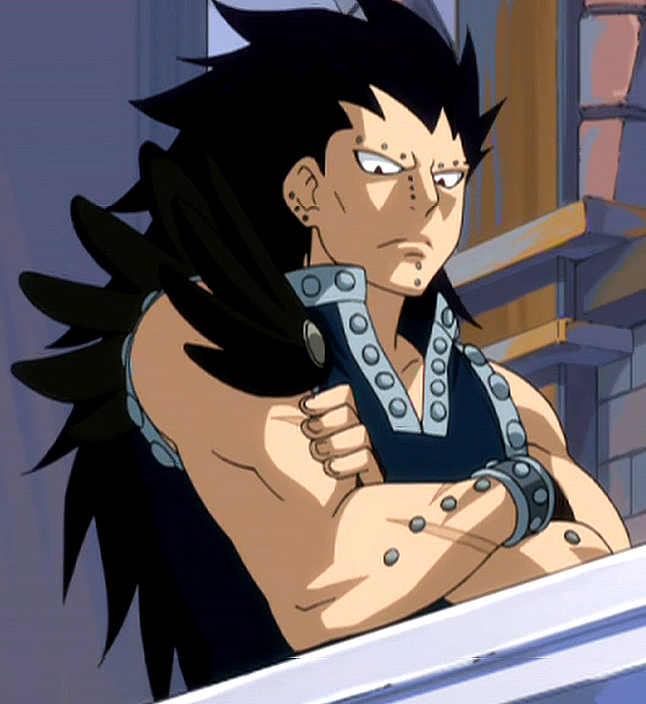 ♔ Full Name ♔
Shizuka Ronin
♔ Nicknames ♔
There is only one person in the world who can call him Shizuka without getting punched. So everybody just calls him Ronin.
♔ Age ♔
17
♔ Gender ♔
Male
♔ Romantic Interest ♔
Even after losing her, he still loves Ellie.
♔ Sexuality ♔
Heterosexual
♔ Role ♔
Son of Bushido/Titan
♔ Face Claim ♔
Gajeel Redfox from Fairy Tail
---
♔ Physical Description ♔
Ronin is a little under six feet tall and weighs about 160 lbs. That wieght is pure muscle, there isn't an ounce of fat anywhere on his body. His skin, while white, is still far from pale, being lightly tanned. He has long black hair that's spiked up in a ridiculous fashion and crimson eyes. His usually attire is a sleeveless top that splits in the front when it gets down to his waist, and ends at about his shins, the neck and arms appears to be made of metal with bolts circling it. There are black wings adorning his right shoulder, one in the front and one in the back. He also has black fingerless gloves and wrist bands made of the same metal. On his lower half he wears some simple white pants and tall black boots with that same metal on them once again.
♔ Birthmark/Piercing/Tattoo/Scar/Noticeable Features ♔
Ronin has many noticeable features that cause him to stick out in a crowd. The most noticeable being his many piercings. All of his piercings are silver studs, but simple doesn't make them any less weird to most. He has three on each side where his eyebrows should be, three running down each side of his nose, three on each ear, then one just below his lower lip, and another on his chin. There are also five, larger studs running up each forearm. Next is scars, he has four of them, all of which are on his right arm. They are too jagged to have been made by a weapon of some sort, so most people think claw, which would be right. One is on his upper arm and the other three are on his lower arm. And finally, to top it all off, he has a tattoo on his left shoulder of what appears to be a black fairy with a tail. He got it after the love of his life left, because it matches the one she has.
♔ Personality ♔
If there was such a thing, Ronin would be the poster boy of Bad Boy magazine. He's rebellious and full of attitude. Tough, sarcastic, and stubborn. Stuff too many rules on him and watch out. He has no problem following a few rules, but start restricting everything and he will get his revenge. He's very overprotective of the people he's close to, and just a guardian in general. He has weird ways of showing affection, ones that may not seem affectionate or loving to someone who doesn't know him. He isn't very good at making friends, but the ones he does make, he keeps. His loyalty is incredible, he would kill or be killed for someone he trusts without a second thought. He's cocky and confident almost to the point of arrogance, but he never lets himself cross that line. He's got a bit of a temper, but would never take it out on someone who doesn't deserve it. He's not the smartest guy around and prefers action to thinking, but can keep a clear head in stressful situations.
Think of him sort of as a melon. He's got that tough outer shell, but a sweet, mushy interior. Under the bad boy toughness and attitude is a caring, emotional guy. You just have to dig deep, deep, down in order to get to it. He isn't afraid to cry every once in a while, as long as it isn't around other people. He likes to keep the tough part of him out when he's around other people. The only part of his soft side that he doesn't mind showing is his sweet tooth. Despite his looks and attitude he's honorable, trustworthy, and has a strong sense of justice.
---
♔ Likes ♔
♥ Getting weird looks from people
♥ His one and only love
♥ Sweets
♔ Dislikes ♔
✘ Too many rules
✘ Being underestimated or judged
✘ Being referred to as Shizuka
♔ Powers ♔
✪ Expert at hand to hand combat and martial arts
✪ Almost inhuman speed and strength
✪ Able to tank damage really well
♔ Flaws/Weaknesses ♔
⌘ Couldn't be stealthy to save his life
⌘ Is completely human
⌘ Stops thinking when Ellie is in trouble
♔ Fears♔
❖ Claustrophobia, the fear of small or closed in spaces
❖ Losing the people he cares about
❖ Disappointing the people he cares about
♔Secrets ♔
❖ Despite having tons of piercings and a tattoo, Ronin is afraid of needles.
❖ While bushido means way of the samurai, a ronin is a masterless samurai.
❖ Because he is completely human, Ronin's father had a thin metal plate surgically implanted into his son's chest, in order to protect his heart.
---
♔Bio ♔
Ronin was born in Japan to Bushido and an American woman named Danielle. They lived in Japan for the first few years of Ronin's life, before Danielle got homesick and they moved to the states. Ronin was always a troublemaker and got bounced back and forth between schools for a few years until his parents gave up. The disappointment they felt in him still shames him to this day. He couldn't help who he was, and his parents didn't understand that. So at fourteen he ran away from home. He started getting into fights, protecting the city from whatever bad guys he could, hoping to earn the pride of his parents once again. He caught the attention of the Teen Titans and was asked to join them. Which he refused. not wanting to be a part of a group. He was napping under a tree when he met Ellie. Things started off shaky, but it wasn't long until they feel in love. And for several years Ronin was content with life. But then, for reasons he didn't understand, Ellie and two of her friends were attacked. Ronin did everything he could to protect them, but they were too strong, and he ended up beat to hell. Four bleeding claw marks in his arm that would one day become his scars, more bruises than he could count, and at least one broken rib. He blacked out at some point because he woke up to see Ellie and her friends hung on a tree. He was going to get them down, but then he saw someone coming and fled. Out of fear that they would think he did it.
He returned to the tree every day for three months, healing, waiting, and praying that she would show up again. But she never did. With his heart broken and nothing left for him in the city, he decided to take the Titans up on their offer and join the team. But not before getting a tattoo, one to remember Ellie by.