Name
Alexander 'The Reaper' Die Rasch
Age
21
Sex
Male
Role
An 'honest' pirate.
Appearance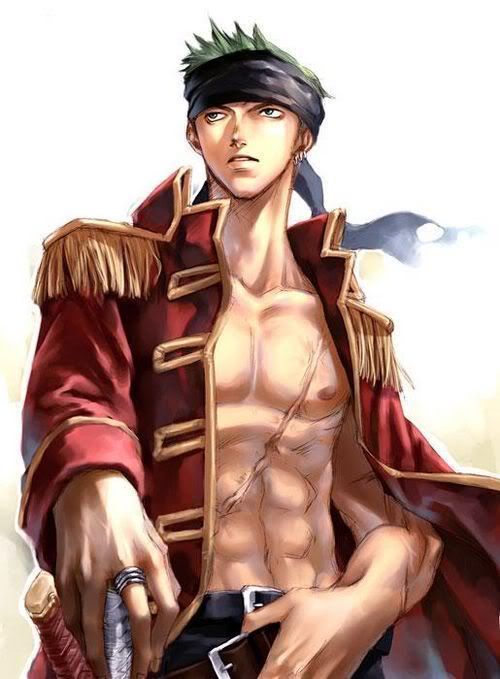 Years of combat and hard work have served to conditioned The Reaper's body into peak physical condition, from his strongly defined muscles, to his heavily tan skin, to his heavily calloused hands its clear from first sight that he is no stranger to excursion. While in good shape and better looking than what you're normal pirate might be , his body is far from unmarked, along with numerous small scars from the likes of daggers, bullets, and shrapnel, he also has a massive jagged scar across his abdomen which he displays openly. Forgoing the use of a shirt he instead chooses a crimson captains coat, sometimes simply hanging from his shoulders as if connected by an unseen force. A black bandanna keeps his green hair from falling into a raggy mess. he also has an array of weapons and holsters strapped to his pants and belt, including a sword sheath on his right, with an additional curved sword sheath on his left and a small throwing knife sheath strapped to his lower thigh that holds three knives. His only other notable feature is the compactible bow he keeps strapped to his back, often hidden by the coat.
Height
5'10
Weight
180
Personality
As the dangerous, and infamous 'Reaper' Alex is noted by those who have survived an encounter, to have a dark humor and ominous air about him. They would describe him as a cold hearted killer, who would just as soon slit you're belly open as he would look at you. The words evil and cunning often pass the lips of those who speak of him, but most of this is only a facade. Alexander only carries one true similarity to his Reaper co part, his intelligence. Besides this similarity, he is quite different from how he appears. He treats the world as his playground, sometimes seeming arrogant or bold, often betraying(to onlookers) the calm and collective mind he possesses. He also has a strong sense of honor and respect. Refusing to kill unarmed women or children ( and oddly enough animals) he will give them every chance to escape his grasp without losing face. He believes in a fair fight, but is not above playing dirty in a life or death situation, his respect is hard earned but well worth it. Those who demand his respect are held in his highest regard, even if they are his foe. At his base Alexander only cares for two things, his crew whom he views as family and the sky he flies under. However no man is without his faults, in the case of Alexander its a burning rage that often fuels his vengeance for those who have wronged him or his crew. Along with a strong distrust of all those he meets, sometimes bordering on paranoia.
Likes
money, gold, airships, shiny blades, bananas.
Dislikes
Nobles, traitors, cowards, and horrid Ale.
Sexual Preference
Hetrosexual
Abilities
Amongst his noteworthy abilities, he is a master navigator and helmsmen. Capable of charting his course using only stars. He can perform nearly any task on an airship having basically lived on them his entire early life. He knows the workings of airships and trains alike and constant footing aboard the prior has greatly improved his balance and has made him quite nimble as well. Amongst his more aggressive skills are his ability to pick may types of locks, and extreamly advanced knowledge of weapons, most notably swordplay of which he was trained by an old mentor from a time long since past. He also possesses a great deal of knowledge in economics and politics, and can serve as both a skilled negotiator, and a sly liar. While gunplay is not his greatest trait, he is far above average in archery. Alexander is also ambadextrious, and thus can wield and mixutre of single handed weapons at the same time without missing a strike. This is most notable when he wields his two swords, cutlass in left hand and rapier in right.
Equipment
'Gutshot' Rapier.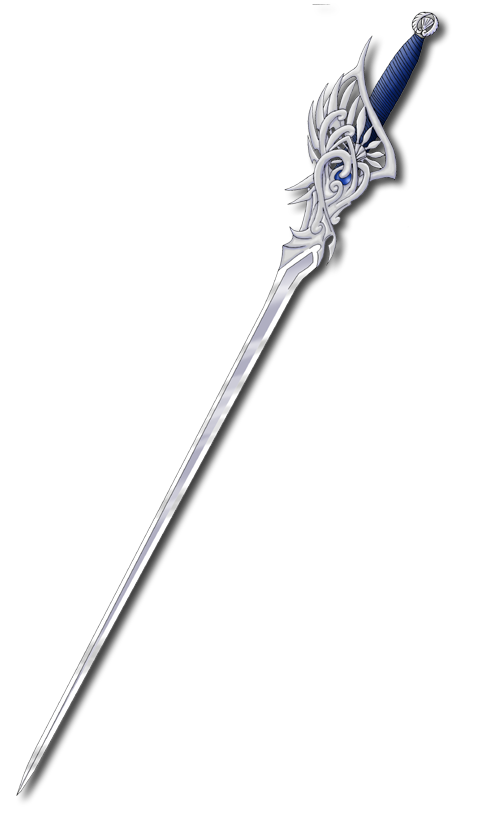 A sword with a bigger bite than normal, this particular blade is elongated and thin. It is designed for accurate thrusts and parry. However, the 'Gutshot' is unique amongst its peers, because within its guard lies a concealed gun, the trigger of which sits not far from the handle of the blade. though small this gun packs incredible punch by shooting a piercing blast of high powered laser.
'Overheat' Cutlass.
This cutlass styled blade is one of few remaining in exsistense. while its design may not be unique, its function leaves little to be desired. With a twist of the handle the blade's edge becomes superheated via a series of contraptions lining the inside of the blade. the back of the blade is lined with fine holes that vent the heat in great swathes of steamlike vapor to keep the blade from damaging itself. This heating function allows the blade to cut through normally stronger steel ( or other misc. items) that it would normally not be able to.To heat up the cutlass must be nearly stationary for roughly 1-2 minutes, less it suffers damage to internal parts. Also overuse of this feature (roughly any use lasting longer than thirty seconds.) will result in heavy damage to both the sword and its wielder. Due to the heat resistant components used to forge the blade, it also has the ability to deflect lasers and small arms plasma fire.
'Spider Web'
A compactible bow that makes up for what it lacks in pure power, with heavy adaptability and tactical use. capable of firing several types of arrows, along with its own built in plasma arrows that charge at the tip of the bow when it is drawn back. the bow also serves as a sort of swiss army knife of tools. Parts of it being detachable so as to serve different functions, including a small blow torch like cutter, a lock picking tool, and a tracking compass that can be configured to trace multiple types of ore and metal . It can also be reconfigured for more power if one has the time. The six points on the front of it house barbed spear heads connected to heavy wire that can be used for grappling, rappelling, and even to create snares for the unsuspecting. Its final tool is the handle itself, which can detach and expand into a small circular 'buckler' styled shield designed to resist small to medium ballistics and plasma. However the metal is particularly vulnerable to laser fire.
History
Many rumors of The Reaper tell his supposed history, but none know of Alexander's. Alexander was born in The Sky City of Aeros, into an extremely wealthy family. For the first few years he lived a pampered life, but he saw the world outside of his home, and the more he saw of it, the more he felt caged. Forced to sit through classes, to be educated on pointless things such as proper ettiquite and politics. The only brightside of all the training was Asus, his sword instructor. No one quite knew where Asus had come from, but he was old with a beard nearly touching his knees. This was an appearance to fool however, because there were none in Aeros that could match his skill with a blade. Alex spent his years looking forward solely to his training with Asus, and began to view his mentor as more of a father than his own. Swordsmanship, though some might say was a dieing art, was also the one thing Alex truly enjoyed. when Alex turned 15, Asus told him it was time for his final test and rushed Alex with intent to kill. Alex had indeed surpassed his mentor, and defeated him gracefully, sparing his life at the end of the fight. When he asked Asus why he had tried to kill him, hi sold mentor mearly responded; "To finish youre training." Unfortounetly, and against Alex's wishes, Alex's family guards executed Asus on the spot despite Alex's protests. This final moment destroyed any loyalty Alex had to his family, and less than a month later he ran away. Alex stowed away on a train, bound for someplace far away but halfway along its route it was set upon by a group of pirates. They killed most of the train's crew and passengers and eventually found Alex hiding in a cart in the very back. Alex however had brought one thing with him when he ran away, his mentor's Rapier. He fought off and killed four of the pirates before they subdued him and took him to there captain. When told of the young boy's feats, the captain offered him a spot on his crew instead of a death by the plank.
For the next few years Alex was groomed to be a pirate captain, starting as a deck swab and working his way up to the position of first mate when he was 18. He had left his past long behind him, and chose never to speak of his hearitge again. THose years were good for Alex, and he began to enjoy the freefaring life of a sky pirate, however all things come to an end. EVentuly all waned men are hung. One nasty season, his captain tried to raid a heavily armed train but were ambushed and a zeplin of unknown Origin. It destroyed Alex's skyship, and killed his captain. ALex survived the encounter, manegeing to hide ont he very train they had planned to rob. It was on this train he met his best friend Jimmy. Together the two of them quickly found more trouble, stealing an airship from a group of pirates called the Dawnskull. With ALex at the helm, and Jimmy as his first mate, they did what any new captain would do; celebrated there success. The next hungover morning, the Dawnskull caught up with them, They boarded Alex's ship and he and Jimmy stood back to back fending off the pirates. Luckly it was a small force that had come to kill them, and none were on the skill level of Alex in combat. After they killed the Dawnskull pirates they freed the prisinors they had taken and gave them a choice. Join us, or flee in the second ship. It was this that got Alex his first crew.
Now at the age of 21 Alexander is commanly known as The Reaper. He commands one of the most feared Airships in the sky, the Nightfall. His crew stands unusualy loyal for pirates, because Alex has always provided for them. With a 3million$ price on The Reaper's head, and 1million on any of his crew, the Nightfall is easily the most sought after ship by both royal forces and pirates alike.
Theme Song
Black board, Nano.
Additional Notes
And introducing, the key crew members.
1. First mate.
Name: Jimmy
Height: 5'7
Weight:170 pounds
Age:19
Skills: bartering and negotiation. skilled with Throwing weapons. Animal friendly, expert at hand to hand combat.
Jimmy has been with Alex since before alex assumed the mantle of captain. He is Alex's most trusted crewmate and only friend. He is also the only one who knows Alexander's full history and heritage. Jimmy would die for Alex, and would never betray his caption.
He is carefree and fun loving, his pet monkey is named Oop and is extremely well trained.
2. Helmsman
Name Rachel.
Height:5'9
Weight:183 pounds
Age 22
Skills: Acute eye site, excellent memory, ace marksman. Skilled Helmsman.
Rachel is a veteran crewmember, , she has been on for five months and has proved herself to be one of the best helmsman Alex has ever seen. She has a fancy for Alexander, though the Captain does not share the same feelings for her. Her loyalty is solid, proven when she was taken prisoner by a pirate ship and half starved in an attempt to get information on Alex's whereabouts. Needless to say Alex came to the rescue after a week of tracking her down.
3.bodyguard
Name: Sandra
Height 6'2
weight:187 pounds
Age:17
Skills: Possessing a unique ability to analyze her opponents fighting style and adapt to it near instantly, she has become a terrific swordsman. nearly capable of defeating The Reaper. She also posses in depth knowledge of varying interrogation techniques.
Sandra is the youngest member of the crew, but one of the best. She is terrific with a blade and skilled in the art of interrogation. However despite her prefrence for asword or knife, she does carry three or four firearms at a time, mostly small arms and stowaways. She has been with the Nightfall for nearly four months and often serves as the bodyguard to Reap in...'diplomatic relations' and bargaining transactions. Many are fooled by her age, but they are soon corrected when she slits their throats. You want to stay on her good side.
4. engineer and inventor.
Name: James
Height:6'6
Weight:245 pounds
Age:36
James is the newest member of the Nightfall. He has only been around for two months. Which is considerably longer than most other generic crewman last. Though he has yet to be given the chance to truely prove himself he is a good engineer and a gifted inventor, coming up with plenty of protoype designs and ideas, although few ever work out as intended