Age:
23
Gender:
Female
Height:
175 cm
Weapons:
Sword: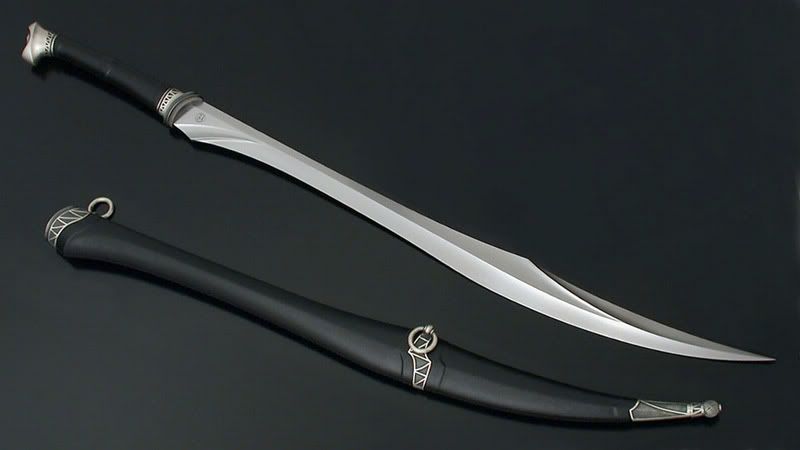 Dagger:
Appearance
Nymeria is usually dressed in her armor. A suit of steel that is toned dark, that covers her entire body except her face. You will rarely see her wearing anything else. Around her waist is a broad sash, crimson red. Instead of a helmet or any other headwear, she has a hood which is pulled up over her head most of the time as well.

She is agile and fast, choosing speed and quick maneuvers over strength and brute force. Under the hood and her armor, Nymeria's skin is darker than you would expect, if you know where she is from. Her eyes are the most remarkable thing about her though.
They're bright blue – which in itself might not be the most remarkable thing – but in this case they are really bright, glowing blue. It's not so easy to see in bright sunlight, but in the dark they glow (most powerfully in snow and moonlight).

Her hair is dark brown, flowing past her shoulders. If you do see her with her hood down, you'll be able to see these dark locks that are as wild and unruly as the woman herself.

The only part of her body not covered in steel is her feet, where a pair of knee-high leather boots have replaced. From her shoulders hang a heavy, worn cloak.

Few people have called her beautiful, although she is. Nymeria rarely has contact with people, and the ones that see her rarely see her smile. Her expression is mostly serious and some have described it as cold and harsh.
Personality
Distrustful...But does anyone trust anyone in a world like this? Most of the places she has seen after the war and the fall of the Order of the Veil, are filled with creatures that want to kill her, rape her and enslave her. If she does manage to get close to someone though, Nymeria is very loyal, but it's going to take some time. She's careful with other people.

The woman is very proud and does not take it lightly if you insult that pride. As she is used to being alone, it's a little difficult to be around people. Mostly because her social skills are quite rusty. She appreciates humor and likes to laugh, though that won't happen until she knows someone very well – if they do try to make her laugh at all.

Vengeful. If you betray her, she will most likely attempt to kill you. If she doesn't know you and you get in her way, she'll kill you. In her life it has always been kill or be killed.

Penetrate that wall of cold and harshness, and befriend this woman and you'll have a good and loyal friend. Empathy is a thing she values very much, though you might not think it by first encounter.
History
"...You have eyes of winter, child."
Her grandmother always used to say that. She would be wrapped in her big fur cloak and put a hand on her granddaugther's face and make her look up, so she could see her eyes. Nymeria was very young when the old woman had died, but she remembered clearly.

She was born in Stromhold, the capital of Meiron - on the continent of Wiesenthal. Meiron is cold and Stromhold is coldest.
The dark grey walls of the city are hard and frozen and the ice on the battlements, make it seem a hopeless task to besiege it.

Nymeria's father was a blacksmith and her mother was a hunter. In the high north, women work as hard as the men do. Their life was good for a time. There was always food on the table, though they didn't live in a great castle or keep and didn't come from a great house, and there was always a fire in the forge.

Her mother and father loved her immensely and were not afraid to show it, but they also knew that they had to raise their daughter to survive in the north. Her father was a brave man, that put honor and family first. Her mother was beautiful, but strong. Nymeria inherited all these traits from her parents.

She would spend her days as a child, running around Stromhold, picking snowflowers that had leaves the same color as her eyes and laughing as she made colorful crowns of flowers ot put on her head with all the other girls. She would help her father in the forge and her mother on the hunt.
Nymeria would also be trained to fight. That was her father's idea though. At first, the girl hated it. She hated it more than anything in the world... But when she found out that she was good at fighting, all that changed. The first thing she mastered was the crossbow – and it didn't take very long. She was a natural. The second weapon was the sword, though that took a long time for her. As a young woman she had become deadly with those two weapons.

Then the war came. Meiron originally took no part in the war, but when it came to their doorstep the armies were called. The Magnus War had come for them as it had come for every other nation.
Then the Order struck, dealing the coup de grace to Meiron.

Nymeria watched it all happen. She watched her family die. The only thing she had to remember them by is her mother's hunting knife, and the suit of armor her father made for her. These two things she values greatly, along with her father's old sword which she still carries with her today.

What can best be described as a splinter force still remain at Stromhold. It's been a long time since they've had sight of enemies and the evil creatures of the land seemingly leave them alone. The winter's grow colder though, and in Stromhold it is always winter.

Losing hope and faith in anything, Nymeria decided to leave her home and travel south. She took up work where she could, sometimes working at a forge, sometimes as a body guard, bounty hunter, assassin, etc. That was only when she could find someone to work for though. Now she has set her eyes on Girau, despite hearing that the city was mostly abandoned, with only sporadic fighting.

Nymeria doesn't know what she'll find there or why she is even going, but she knows that she has to keep moving.