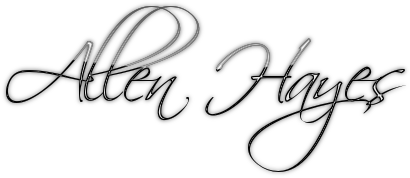 ---
---
---
---
Name:
Allen B. Hayes
Age:
21
Power:
Substance Mimicry. He can change his body density and composition with anything he touches. If he touches a sandstone rock, he can turn his body into sandstone. If he touches diamond, he can turn his body into diamond. He does not need to be constantly touching it to turn into it, but every time he changes form, he needs to retouch the previous object to turn into it. For instance, if he touched a tree and turned into oak then later touched an iron bar and turned into Iron, he would have to go back to an oak tree to turn himself back into oak. He can take solid, plasma, and liquid forms, he cannot take a gaseous form.
His 'abilities' fluctuate depending on what form he is in. If he is steel, diamond, or some other heavy dense material, he is going to be very durable and strong, but move slow. If he takes water or some other light material, he will be faster but not as strong. He cannot morph into animals nor can he take other peoples faces and shapes.
Status:
Villain
Face claim:
Milo Ventimiglia
Sexuality:
Sapiosexual
---
---
---
---
Physical Appearance:
Standing at 6'4, Allen is on the taller side of most men. He tends to be one of the taller people in a room and enjoys 'the view' as he says. He is not very muscular nor is he toned, and he most definitely is not one of those, self-proclaimed, 'thin but sinewy strong' types that really are just skinny and can't bare to admit it to themselves. He is just, as he says, a tall, skinny white guy. His shoulders are wide, but his chest and waist are both thin, his waist is dangerously close to the dreaded 'boyish' hips that are the rage with modern music something he would rather die then share with them.
The proud owner of a sharp, angled jaw, Allens face is very thin with a wide-bridged nose, long arching eyebrows, and thin lips that stretch out into a very large smile, cheek dimples included at no extra charge, giving him a certain playful, boyish charm. Allen has shoulder length wavy black hair that curls out one the ends and deep brown eyes that tend to shine with amusement, these darker colors are offset by his peach complexion that makes both his hair and eyes stand out even more then they normally would.
Someone looking for something to interest him and lacking not in self-confidence, he walks shoulders back and chin up with a small on his face. His constantly move from subject of interest to interest as if looking for something to take up his attention and time. Allen is a man who looks for interaction and demands attention.
Marks:
Besides a few cuts and scars from a rambunctious youth? None to speak of.
General clothing:
Allen has a certain fondness for hats, not very original hats, just baseball caps and the like. His favorite, and the one he constantly wears, is a denim baseball hate with the Dodge car logo stamped on the front. It is well worn, so the denim cloth is starting to peel back on the bill. His fashion sense is not very... well.. refined. He tends to wear plain t-shirts or those with band logos and decos stretched across, fitting carpenter jeans, and high top basketball shoes. He hates jackets and refuses to wear them no matter how cold it may get. Freezing is preferable to being uncomfortable, or so he says.
---
---
---
---
Personality:
Allen is, first and foremost, out for his own enjoyment. This does not mean he is a murdering psychopath, in fact, far from it as killing someone is not something he tries to do. While he has no qualms about killing, a part of him even enjoys it, he does not do it because it tends to be messy and a waste of his time and efforts. No, his enjoyment comes from the small things. Taking what he wants when he wants, a nice conversation about nothing and everything, a large expensive dinner, a soft bed, a good book, or an interesting movie, these are the things that Allen enjoys to do and goes out and does. He does have greater ambition and plans then merely enjoying himself, but why shouldn't he enjoy himself when he has the opportunity? A very social man, he tends to chaff if he doesn't have a source of conversation, the person matters less then that they are there although he does prefer someone intelligent then someone dim-witted, but as they say, beggars can't be choosers. He doesn't care much about the person he is speaking to, their feelings, their past, their reasons for existence, their goals... it is just something to pass the time with.
Because of his approachable and friendly nature, Allen is very charming and easy to talk to... for most. He, himself, is a fairly open book as he has few things to hide and could care less about what they thought about him or his past, it is merely wood for the fire that is conversation. While he does keep some things about himself to himself, he does not openly deny or refuse to answer questions, instead he talks about himself and gives them small details such as his favorite books or movies, his favorite color, his preferred type of woman, small bits here and there that make people think he is open and honest with them when in truth he has told them nothing. He is never one to shy away from the spot light, instead he embraces it, but he is far from a hoarder. He happily, and often, cast the light on more quiet members of his group in an attempt to force them to speak, and a part of him enjoys watching them squirm or glare depending on the person in question.
A strong independent streak runs in his soul as he hates taking direct commands from people, while he is open to 'suggestions'; he is not fond of someone attempting to take control of his life away from him. He is not an anarchist, in fact he sees them as simpletons for the most part, but he wants to be in control or outside their control, not within. Depending on the order and his mood, he will often out right refuse to obey it and will fight against the person who commanded him simply to fight against them and enjoy it. He does highly respect ambitious people and those that can take command, he just prefers them to not try and take command over him.
Likes:
Eating, especially if it is junk food or some kind of meat. Preferably red meat.
Sleeping
Ambition in others.
Reading
Writing
Video Games (He prefers strategy games to shooters)
Precious metals, particularly silver
Music
Movies
Humor, jokes are something he always finds himself enjoying. He prefers wit and dry humor to 'in your face lewd' humor, but he will smile at both.
Pranks, he does enjoy a good prank.
Conversation, Allen enjoys to talk even if the conversation, itself, is pointless.
Independence
Winning, being correct... if he is better then someone or at something, he is content
Dislikes:
Animals
Sheeple. (Common people that he views as little more then sheep, thus sheeple (Sheep + people))
Self-righteousness
Tomatoes/Onions/Peppers
Spending money, he is very frugal.
Dim-wits/brutes and otherwise people who do not use their mind.
Being controlled.
Governments, well, he is not one to promote anarchy, but he prefers to be the one in power. Anarchy is an impossible to truly create and would last moments. Why be equal when you could be everything?
The weak, are people allowed to have weak moments? Yes, but those who are constantly weak and cry to the strong to help them are pathetic.
Fears:
- Losing control. He does not want to, someday, take the form of a material and then find himself stuck forever in it.
- Mind control, the idea that he could be trapped in his own body as someone else moves him like a puppet terrifies Allen.
- Gorillas/Spiders
Weaknesses:
Over-confidence. His single greatest flaw and weakness. Thanks to his powers, Allen has come to believe he can handle any situation as adapting to the environment is his specialty because of this he is easily provoked into a trap. He tends to underestimate other people, most of the time, seeing them as nothing more then sources of entertainment in which to engage in some minor discussion for a few minutes. His very nature of seeing most people as sources of entertainment means he doesn't trust them, or care enough about them, to view them as anything more. He does not judge people because he does not care enough about them to ponder about what he feels about their actions, this leads him to, very easily, throw them away at a moments notice should he grow bored of them or find something more interesting to take up his attention meaning lasting alliances and friendships are nearly impossible for him to make and most people don't take to being forgotten nicely.
Strengths:
Allen can be very charming, able to easily slip into a conversation with someone, and even if they are incredibly bitter or rude, he will continue speaking not missing a beat. A large part of him even enjoys the challenge of a quiet person or someone who is harsh on those that try. Despite his over-confidence, Allen is an intelligent guy. While he doesn't ponder on the future often, he is very adapt at making connections, is incredibly observant and loves a good debate. In terms of his emotional stability, a psychiatrist he once visited said his mind was a filing cabinet, he opened up a new emotional file, read it, accepted it and then filed it away. Simple as that. Coupled with his body's ability to adapt merely by touching a surface, and he is someone who can, usually, survive and excel anywhere.
---
---
---
---
History:
Not much could be said about his childhood as it was pretty normal. Both his parents had their faults just like everyone else in the world, they had their ups and downs, their fights and their making ups, but they were decent human beings. Allen was very open, talkative, and friendly as a child, nearly as talkative as he is now, and was considered a very charming young boy. His parent's friends loved him, the neighbors loved him, his teachers adored him... everywhere he went he was met with praise. Yes, Allen was on the fast track to having a 'good' life, but when he was eleven, it happened. His powers manifested. He can still remember it, looking down to see what he thought was his blankets. His tired mind dismissed it, but then his mind kicked in, and he opened his eyes again to see his blanket was pooled by his feet. He did the only thing he could think of, he screamed.
At first, his parents tried to deny and ignore what happened, content to push the skeleton into the closet, but Allen couldn't control it. Sometimes he would appear normal, other times, he would brush against something and take its form. He broke the bottom step of their staircase by accidentally brushing against the steel bar. Fearing what could happen, and what people would say, Allen was pulled from school and taken in for homeschooling. It was hard, being so young, to understand what and why it was all happening. He was freak that was barely allowed to leave the house. Two years past... two long years of isolation, but it came to a screeching halt when he accidentally touched the glass window when talking to the neighbor through the window. The look on her face as his body turned into glass was as horrifying as it was funny, although it only became funny year later.
With the news of his 'condition' out, he was brought to a local hospital. From there it was a blur of being moved from hospitals to hospitals to 'treatment facilities'. At first, it was all about him. How all the doctors, all the test, all the samples... they were going to make him better. Cure his 'condition' and make him normal, but as the years went on, it started to become what he could do for them. How his 'condition', how his 'gift' could help so many people. Push the boundaries of known science. He was less of a patient and more of a research subject. His parents, having had another child, started to visit less and less. By the time he was sixteen, all he got were cards on holidays. He was numb for a lot of it. Just... images flashing before his eyes, like he was watching a movie about another persons life. Still, he desired companionship and social interaction. He talked to everyone and everything. The doctors, the scientist, the nurses... they took it as a sign he was happy and content with his life. That he had accepted his place... and perhaps they were right. Allen had no reason to fight, no reason to look for anything else. The test, the needles, the experiments had become a part of his life.
It wasn't until he met Rachel on the summer of his 17th birthday when he met her, Rachel. Another patient, she was young, only twelve. She wasn't quite as... special as him as all she had was a rare genetic disease that kept her bones brittle. Like he usually did, and when he was allowed, he would visit other 'patients' and speak to them. Rachel was different though. She detested him, never spoke to him, never looked at him. Allen found it almost... fun, to be ignored. He would sit besides her bed and talk about the weather, what was on television, what he had last read, and she would ignore him, other times she would stare at him with dead, empty eyes.
Finally, one day she spoke to him, her voice was quivering with bitterness that did not fit a child so young. She was dying, her ribs would crack if she breathed too hard or too fast. She couldn't walk for fear of falling and shattering her bones. Yet, there he was. A guy who could turn to solid steel anytime he wished, and he dared to speak to her like they were the same? He could do anything he wanted. Be anything he wanted. He wasn't like her. She was stuck in the hell she called home, but Allen could go anywhere, the only thing that held him back was his own cowardice.
For the first time in his life, Allen had nothing to say. He sat besides her in silence for what seemed like hours. She was right. She... was... right. He could do anything he wanted. Be anything he wanted. There was nothing stopping him. He no longer had the desire to be their science project. He was tired of the false smiles and reassurances about his 'condition'. He was tired of the nurses smiling at him while their eyes mocked him. That day, Allen decided to leave. Of course, it wasn't that easy. They had no desire to let him leave, and Allen learned just how 'precious' he was to them. Armed guards, members of the US Army, had long been stationed in the hospital, and he had never truly noticed them... not until they were now trying to stop him. It was in his breakout that he killed his first person. A young private, fresh into the army had shot him, but before he pulled the trigger, Allen had grabbed his rifle, turning his body into high carbon steel. The bullet had bounced off Allen's shoulder and ricocheted into the private's throat.
The blood sprayed across the walls, the look and fear in his eyes as the light slowly went out... the gasping over the gurgles and jerking of his leg as the nerves fired off. The horrible smell that followed, but through it all, Allen realized one single fact. He did not care. The private's life meant nothing to him. Allen had wanted to leave, he had wanted to stop him. Only one of them could get what they wanted, this was merely the natural reaction of two opposing forces. The greater force always won.
The moment Allen stepped out of the facility and into the sun was when his life truly begun. Allen Hayes was born on that summer day when he was 17. There was nothing he could not do, nothing he could not be. He spent the next year exploring, wandering, stealing.... he spent the year
living
. In a small town, they were holding a small festival, the 'carnival of lights' which was a poetic name for a rather humble celebration with child made paper lanterns hanging from the streets and small kiosk, but it was a nice little festival. It was there that he was approached by an old man. Normally, Allen would have ignored him or maybe humored him to see what kind of conversation could be generated, but Allen was surprised to learn that he knew about his 'gifts' and lead another group of like minded people. People with 'gifts' who did what they wanted. Who followed their own desires. Who truly lived as Allen did, and he was offering Allen the chance to join. He is many things, but Allen is not stupid. He knew it was probably a trap, it could have been them trying to get him back into a lab where they could take him apart, but there was that chance. That small chance that he could be telling the truth. A group of people with... gifts... what a rush that could be.
That broken little voice kept whispering time to him, he could do anything, be anything... What was the point of life without a little risk? Allen accepted the man's offer and has been apart of the group of 'villains' for two years now, and he has not regretted his decision.
Significant events:
His power manifesting, being admitted to the 'treatment facility', meeting Rachel, and the carnival of lights.
Joining the group:
He had no where else to do, nothing else to do. There was no reason not to join. It could have been a trap, but it also could have been real, what is life without a little risk?
Relationships:
James
- Allen thinks James is an alright guy all things considered. Fun to talk to, laid back and can say a few jokes here and there which is good enough for Allen. While Allen would never say they were 'friends' as others use the term, he does enjoy James' presence. Friendly associates who happen to work together in an, arguably, evil organization fits better then friends.
Lara
- Lara has always represented a challenge and there is little Allen loves more then a challenge. Being in the same group for nearly two years gives plenty of chances to speak at Lara as Allen isn't sure he would classify a lot of their earlier conversations as speaking with her. It wasn't until another one of their debates over something inconsequential, anarchy if he recalls correctly, that their 'relationship' developed to the point where something changed. Now, their conversations can last for a bit, and if he were to venture, it is almost as if she is getting comfortable with his presence. For Allen, Lara represents a treasure trove, and he isn't willing to let that go. Out of everyone in his life, Lara is the closest thing to approaching a 'friend' he has.