Name: Leon Rayner
Alias: The White Wolf
Age: 20
Alliance: Jormungand
CCG Rating: S
Appearance: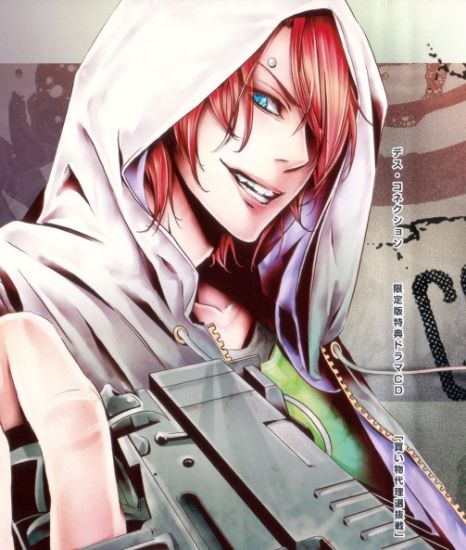 Mask Appearance: Leon's mask is in the shape of a white wolfs head, but is made of leather so nothing protrudes. A zipper runs across the fangs so he can open his mouth and speak or feed if necessary.
Kagune: Leon's Kagune is special because it has an abnormal regenerating factor even among the Rinkaku types. He is able to summon up to four tentacle claws. While slim, each claw can cut deeply enough to fatally injure anyone effortlessly, human or ghoul. Despite having a superior cellular regeneration, if sufficient damage harms his vitals then even with a fast recovering body it wouldn't regenerate from fatal wounds
Personality: Leon is incredibly flippant, casually mouthing off to even the most powerful of enemies, and he generally enjoys rubbing people the wrong way. He does mature as time goes by, but never really loses his attitude. He is sometimes presented as a show off as, on several occasions, he performs exaggerated and over-the-top moves. Leon is seemingly unflappable, not showing fear no matter who he goes up against, but obviously this is more of a facade than actual lack of terror. Leon rarely shows any seriousness. He can be serious when the situation calls for it, but he still maintains a laid-back demeanor during such situations and is never with out a witty taunt or comeback. He can seem at times to be uncaring or even callous, but actually has a very strong sense of justice and prefers to fight fairly. He can be counted on to do the right thing, even if he makes cynical quips about it the entire time. Unusually, while he has issues with being a ghoul, Leon has little qualms about accepting those that choose the side of good. Though he is quoted as believing that "Humans are often worse than ghouls," he refuses to kill humans for any reason.
Leon also enjoys fighting shown when he sometimes does not fight at his full potential so he can toy with his opponent or make a fight last longer. He is known to get bored with fighting weak opponents and only finds entertainment in fighting strong opponents who will give him a challenge.
He has a fondness for pizza, and while he complains about olives, he always ends up with them on his pizza. He is also shown to favor strawberry sundaes as well as pizza with it being pointed out on several occasions that those two foods are all he eats. He has a habit of getting roaring drunk, once mentioning getting so drunk that he proposed to a mop.