Character Name
Adrian Hackett
---
---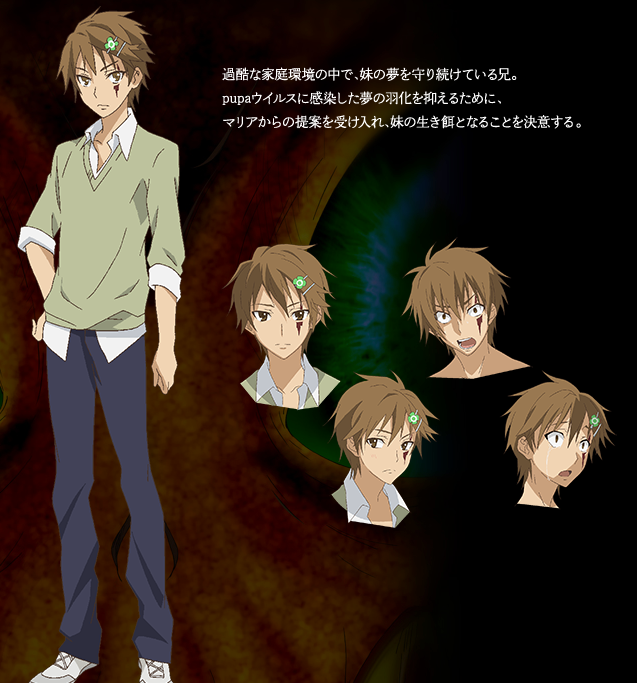 ~The Basics~
~Full Name~
Adrian Spencer Hackett
~Age~
18 years old
~Gender~
Male
~Sexuality~
No one knows.
~Element/ Partner~
Life - Orpheus Vladislav
~Power~
Earth. He can make barriers and walls of any shape using earth. He has to be near range to the source for it to work, though. He can control metal, but only if it contains earth ores and he has to expend more energy to do it. He can also use his power to encase himself in an armor of rock and increase his physical power that way. He can't control pure metals, and can utilize his power to change the soil components, so long as he has the ingredients needed. Problem is, it strains his body since he normally uses it for both defense and offense, so massive overuse can cause him to be unable to move and in a lot of pain.
~Face Claim~
Hasegawa Utsutsu from Pupa
~Brief Description of Character Appearance~
He is 170cm. He has a thin body, but he's a lot stronger than he looks. He has light brown hair with brown eyes, and wears two hair clips on the left side of his bangs. One has a clover as decoration, the other does not. He normally wears a light green jumper over a white dress shirt, and has dark blue jeans with white tennis shoes. He rolls up the cuffs of his jumper, exposing his forearms.
---
---
CHARACTER QUOTE
"Did you see that move he did on tv last night? It was
awesome
!"
---
-Personality-
He's a pretty quiet guy who's pretty nice. He tries to be stoic, but he's not too good at it since he feels too much. He's normally good at keeping his emotions under grips though. He likes to feed people a lot, and is normally non-aggressive. He's a bit clueless about people, but he tries his best and is very hardworking. He likes the few friends he has, and doesn't really try to make more friends as a result. He can be kind of stubborn, though, and capable of keeping his cool under pressure. He only talks a lot with people he knows, otherwise, he just stays quiet and polite. He's pretty hardworking, and can hold his own in battle. He will not hesitate to hit where it hurts to make sure you stay down, even if he was being friendly and nice a few moments ago. Don't underestimate him; he can hold his own in a fight.
-Personality Traits-
| quiet | reserved | caring | pragmatic | nice |
-Likes-
| green | martial arts | reading | warmth | hanging out with friends |
-Dislikes-
| blood | his tattoo/scar thing | horror | sleeping | mentions of his past |
-Fatal Flaw/ Would-Be Downfall-
| trauma | ever since the incident, anyone who resembles his sister makes him uncomfortable. Facing her in battle is most likely going to result in him losing and traumatic flashbacks, especially if they use knives and have the same personality. Actually, if he has traumatic flashbacks, he'll be useless until he gets himself together.
---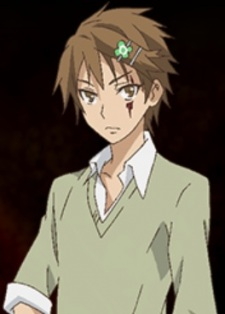 ---
CHARACTER QUOTE
... What? Stop staring, it's rude.
[/hr][/hr]
=Other=
=Crush/ Romantic Interest=
None at the moment
=History=
He had a pretty normal childhood. Good parents, loving older sister, a few friends. Then, when he turned 14, his sister tried to kill the whole family. He woke up to her sitting on him with a bloody knife. He shoved her off, ran to hide, and found his parents dead. He grabbed their phone and hid in a closet, calling for help. His sister found him, and they played a deadly game of tag before Adrian finally got caught. Just as he was going to die, the police stormed the place and shot at her. The last thing he remembered before passing out was his sister bleeding from the wound. When he woke up in hospital, he learnt that his sister was mentally unstable and had turned insane, which was why she wanted to kill her family. According to what they had found out, she was planning to do a murder-suicide. Why, they have no idea. Before they could get her, she jumped out of the window and into the impressively deep ditch a few meters away from the house, despite getting shot multiple times. They didn't find the body, but it can be assumed that she died from the fall or bloodloss.
Once he was discharged, his friend and friend's family took him in, since he had nowhere else to go. They moved to a different area (already planning to before the incident), and he received intensive counseling for the remaining years. Thanks to that and outside resources, he has now mostly moved on from his past, and at age 18, he and his friend moved out so that they could learn to be independent. They moved into a small apartment in the city, and on Choosing Day, his friend practically dragged him over to the building.
=Other=
His hair clips belonged to his parents. His mom owned the clover hair clip. His dad had a matching one, but the decoration broke off. Don't mess with these or you'll regret it.
He likes to call the scar on his face a tattoo because it kind of looks like a tattoo of blood running down his face. He got it from his sister when she tried to slash his face open. She succeeded multiple times, which is why it's so red. She tried to stick it in his head when she caught him, but just before she could the ground shook and she slipped, sliding the knife down his face as a result.
=Character Color=
#008000