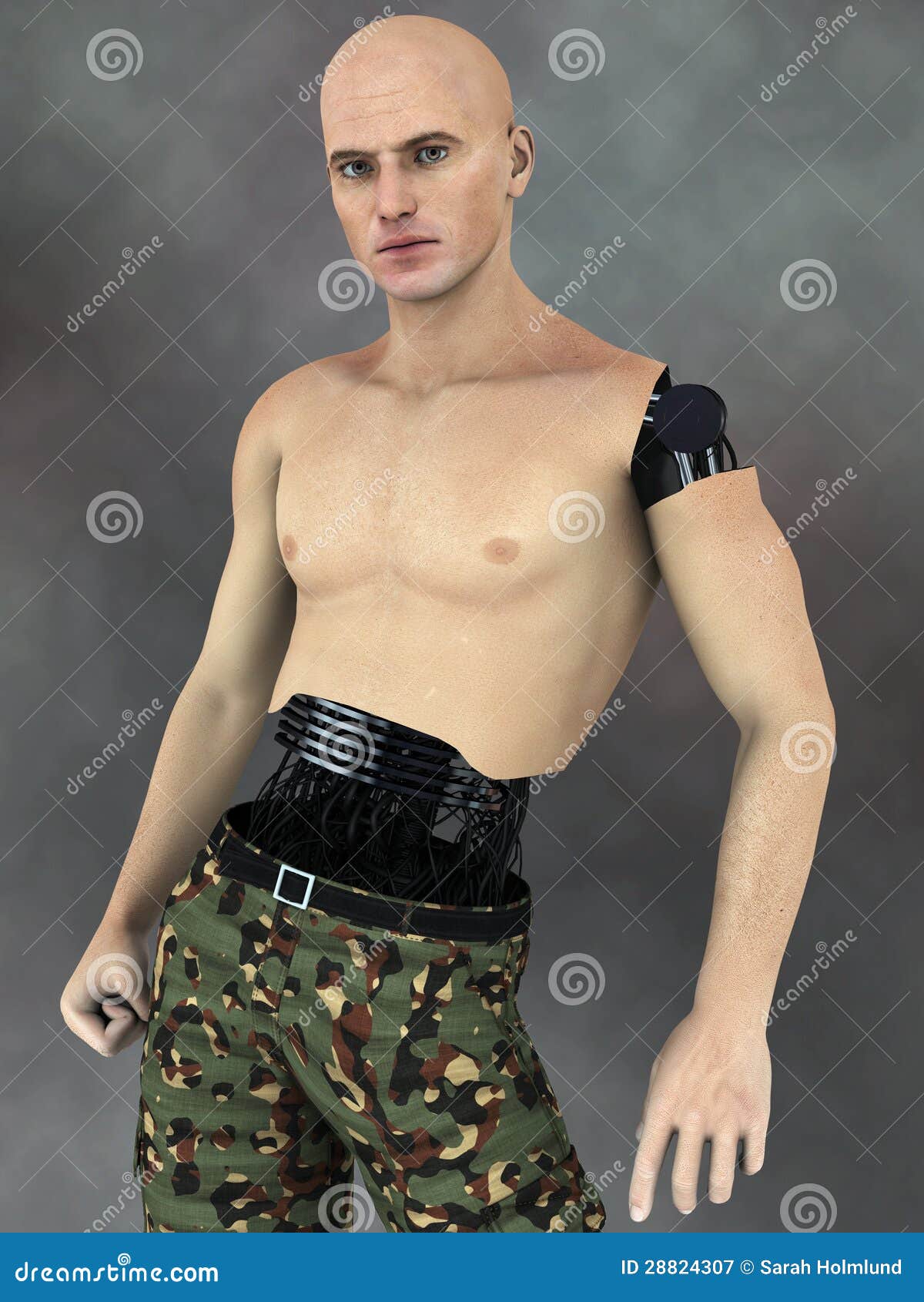 Full Name: Torex: Mark 32
Age: He was brought to life 17 years ago, and acts like a 17 year old, but looks about 20.
Gender: Being a robot, he doesn't really have a gender, but he was created to look and act male.
Role: Torex is a robot created assist people.
Appearance: Torex looks like a broken robot, his shoulder and stomach skin panels tore off, revealing the robotic wires under him. He is bald, not a speck of hair on him, and has grey, dull eyes. He has freckles down his arms and on his face that make him look slightly more human-like, but it is easy to tell he is a robot. He doesn't speak in a robotic voice, just a normal male's voice, but sometimes, on occasion, a word or two will have a robotic twist to it.
________________________________________________________________________
Personality: Torex, not being human, does not act like a human being. (At least he won't at the beginning. As the story progresses and the more he is around humans, he will begin to change) He feels certain human emotions, like politeness, gratitude, and sociability. Torex's emotion range will grow, but for now, he only really feels the urge to help people. Torex is obedient, a robot trait, always listening to humans around him. He is made as a servant and is always ready to do almost anything a human asks. Luckily, he has morality built into him, so he knows right from wrong and will not carry out a bad deed. But, he never wishes to displease his master. Torex knows what pain is and can sort of feel it. He knows when things are supposed to be hurting, so will stop doing them. Torex is very, very robotic.
Likes:
-Pleasing his Master(s)
-Helping People
-Being of Use
-Sunlight
-People
Dislikes:
-Making his Master(s) Mad
-Anger
-Human emotions he doesn't understand
-Loud noises
-Death
He Can:
-Serve
-Clean
-Fight
-Be Obedient
-Entertain You
He can't:
-Eat
-Get wet/Swim
-Sing
-Die without being Destroyed or Broken
-Act Human (Yet)
History: A long time ago, scientists wanted to create a robot who would be the perfect servant, obeying their masters when it came to cleaning a toilet or fighting in a war. Torex: Mark 1 was created, but failed. Tons more marks were created, and tons more failed. It takes a lot of trial and error to build a perfect human like robot. When Torex: Mark 32 was made, he succeeded much past the creators' imaginations, becoming a perfect soldier. He was sent to a family working as a servant for about five years, then enlisted in the army as an electronic super-soldier. When the touch was discovered, it was found robots were unable to get the toxin, making him immune. When the dome was built, his creators paid his way so that their creation would be safe, even though that meant they could not afford to get in themselves. But, before Torex could make it to the dome, he was attacked by angry humans, mad that he would be safe when they were suffering and that he would outlive most of the human race. When humans died off, he would still remain. They managed to tear off his shoulder and stomach skin panels, rendering him broken. Although he was still able to function, and got into the dome alright, it was decided he would be destroyed since he was more like a broken toy to them. Feeling a human emotion he had never felt before, fear, he ran away and has been hiding from the police in the dome ever since.
___________________________________________________________________________
Sample Post:
(This post is set before the touch infected the world, but had begun already.)
The battle field was filled, bodies piling up. Torex, the only robot among the many human soldiers, crawled. He hadn't seen this sort of bloodshed in ages and was genuinely a bit startled. But, he followed his leaders, the thought of running away and disobeying not even registering in his robotic mind. Suddenly, bullets whizzed past him, and he looked up to see a human, who looked much different than the Americans he was fighting with. He was an enemy. Torex grabbed his gun and just with one pop the man collapsed. The man had been hit in the lung, and let out a wheezy scream. Most humans would have felt ashamed or horrified. Torex felt nothing. And that was the glory of a robot soldier; they felt no remorse. In thought, this could turn out to be a huge problem.
Torex scurried on, hoping their cover had not been completely blown. But, his hopes were crushed when more bullets riddled the small group of soldiers that were crawling through the brush. A yell came from a young man, no older than twenty five, at the front of the pack. He had been directed to lead the mission. "Get up and fight!" he screamed, and the soldiers obeyed, shooting at the attackers.
At the end of the bullet-blazing fight, only about half of the soldiers stood still alive. Even the leader of the mission, who had only been placed in his position because they needed someone responsible ASAP, lay dead. The remaining soldiers were frantic.
"Dustin's dead!" one whispered. Cries of confusion and "What do we do?!" echoed through the crowd.
"Why don't we let Torex lead us? He's created for this kind of stuff, ya know," a girl said. Torex's eyes widened.
"Robo-boy?" another argued. "You'd trust us in the hands of a
thing
?" People began to take sides, soldiers warring with their words instead of weapons. Politely, Torex cut in.
"Why must we elect a new leader when the destination is just up ahead?" he asked, pointing straight ahead. The soldiers excitedly ran through the brush, all vanishing from sight when they pushed their way through the treeline. Once Torex had reached the brush and gotten through, he stared at what seemed like a small house. This is what they were supposed to destroy? But, why?
Obedient to his commands, Torex continued to the cottage and kicked down the door, aiming his gun into the dark inside. He stepped in when he realized nothing was out to attack him, then signaled for the humans to approach.
Suddenly, someone leaped on Torex, knocking him down. Torex gasped as the man, who looked almost insane, grabbed him by the throat and attempted to strangle him, but you can't really strangle a robot. Two human soldiers quickly yanked him off of Torex, the man grabbing them by their arms. Quickly, Torex pulled his gun and shot him through the head, collapsing onto the floor.
The soldiers burned the house, as they had been told to do. Soon, they retreated back to where a helicopter was waiting for them. They patted each other on the backs, shook hands, touching one another, unaware that they were spreading around a virus that the man had given two of them. And Torex was oblivious to his comrades' impending doom.