Signed by,

❝
This is as close to a signature that you will be getting from me...
❞
---
Lights | Ellie Goulding
---
❝
Just a plain girl...
❝
---
| FULL NAME |
Scarlette Mccarthy
❝
My parents were obviously convinced that a middle name would be unnecessary.
❞
| NICKNAMES |
Scar,...
❝
I can't even count the amount of failed attempts people have had whilst creating a nickname for me.
❞
| STAGE NAME |
Olivia Cross
❝
It would have been more likable had we been able to choose our own names...
❞
| AGE |
22 years
❝
And a half!
❞
| BIRTHDATE |
July 14
| PAIR |
One
---
❝
...Forced upon a facade of elegance.
❝
---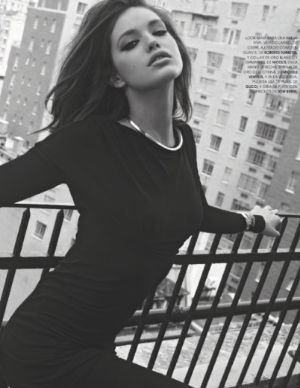 | GENDER |
Female
❝
Obviously...
❞
| HEIGHT |
Five feet six inches
❝
Being average can be so boring.
❞
| WEIGHT |
130 Lbs
❝
Not that I was completely willing to disclose that certain piece of information.
❞
| MARKINGS |
A single spot located on her right cheek, as well as a tiny symbol, its meaning only known to Scarlett, placed behind her left ear.
| SPECIAL SKILLS |
An excellent actress, giving her the ability to fool
almost
everyone; in other words, she is a good liar. Scarlett is also an adept at impersonating one others voice and as well at performing different accents. She isn't specially talented when it comes to defense or offense, although every agent, such as Scarlett, does contain the training required.
---
| BIOGRAPHY |
Scarlett grew up taking numerous training courses along with the dozens of other children who were sent to the institute, as well. She was particularly taught to be independent and closed off from others, since she can be more on the sensitive side- emotionally, at least. Her parents had given as much love for her as they could when she were younger, but just like most of the other agents, they had passed away, and through mysterious circumstances (at least Scarlett keeps it a mystery). Around that time, Scarlett had decided upon a specific symbol to be embedded into the skin behind her ear, in which another thing she keeps as a
mystery
. From then until now, the only one that stuck with her to the end was her partner, and Scarlett always makes sure that the roles are reversed, as well.
Scarlett now goes into this mission dreading the fact of having to pretend to love someone she only knows through a file. But, with her acting skills, she has no doubt she'll be able to pull it off.
| PERSONALITY |
[Under Construction]