---
---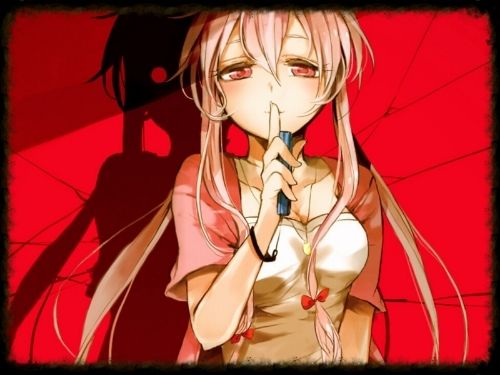 ---
---
Name
Adelaide Shino
Nicknames
Addie (preferred), The Shino Girl, Alice
Age
18
Role
Female 3
Sexuality
Questioning
Face Claim
Yuno Gasai- Mirai Nikki
---
---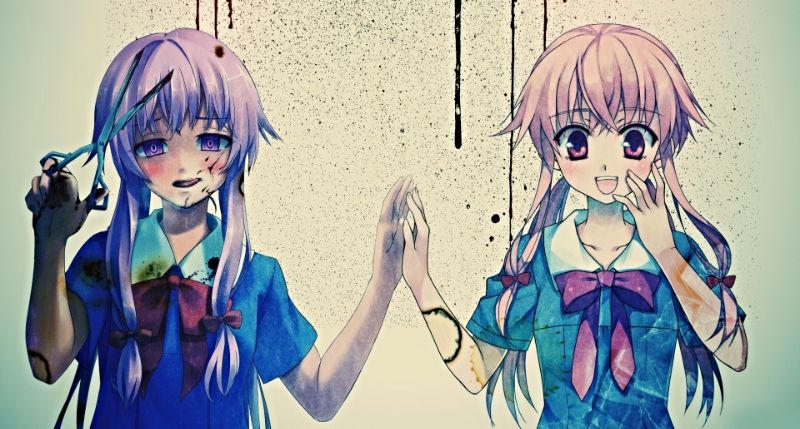 Positive traits
- Loyal
: Once someone gains Addie's trust and approval, Addie will stick by his or her side. While it takes awhile to get this from her, once you earn it, you won't be sorry.
- Creative
: Addie has always wanted to be an artist, whether it be through fine arts or through poetry. When she's not a terror, she is a creator, stuck in her imaginary world where she plans her next projects. She can also think outside of the box when given a situation.
- "Open-Minded"
: Addie is willing to accept that anything is possible in this world. She doesn't care who you are, what you are, where you're from, or how you carry yourself. No situation is deemed "impossible" to her.
- Outgoing
: Addie loves to talk and be around people. She will often speak her mind and desire to go on long discussions with whomever she meets.
- Self-reliant
: Addie has learned to take care of herself being the sole survivor of her family. She can carry herself through life without needing assistance.
- Brave
: Addie isn't afraid of many of the things people are scared of. In fact, she pretty much revels in those things…
Negative traits
- Creepy
: Addie's interest are not just in the weird, they're in the outright horrifying, disturbing, and surreal ideas and images of the world. She will always mention something scary to someone without their consent or without care for their own sanity.
-Klepto
: Addie is a compulsive stealer. She can't help but want objects that belong to others and tries to take their things from time to time (to any concerned Rper, I'll let you know first before I write her taking anything).
-Inconsiderate
: Addie doesn't care about how creepy she is being with others. She knows that people's emotions exist, but disregards them and only focuses on how she feels is the correct way to do things. She has no qualms on invading other people's privacy or getting too much into their space.
-Unpredictable
: It's very hard to tell whether Addie will be on her good side or her bad side. She is not bipolar, but has many mood swings, and they it can be hard to determine which mood she'll have. It is also hard to determine what is on her mind. Although she speaks a lot, it is hard to tell what is the truth and what is a lie.
-Obsessive
: Whether it be a person or a thing, Addie will contemplate over and over about anything that she "loves" and will do anything to get it.
Bio
Adelaide Shino was born in a family famous for its tragedy. The song "Alice Human Sacrifice" was her way of trying to pretend that her family's deaths were some sort of cruel fantasy. Her mother, Marielle Clarence Shino, was found out to be a serial killer who would pretend to hook up with her victims and then kill them. She would take her victims to the Blackwood Forest and slaughter them like animals. However, one of her victims had also planned to kill her in the forest. Both of their bodies were found after investigating a trail of blood that lead through the forest. The next victim of the "Shino Tragedy" was her father, Daisuke Shino. He was an upcoming Japanese composer who was about to finish his newest opera piece when he was shot in the head while having a lunch in a café by one of the victim's relatives. After his death, Addie lived with her older sister Karina and her younger twin siblings Miko and Mako. However, tragedy soon struck again. Karina was known as "Felicity" in the modeling world. She was also a drug addict who was starting to experiment with the dangerous variety. One night, she overdosed on a very powerful hallucinogen that caused her to believe that she was the queen of another world before she died of a heart attack. Shortly after the incident a few days after, the twins Miko and Mako went looking for their mother, not believing that their mother was a killer. No one knows what happened to them, but their bodies were found in the woods together with their hands holding each others as though they had just died in sleep together.
After this tragedy, Addie was placed in a psychiatric ward. While in the psychiatric ward, she was given therapy in order for her to be able to articulate her fears more and soon she was able to become more outgoing and seemingly friendly. Her condition appeared to have improved and she was placed in foster care, but they didn't know that it was just an act to get out of psychiatric care. Addie was soon found to be creepy and a thief, unnerving students with her fake death threats and stealing from other classmates. Her foster parents really didn't care for her; Addie took care of herself. They were foster parents on paper, but were out most of the time, disturbed by Addie's presence. When the school recommended that she be placed in a special summer camp, her foster parents quickly said yes. It is rumored that they bought one-way bus tickets to a town far from the school. And so begins what many hope to be Addie's way of gaining real people skills.
Talents And Skills
- Artist
: Addie loves to create different works of art, however they tend to be very gory, horrifyingly surreal, and disturbing images.
-Poet
: Along with creating works of art comes a talent in creating poems of varying lengths. They tend to start out seemingly sweet and nice, but later on end in a dark and tragic note.
-Pickpocket
: Addie learned how to steal things from other people without them noticing.
-Maid
: Addie had to learn how to take care of herself, so she became able to cook, clean, and do most of the household chores. Her foster parents kept her around to do this, as long as she did not go near them.
Fears
-Herself
: Many people assume that Addie is not afraid of anything, but if there is one thing she is afraid of it is herself. She knows that her behavior is not condoned in society and that it has something to do with her unresolved past, but it is the only way she found to cope.
-Other people
: She may be outgoing and may peer over people to unnerve them, but she is actually afraid of having close relationships with other people. Her life was full of tragedy, death, and mistrust that she isn't sure what a normal friendship is and would rather scare anyone that tries to get close.
-Forests
: Although Addie would use extra creepiness factors when she tries to scare people about forests, it is a defense mechanism that she uses since she herself is afraid of them.
---
---
Family
Mother
Marielle Clarence Shino
Father
Daisuke Shino
-Siblings if any-
Karina "Felicity" Shino (known as Kari Shino by family)
Miko Shino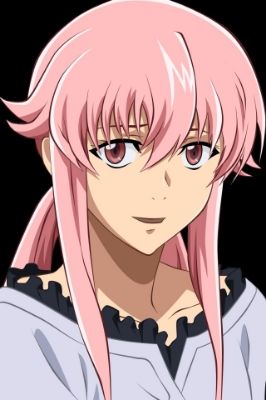 Mako Shino
Family Description
While they were alive, the Shino family were very close to each other, at least they thought they were. The family was supportive of Daisuke's and Karina's pursuits and was trying to get Addie to go into a good fine arts school for her artistic abilities. After the discovery of Marielle Shino as a serial killer, Daisuke Shino tried to keep the family close by putting his career on hold. It worked until he had to go back and finish the piece he was working on and tragedy struck again.After the death of both of their parents, the siblings constantly fought with each other, particularly the twins and Addie's older sister. Adelaide tried to keep the family close, but it was no use. Their deaths created mixed feelings in Addie's heart on whether she felt betrayed, angry, or lonely and hurt.
---
---
Reason For Getting There
Adelaide has been a known robber and menace to other students. She has stolen many items which include credit cards, keys, manga books, and even pieces of hair. Sometimes she uses the things she steals to create death threats on the other students. It is hoped that, through the summer camp program, Adelaide's psychiatric treatment be continued and that she learn how to interact normally.
Likes
- Creepy and disturbing images and ideas
- Freaking other people out
- Stealing random items
- Poetry
- Art
- Steak and eggs
Dislikes
- Forests
- Hospitals
- Yellow
- Authority
- blandness
---
---
Hair color
Pink
Eye color
light pink
Tattoos/Markings
Some old scarring and scratch marks from her days in the psych ward
Height
5ft. 6 in.
Brief Appearance Description
Addie is the middle for both her weight and height. Her long pink hair is usually tied in two twin tails. She tends to wear Japanese school girl clothes that have bows on them to give her an appearance of innocence.
---
---