---
---
---
---
Name
Ayako Takashiro

Nicknames
What do people call your character (both good and bad ways)? What do your character call itself?

Age
16

Role
Female 2

Sexuality
Pansexual

Face Claim
Mirai Kuriyama (Kyoukai no Kanata)
---
---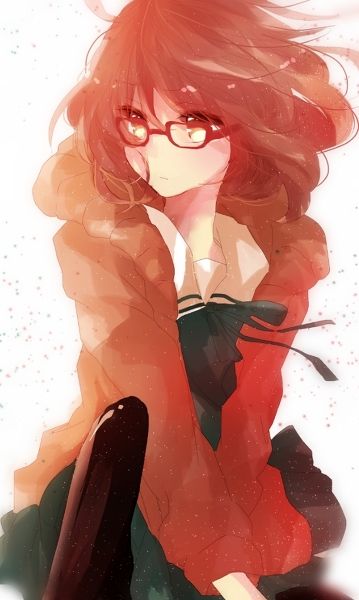 Positive traits
✿ Positive:
Tends to focus on the good, rather than the bad.
✿ Persistent:
Continuing to try even if thereare problems or difficulties
✿ Lively:
Full of life and energy; energetic.
✿ Zany:
Acting in an entertaining or unusual way.
✿ Imaginative:
Good at thinking of new ideas and seeing things that haven't been seen. Quick to invent new ideas.
✿ Eager:
Showing keen interest and desire.
✿ Loving:
Showing affection; doing thingswith care and joy.
Negative traits
✿ Rowdy:
Loud and disorderly.
✿ Restless:
Constantly moving, unable to stand still.
✿ Stubborn:
Difficult to deal with, talk to or reason with.
✿ Perverted:
She's a fujioshi. If you don't know what it is, look it up.
✿ Shy:
Only around certain people and in certain situations.
✿ Clumsy:
Awkward; not able to movegracefully, carefully
Talents And Skills
✿ The Artist:
Even if the motives she choses sometimes are just a little bit questionable, there is no doubt that she has a talent when it comes to art.
✿ The Author:
Ayako isn't half bad at creative writing either- though most of her stories suffer from the same condition as her drawings.
✿ The Designer:
Ayako is a active cosplayer, of which most of her costumes are handmade. She is talented with her hands, which is displayed in the creative designs she puts together.
✿ The Stalker:
This is just slightly creepy, but I will add it in here anyway. Ayako has a tendency to keep tabs on people and follow them around unnoticed- which is made possible due to her small physique.
Fears
✿ Bugs and Spiders.
✿ People hating her.
---
---
Bio
WIP
---
---
Family
Mother
Nana Takashiro
Father
George Takashiro
-Siblings if any-
Timmy Takashiro (Younger brother)
Family Description
Describe their relationships, are they good or bad?
---
---
Reason For Getting There
Likes
✿ Anime and Manga
✿ Yaoi abd Yuri
✿ Writing
✿ Fandom
✿ Reading
✿ Drawing
✿ Art
✿ Keeping Tabs on People
✿ Cosplaying
✿ Sewing
✿ Being Creative
✿ Cutesy Things
✿ Internet
✿ Making Friends
Dislikes
✿ Bullies (RL)
✿ Fish
✿ Dropping her Glasses
✿ Being yelled at
✿ Most vegetables
✿ Being told off
✿ Breaking up with friends
✿ Being a burden
✿ Falling/generally being clumsy
✿ Being short
---
---
Hair color
Strawberry Blonde
Eye color
Gold
Tattoos/Markings
None
Height
154 cm
Brief Appearance Description
Compared to most other girls her age, Aya appears rather short and slender- although not so much that she could be called a loli. Nevertheless many tend to take her for a good few years younger than she actually is. It is an advantage for her when she cosplays those sorts of characters, but Aya still often finds herself wishing that she were taller- and perhaps filled out more in certain areas. Shoulder length strawberry blonde frames her moe face, matching her golden orbs. When not wearing the school uniform (which she hates), Ayako wears a variety of different outfits. It can be everything from lolita to cosplay, to the ordinary old trainers and T-shirt, as you would expect of an typical otaku. More often than not, a pair of thick rimmed red glasses rest on the bridge of her nose.
---
---