---
---
---
---
Name
Daisuke Thibodaux
Nicknames
His name is Daisuke, so he calls himself Daisuke and would prefer that others would as well. Others come to call him other names that he never remembers, like Timmy…or lazy bastard. He's even been called a nudist because of his clothing habits.
Age
18
Role
Male 1
Sexuality
Heterosexual. That's the answer you give when you just haven't tried anything else, right?
Face Claim
Gray Fullbuster
---
---
Positive traits
- Trustworthy
, he tends to follow through with his promises. No one wants to trust someone who can't even do what they say they're going to do. He's a dependable guy.
- Brave
, even if he's surrounded by cowards. What's the use living if you're scared of death? It's coming anyway.
- Easygoing
, because being wound up doesn't benefit anybody, especially yourself. Just chill out and life will be that much easier to handle.
- Listener
, if you just need someone to hear you out, Daisuke is your guy. He's willing to lend an ear, although you may not like his opinion if you ask it. The listening part's good though.
Negative traits
- Blunt
, so don't ask what you don't want to know. Sugarcoating the truth is useless. If you can't take the plain answer, then don't ask questions. Simple.
- Lazy
, because being chill most of the time tends to result in nothing getting done. He really likes his naps, and is only active when it is utterly necessary.
- Fighter
, he is no push over. If prompted to do so, Daisuke will happily fight if he can get back to doing his own thing afterwards.
- Sarcastic
, it's the ability to insult idiots without them realizing it, and it's one aspect of Daisuke's somewhat twisted sense of humor.
- Serial Napper
, because all that relaxing usually includes a nice, long nap. For your sake, try not to hold him from his naps or wake him up the wrong way because he just might punch you in his sleepy stupor.
- Heavyweight Drinker
, it takes SO MUCH alcohol to get him drunk. This comes from years of bad influences for friends throughout middle and high school.
Bio
According to his papers from the orphanage, Daisuke was born in a small town to a broke teenage mother who gave him up for adoption as soon as he popped out of her. He was taken to an orphanage about two hours away about a week after his birth. It wasn't the best orphanage in the world, mind you. It had just enough funding to keep a roof over their heads and food in their mouths. Despite the conditions, the children were happy enough and taken care of.
Though they were taken care of, that didn't stop them from being kids. Some got picked on more than others, like Daisuke. He was an incredibly small boy and was teased and beat up relentlessly for it. He'd only made one friend there named, Jin, who helped him fend off bullies. The two were quite the duo and were friends the entire time they were orphans until Jin was adopted. "Be good!" was the last thing they ever said to each other, and it became Daisuke's motto. A year later, at the age of seven, Daisuke was adopted.
The couple that adopted him was a couple that had already been married for fifteen years named Melody and James Thibodaux. They were the wealthy CEOs of a company that ran offshore vessels for energy down in New Orleans. Unfortunately, the couple was not able to have children, so Daisuke was welcomed into their home with open arms.
Since he'd arrived, Daisuke was doted on and spoiled. He was given anything he wanted, but all he really wanted was to be comfortable and relaxed. In addition to this comfort, he had to be well-educated and trained in multiple skills. Though he didn't want to, he obliged. He was a straight A student without even trying, so when he figured this out Daisuke stopped going to school altogether. There was no point.
Talents And Skills
Kickboxer – Daisuke has had six years of training with a professional trainer and is damn near a professional himself. Along with this comes high levels of tolerance for pain and makes for a very dangerous individual.
Fencer – This was hell for him. He was ok with the kickboxing because he got to actually punch someone and let off steam. For him, this just was not helpful at all. The only reason he did it was because James really wanted him to.
Guitarist – Daisuke did this from the time he was adopted. He loves his guitar and loves to play it as a way to soothe himself. He's super good at it too.
Drinker – Does this one need explaining? Whiskey, vodka, wine, moonshine, beer, sake? You name it, he's had it.
Fears
An incredibly hectic life – He already loves to relax, so if his life became chaotic, he might not be able to handle it.
Being given up on…again – When he found out that he was an orphan instead of his caretaker's child, he was distraught. Now his adopted parents have sent him to this camp. He can't be let go again.
---
---
Family
Mother
Biological – Unknown
Adopted – Melody Wilcox Thibodaux
Father
Biological – Unknown
Adopted – James Tyler Thibodaux
Family Description
Daisuke has never known anything about his biological family and doesn't want to. Melody and James have always been good to him and he has good relationships with both of them. Before, he would have done anything to make sure they were proud of him, and they are. When they
---
---
Reason For Getting There
Daisuke would sleep in class all the time. Even though he didn't need to be awake to pass the classes, the school didn't approve of his behavior. Students didn't either and would fight him, but he normally won. After being lectured by his teachers, his English teacher told him he might as well stay home. So he did.
Likes
Naps
Alcohol
Sodas
Nature
Peace and Quiet
Listening to problems – it almost feels like he's absorbing their worries for them, plus you don't have to open your eyes to listen
Guitar
Music – virtually anything is good when it comes to music
Dogs and cats – there used to be a stray that would hang around the school that was a pretty good nap partner
Dislikes
Chaos
Loud people
Rude people
People who feel sorry for themselves constantly
People with overbearing smells
Being underestimated
Nagging
---
---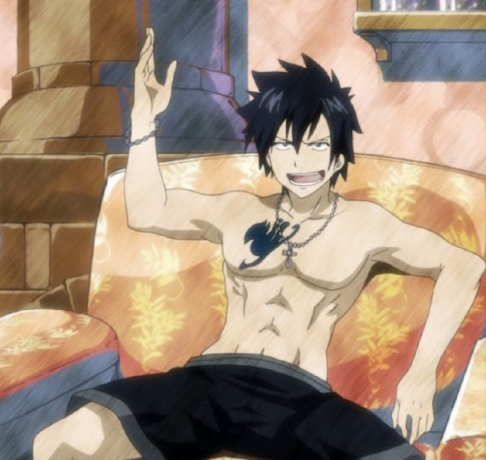 Hair color
Black or blue
Eye color
Dark blue
Tattoos/Markings
There's a small tattoo of a bird on his left shoulder. He doesn't remember what it's called. There's also a scar above his left eye that came from a really bad fight he had at school. He keeps it covered by his bangs.
Height
175 cm
Brief Appearance Description
Daisuke is somewhat tall and has an athletic build that he secretly enjoys showing off. At times, he will be without a shirt because he either doesn't want to wear one or because he forgot to wear one. In addition to his shirt or lack of a shirt, he adorns a chain that has a small silver sword on it and a slight smile.
---
---