---
---
Omar Cunningham
{ Song of Truth || Artist } { Song || Artist } { Song || Artist }
---
---
Underestimating me... Will be the last mistake you make.
---
---
Name
Omar Cunningham

Nicknames
"This is what pisses me off. Don't give me a nickname, I am not your friend. ."

Age
18

Role
Male Delinquent 1

Sexuality
Asexual
"What is this thing they call love anyways? I don't understand it... Who needs love? Hell, who needs intercourse? I don't. That's what control is."

Face Claim
Makishima Shogo
---
---
Understand one thing and one thing only... I could care less about you.
---
---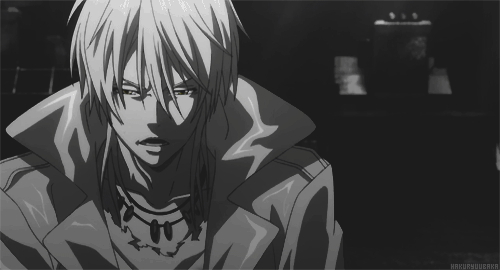 Positive traits
- Friendly
,
From the exterior part of him he looks very friendly and so, he tries his best to make friends. So, that he could only use them in the end. He'll give you an apple and fifty cents, as long as it is given back to him but, in higher value later on. The definition of friendship to Omar is:
"
Someone that can give you things you don't have
."
- Honest
,
Though being honest can be a bad thing, it is actually a good thing for Omar. He doesn't like keeping anything in because, he doesn't want to worry about a damn thing. Tell him your secret. it will be out before you can reach the finish line.
"
If you have something to say don't bring it to me
."
- Understanding
,
He will understand where you are coming from if your parents had died and your feeling depressed because of it. He will understand a lot of different situations and their outcomes, whether they be good or bad.
"
I understand how you feel. Even if I haven't gone through it
."
- Patient
,
He's always believed that patients will get him anywhere he wanted but, this isn't a common trait. He can be in a hurry most of the time but, when he is patient with something. That means that it is important to him.
- Calm
,
In any situation he can be calm as a blooming flower in spring. Sometimes it annoys people sometimes it doesn't. It seems to be a good thing to him because, while everyone is freaking out about a certain situation. He'll be the only one in stable condition.
Negative traits
- Harsh
,
He can be unusually cruel. When he grabs your harm and he begins to squeeze it unbelievably hard. His intentions are to hurt you. If he says something to hurt your feelings, he actually meant to hurt your feelings.
- Hotheaded
,
When it comes to certain things, Omar expects those things to be respected and if it isn't respected around him. It isn't too good. Omar will get angry at people for stepping on his shoes, he'll get mad if he stepped on theirs. If there's a little dust int he air that keeps floating in his line of vision. He will get extremely angry. Sometimes it comes to violence and sometimes it doesn't, he doesn't believe he is a violent person.
- Manipulative
,
Manipulating people is what his hobby literally is. When he is trying to search for something and it turns out that a certain person has what he wants he will do anything to get it. This is what he had discovered in his Pre-K years. Well, what his parents had discovered, and they consider it a bad trait. He thinks it's splendid.
"
You have something and I need it... So give it here
."
- Careless
,
You might think he is the most understanding person in the world. But, don't think that gives you the privilege to cry on his shoulder. He could care less about your damn life because, he could care less about his own. Which leads him into dangerous situations, which is why he is in the program in the first place.
"
To tell you the truth. I don't give a damn. Keep your tears and wails away from me
."
Bio
By the time he had gotten into his first foster home, was the time where he was already broken. This is where his fear of love came from. Why would he be able to love something, when he hasn't received it since he was born? Though he was broken, that didn't stop him from searching for those broken pieces and mending them back together all of those years he was alone. Figuring that the rumors about his actually parents were true. They were both young and dumb, and had some serious problems they had to fix and having a baby wasn't going to help them at all. So, they put hims up for adoption and they never looked back. Years and years of being alone, years and years of moving from one foster home to the next, those broken pieces were finally put together again. But, they were in the wrong places.
After he had gotten adopted at the age of 9, his adoptive parents notice that Omar had a bit of a problem after a few reports from the elementary school. He had to switch schools just because, they didn't want to accept him into theirs. As he had gotten into middle school it had just gotten worse. Gang related things came into the picture and other things a parent wouldn't want their child to experience. But, Omar handle it. It was as if it was apart of him to begin with. When things gotten to the point where he actually tried to kill some one, his adoptive parents loved him too much and didn't want him to end up like his parents. It was an order from his high school that started this. That is why he was being taken to the camp.
Talents And Skills
At least 3
Fears
Love; when he doesn't know a certain thing, he starts to fear it. He doesn't know how it'll benefit him or if it's good or bad because, he's never experienced something like that before. He fears all things he doesn't know.
---
---
Their just doing this to get a spot in heaven... Bastards.
---
---
Family
Mother
|| Biological Mother || Status | Unknown || Age | Mid 30's || Occupations | Drug Abuser, Prostitute, and Horrible Mother ||
|| Adoptive Mother || Status | Alive || Age | Late 20's || Occupations | Business Woman, and Caring Mother ||
Father
|| Biological Father || Status | Unknown || Age | Late 30's || Occupations | Drug Dealer, Abusive, and Horrible Father ||
|| Adoptive Father || Status | Alive || Age | Early 30's || Occupations | Architectural Designer, and Caring Father ||
-Siblings if any-
Biological Siblings - Doesn't know if he had any.
Non-biological Siblings - Doesn't have any but, might.
Family Description
Biological Family -
Excuse my language but... They can kiss my ass. I have no experience with them, only rumors. They were hard not to believe because, I have never met them before. I do not think about them everyday because, what is there to think about? The only thing I know about them, are that drugs, sex, and abuse were what they were evolving around. Hopefully it killed them off by now, I really don't want to see them. Ever.
Adoptive Family -
I don't know how I feel about them. Should I trust them? Should I love them? Should I care? I don't know. It pisses me off that they are so caring and it's very weird when they are around me. It's something I've never received from anyone in this crappy ass life of mine. Maybe this camp will benefit me. I'm still pissed that they had to send me here, out of all the places they were suggested to send me to.
---
---
This is why I can't have nice things... People always end up ruining it for me.
---
---
Reason For Getting There
"Well, I didn't deny it. But, I didn't accept it either. The school just wanted to look like it cared."
Omar has the right not to answer too many questions and when this certain question was asked, his "parents" has had enough. What he was asked? No, what he was already accused of doing? Well, he was accused of gang-banging, theft, attempted murder and assault. Many of these things could have been true and his "parents" knew that. So, the only thing they could do was to weigh down all of their options. Taking him to the camp was obviously one. So, that was likely the one they had to chose. Well, they didn't have to but, the wanted to because, they loved him. Even if he didn't love them back.
Likes
Getting things he wants "
Though, for a person that has never gotten what he wanted. I don't like things to be on my mind all the time. So, i'd do anything to satisfy this need.
"
Gullible People "
They are so fun to manipulate. I find them very useful when it comes to friendship.
"
Reading "
They widen your mind to other possibilities, and wonderful worlds. Yes people. They aren't just words written onto pages..
"
Quiet "
There's no such thing as peace... Plus, silence doesn't always mean peace. Silence can also mean other things..
"
Dislikes
People who talk too much "
Shut the hell up would ya'? I am trying to concentrate on other things. I don't have time to be listening to whatever you are talking about. Go away.
"
People who doesn't like books "
Those type of people are a waste of my time. Because, I have better things to do other than argue with them about the importance of books. Trust me. I could give someone a full on lecture if I wanted to.. But, it'll only waste my time.
"
Hearing people cry "
I really could care less about if some was crying or not... It's just annoying.
"
Family "
It's not that I hate them or anything but, it just pisses me off at how easy they are to love and care for me. Is it really that easy
?"
---
---
What are you looking at? Are you a stalker or something?
---
---
Hair color
Pale Blonde
Eye color
Greenish-Gray
Tattoos/Markings
Noe, he dislikes tattoos.
Height
6'
Brief Appearance Description
When you take a glance at Omar, make sure you are concentrating real hard. Why is that? Well I don't want anyone coming to conclusion when it comes to his appearance. His body language is awfully the same no matter what emotion he is feeling at the moment, and his face stays in his normal
go away
state unless it changes. He has a firm build, not to muscular to notice and not to skinny either. Omar isn't perfect appearance wise and some could tell by the scars on his arms and it's not what you think. Omar's fashion can be rather plain. Some jeans and a button up, long sleeve, and open collar shirt. No earrings. No bracelets. As you can see he doesn't need to impress anyone because, he could care less about how he looked. This is Omar we are talking about here.
---
---
I don't usually fight but, I judge the victory on whether they are dead or not.
---
---