---
---
---
---
Raevyn Katherine-Yukimi Tsukino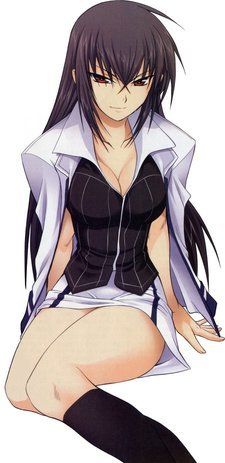 Nicknames
Raevyn-This is what most people call her. She is not really the type to give herself nicknames.
Rae/Rain-People who consider themselves her friends tend to take on one of these names.
Kathy-This is what her mother calls her. Katherine was originally her first name but she got it changed the day she turned 18. She kept it as her second middle name to appease her parents.
Kat-This is what Tatsuo insists on calling her. At first she disliked it but she now tolerates it. She doesn't let anyone other than Tatsuo use this nickname and she usually only gives one warning.


Age
19

Role
Female #5

Sexuality
Heterosexual

Face Claim
Momoyo Kawakami
---
---
Positive traits
Loyal
Rae would risk her life for those she cared about, possibly even further if she had to.
Perceptive
Rae is always paying attention to her surroundings, and to the way people act and react, and using the information she gathers as best she can.
Smooth Talker
Rae has a tact for being able to talk herself and others out of trouble.
Confident
Ever seen someone walk into a room like they owned it and everyone inside? That's Rae.
Caring
Rae can be an absolute bitch on a daily basis but when it comes to the times that matter she's there for someone.
Honesty
Though not all the time Rae is shockingly honest with those she trusts.
Intelligent
Though she doesn't openly flaunt it or use it in the best ways Rae is actually quite smart both academically and otherwise.
Negative traits
Sarcastic
Rae hates when people ask stupid questions and she isn't the type to mask her feelings so it's quite often that you'll hear a sarcastic remark come from her.
Blunt
Rae doesn't try to be considerate or caring if it gets in the way of being truthful or voicing her opinion.
Hot-Headed
Though she can usually control it, Rae has quite the temper and could lose her cool with the smallest comment.
Devious
Ever had one of those friends who is constantly coming up with perfectly horrible pranks? Rae loves causing and getting into trouble, especially since she can usually get herself out.
Manipulative
Rae like to use either flirting or intimidation to get what she wants.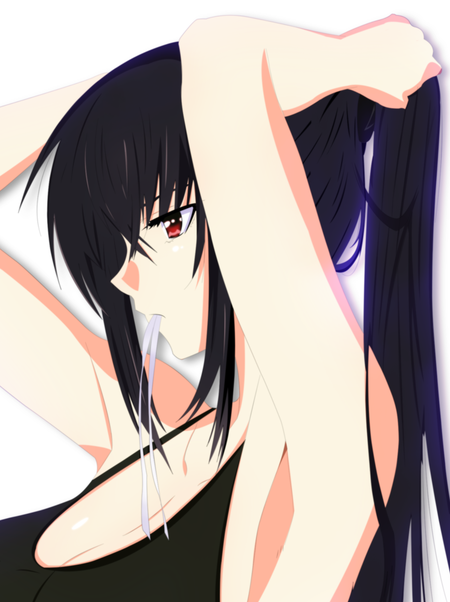 Bio
Raevyn grew up in a normal environment as an only child. Her parents weren't poor or rich, they lived in the city, and Raevyn was an only child. Though her parents didn't spoil her Raevyn was pretty active as a child, having started taking ballet classes when she was 3. Despite being constantly surrounded by a girly influence Raevyn grew up to be more of a tomboy. At 8 she asked her parents if she could start taking martial arts classes and they agreed on the condition that she continue taking her ballet classes, something she readily agreed to. When she was 11 Raevyn met Tatsuo by breaking up a fight between him and some older guy as she was taking a shortcut home. After that they quickly became close friends and shortly after meeting Tatsuo started teaching her how to street fight at her request. For two years they went on like that, her going to school, Karate, and ballet classes and spending every other spare moment with Tatsuo. Through their whole time together Raevyn constantly wondered why he didn't go to school and why he would ever bring her to hang out at his house. A few months after he stopped teaching her how to fight Raevyn followed him
Talents And Skills
Fighting
Dancing
Driving
Working on Motorcycles
Drawing
Singing
Fears
Thunderstorms
Heights
Being Alone/Stranded
Tight Spaces/Being Confined
---
---
Family
Mother
Catherine Hope Tsukino
Maiden Name- Van Allen
Father
Masato Tsukino
-Siblings-
Tatsuo Miyasaki
Family Description
Raevyn has an okay relationship with her parents. They get along well and since she's usually responsible and keeps her grades up she's allowed to do what she wants. She does keep a lot of secrets from them like the gang and her tattoos so they could be closer but she likes the distance.
Tatsuo is like an older brother and a best friend all wrapped into one package. Even though she's older than him Raevyn looks up to Tatsuo because as well as him always looking out for her he helped her get into the gang and he's the one who originally taught her how to fight.
---
---
Reason For Getting There
~Currently not Enrolled in the camp~
Likes
~Motorcycles
~Hard Liquor
~Dogs, Especially her own.
~Street Fighting
~Piercings
~Tattoos
~Knives
~Clubbing
~Ice Cream
~"Fixing" her clothes
Dislikes
~Authority figures
~Guns
~Pink
~Fish-Tatsuo's influence
~Arrogant People
~Being Underestimated
~Being Feminized
~Liars/Lying
---
---
Hair color
Black
Eye color
Purple
Tattoos/Markings
Two tattoos on the [url]right side[/url] of her
Ribs
, Uncompleted sleeve tattoo on her
Upper Left Arm
. Tattoo on her
Upper Right Arm
(Shoulder). Tattoo on the left side of her
Ribs
. Tatto on her right [url]Ankle[/url]
Height
5'9
Brief Appearance Description
WIP
---
---