---
---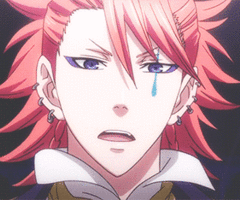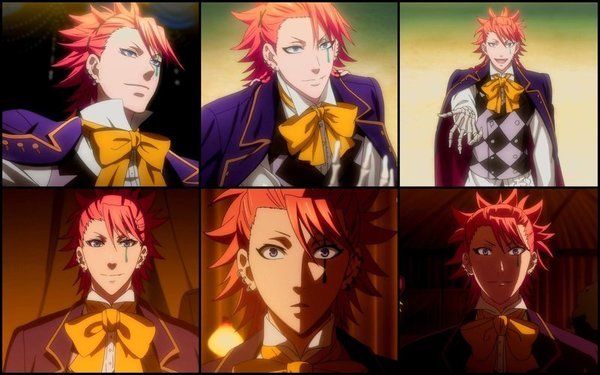 ---
---
Name
Renji Koyama
Nicknames
He always introduces himself as "Ren" so that's what people tend to call him, though some do still call him Renji. It doesn't really matter to him much about what you call him, though he doesn't like people calling him a pervert (he kind of twitches when they do).
Age
18
Role
Male 3
Sexuality
Heterosexual
Face Claim
Joker (Black Butler)
---
---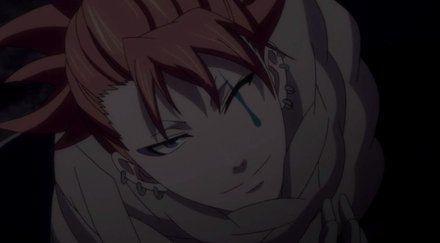 Positive traits
- Trustworthy
, he always keeps his promises, and he'll take your secret to the grave (even if it leads him there).
- Confident
, He has confidence in his own abilities despite whatever crap other people spout, and frequently wears a smile.
- Open
, he doesn't prejudge people and is very open to differences and listening to opposing ideas. By no means will he agree with you, and by no means will you change his mind, but he's always open to listen and consider.
- Observant
, No matter what's going on or how he's acting in the moment, Ren is always observing people. He watches their actions and their reactions in certain situations or to how certain things are said. Some people might see this as creepy or something (if they know about it) but he sees it as something positive, a way to survive, and (in some instances) a way to mess with people.
- Protective
, he tries not to form strong attachments, but when he does start to care for something, he puts his whole being into protecting whatever/whoever it is.
- Easy Going
, His confidence is balanced out by a somewhat layed back feeling which can make him seem more relatable and comfortable to be around.
- Kind
, He likes to see other people with genuine smiles.
- Curious
, this can be both good and bad, but he's always curious about things. His curiosity is one reason he's so observant. He wants to know how everything and everyone works and likes to figure people out, even though it can get him into trouble sometimes.
- Intelligent
, He's very smart, and would probably be at the top of his class if he didn't purposefully mark the wrong answers all the time.
---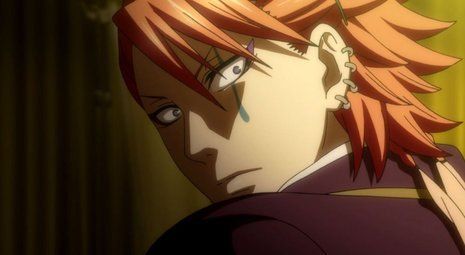 Negative traits
- Masking
, He tends to stuff, oppress, or mask his emotions (hate, sorrow, rage) and mental chaos so it's always reeling right underneath his skin. He's like a time bomb waiting to explode from behind his smiles and calm.
- Split Personality
, because of the masking (and other issues), it can sometimes seem like he has a second persona. Whenever his mask cracks, he becomes almost like another person, going from gentle smiles and kind words to cold glares and cruel words.
- Disconnected
, It's very difficult for Ren to form any genuine or lasting bonds with people. He's been let down and betrayed so many times that his natural defense is to block them out. He doesn't even realize he's doing it.
- Disturbing
, He has a strange fascination with blood, sharp objects, and fire, and also seems to talk to himself sometimes. He also has a tendency to try and freak people out/threaten them/mess with them by giving dark, in depth, and/or somewhat psychotic descriptions of things he might do/would like to do (which he
usually
isn't serious about... or is he?).
- Annoying
, He's a little mischievous and likes to mess around with people, so once he finds your buttons or that one things that annoys the heck out of you, he will exploit it as much as possible.
- Jealous
, This might be a tad unexpected, with his layed back tendencies and disconnection, but just like with how he becomes super protective once something's captured his heart, he can also become pretty jealous and childish once he starts to care.
- Distrust
, The boy has trust issues stemming from past betrayals, so though he'll accept you as you are, it takes a good while for him to trust you.
- Stubborn/Rebellious
, He hates when people tell him what to do or try to control him, and if it seems like you're trying to force your expectations onto him, he'll do exactly the opposite of what you want (it's one of the reason as to why he purposefully fails his classes)
Bio
((horrible, hor-hor-hooorrrible at Bio's. If you need more info on certain things or more detail in certain areas, or if something needs to be explained or revised, let me know. I get seriously vague halfway through, and it only gets vaguer))
"My life? Tch! Nothing special. It really sucks, actually. To this day the only person it seems my parents really ever care about is my older brother Keiji. All their hopes, all their efforts and praise... It was all pointed towards Keiji. No matter how hard I worked or how perfect I tried to be, it was never enough for them. I was always "the other" child that no one really cared about, looked at, or expected anything from. Doesn't matter that I was the youngest student to make it into the advanced martial arts class, or that my intellectual ranking was 2nd in the entire school. Doesn't matter how much of a "perfect child" I was according to other parents, because according to my parents I wasn't as good as Keiji, so I wasn't worth their time and attention. Pathetic. It's pathetic how much effort I put in to trying to make those people like and accept me. You'd think I hated my brother, right? Yeah? Well, wrong. Turns out, Keiji was the only one who seemed to actually care. Where it seemed to me that Keiji was the center of my parents world, it also seemed to me that I was somehow the center of my brother's world. Conceited little brat, wasn't I? He was always there for me. He didn't spoil me or anything, he simply accepted me and was just there, ya know? I could tell him anything, we could do stupid and crazy things together. When I did something right, he'd smile and ruffle my hair. When I failed at something I'd get either a sigh or a joke, and he'd just tell me to do better next time. He was a really cool and layed back guy. I thought of him as a friend, a rival, a brother, and sometimes even as a father.
Things started to change when I entered middle school and he entered high school. I don't know when the distance between us started to grow, but suddenly one day it was like we were strangers. He was never around, always out with friends. At some point, he and dad started having arguments. At some point, my dad started taking his anger at Keiji out on me, and I also ended up as the target for my mother's pent up frustrations. It's kinda funny, ya know? The people I so desperately wanted to pay attention to me, I now desperately wished they'd forget I existed. My brother didn't seem to have trouble with that, though. To him, I stopped existing. I became angry, and the anger kept building. I started getting into fights at school and on the street. One day, I crossed fists with the wrong guy. Don't get me wrong, I sure as hell beat the shit out of him, but what I didn't know or really care about was that the guy's brother was an important member of one of the city's gangs. Just two or three days later, the guy's brother and a few of the other gang members jumped me. I was able to hold my own for a while, but they overpowered me in size and number. Frankly, they beat me within an inch of my life before someone intervened. The person who saved and protected me was Keiji. The person who was lying in a growing pool of blood with a knife in his ribs was Keiji. The kid who couldn't stop shaking was me. What a worthless, useless kid I was.
That's when I got the scar across my eye, though the tattoo would come later, and that's really when it all began. My parents blamed me, one by one my friends betrayed me, and people started calling me a murderer. I blocked everyone and everything out. No matter what they said or did, I didn't respond. I felt numb, living within my mind with memories that wouldn't disappear. I accepted it. Yeah, it was my fault. Yeah, I'm a murderer. I get it, so shut up. Shut up! But they kept repeating it over and over again, and that's when you can say my mind started to shift.
The first time they called me Keiji, the first time my parents acted like Renji died and Keiji survived, my mind snapped. All I can remember feeling was a sudden and intense rage and hate. These people, I wanted to kill them. They started to try and force Keiji's identity onto me, and like hell they would. After my mind snapped I became almost a completely different person in personality and mannerisms. I started changing into who I am today.
Being around my family was suffocating, and being in school was irritating. I constantly did things to make my parents mad and to widen the gap between mine and Keiji's identities. I started purposefully failing my classes and screwing around. I took up different things like skating and drawing, and my life moved on, or so it appeared. There were two sides to my personality, and most people only saw the smiling and carefree side. Others, those who saw the second side, were either extremely good at reading people, or more times than not they were just extremely unlucky. Kind of like the guy I sent to the hospital in order to get sent to this camp.
---
---
---
---
Talents And Skills
•Skating (more specifically, blading): he loves the rush it gives, and it's just fun.
•Fighting: trained in the martial arts mainly for self defense purposes
•Has great reflexes and agility, probably due to his martial arts training
•Artist (mostly sketches and pencil drawings): drawing isn't just a skill or love, it's an escape, and an escape that stops the chaos of his mind and the world and brings him complete peace.
•Knife throwing/handling (ties in with his fascination for sharp objects as well as a time when he was younger and thinking about running away and joining a circus)
•Balance: He has a balance comparable to that of a tightrope walker (half because of training and half because of when he went through the wanting to run away to the circus thing)
Fears
•Losing Consciousness: It isn't necessarily a fear of losing consciousness, but the fear of being able to feel one's self lose consciousness. He hates being able to
feel
himself losing consciousness because it's like he can feel his brain shutting down or dying, and that freaks him out.
•Losing control and/or giving in to impulses and desires he feels he shouldn't (like those sudden, split second impulsive thoughts of things like throwing a brick at, poking, or stabbing someone).
•Dogs, though he won't admit it. He loves cats, but has a paralyzing fear of dogs.
•Someone getting too close to him.
---
---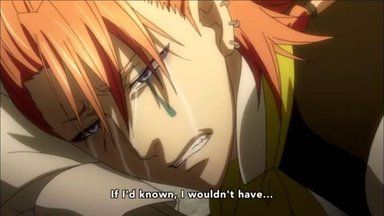 ---
---
Family
Mother
Mikoto Koyama
Father
Ryota Koyama
-Siblings if any-
Keiji Koyama (deceased brother)
Family Description
Renji has an absolutely horrible relationship with his parents. They don't understand him and are always trying to control him and his future. To top it off, they blame him for the death of his older brother, Keiji, and he's constantly reminded of the incident. He feels a lot of the time that his parents are trying to make him live out his life as if he were Keiji instead of Renji. It pisses him off, and whenever he's around them feels like he's going insane. The relationship between his mother and father is strained as well, so when he isn't dealing with them, they're usually dealing with each other. He avoids them and really avoids being home in general as much as possible.
The family in general is a middle, working class family with both parents working.
---
---
Reason For Getting There
Well, the first reason is because he's (purposefully) failing all of his classes. The second is that he recently beat the shit out of a guy who kept messing with him and pushed him too far. Ren's mask of calm and control not only cracked, but shattered. He snapped, placing the guy into the hospital and getting himself placed in handcuffs for a night.
Likes
-Messing with people
-Skating (aggressive and tricks as well as speed)
-Cats
-Fire
-Sharp objects (mostly knives)
-Watching people
-Coffee
-Spicy Food
-Music (most any kind)
-Independence
-Drawing
-Psychology/The Mind
-Thrillers, Horror, and Gore
-Balancing himself or inanimate objects
-Doing dangerous or risky things
-Motorcycles
-Leaning on shorter people's shoulders or head/Patting shorter people on the head (both more of a habit)
Dislikes
-Dogs
-Control Freaks
-Being told what to do or bossed around
-Betrayal
-Sweets and sugary stuff
-Sleeping/Going to sleep
-Judgmental People
-Clingy People
-Not knowing things
-Being called a pervert
-Others talking about his brother
-Going Home
-Teachers
-Being blackmailed
-Stuck up brats/Arrogant idiots who think they own the world
-Someone lying straight to his face
---
---
---
---
Hair color
Orange
Eye color
Purple
Tattoos/Markings
Has a long scar over one eye that he covered up with what he refers to as a long teardrop tattoo (as shown in pix).
7 ear piercings, four in one ear, three in the other
Height
6'1" (or about 185 cm)
Brief Appearance Description
He's of a tall and medium athletic build with purple eyes and long (for a guy) orange hair. He usually keeps his hair pinned back as shown in the above pictures with a few random braided strands with bleached tips. He appears to be a confident and easy going guy when you meet him.
---
---