---
---
---
---
Name
Rose Davis
Nicknames
Well, people tend to just call her Rose, but she's also been called things like Space Girl, Weirdo, and Rocker Chick. Space Girl because of how she's almost always daydreaming or zoning out. Weirdo because of her randomness and other things. Rocker Chick because, well, she was in a band and doesn't really want to do anything with her life but play music. Some people back home called her The Blue Rose because of her Tattoo, and it sort of became her stage name.
Age
17
Role
Female 3
Sexuality
Bisexual
Face Claim
Mizore Shirayuki
---
---
---
---
Positive traits
- Imaginative
: Rose is very creative and has a huge imagination (which can be both good and bad)
-
Easygoing
: She's pretty spacey, but because of that she has a pretty easygoing personality
-
Helpful
: If you ask her to do something, she'll most likely agree despite her laziness (as long as it isn't too physically demanding)
-
Positive
: She doesn't dwell on the bad things in life. She tends to ignore them really, which I guess isn't all that great.
-
Open
: She's very open to all kinds of different people and things
-
Daydreamer
: She had big dreams for her life, and doesn't care what anyone around her thinks of them
-
Agreeable
: She'll agree to and go along with most anything even if it seems stupid
-
Confident
: She's pretty naturally confident in anything she says or thinks, and she strives to do what she wants in life despite others' protests
---
---
Negative traits
- Spacey
: Rose tends to zone out and daydream a lot, which can cause problems every now and then for both herself and others (such as when she spaces out while she's wandering around and ends up getting lost)
-
Lazy
: She hates doing things (besides performing) that are physically taxing, and she can literally fall asleep anywhere
-
Irresponsible
: She simply lets go of things she doesn't care about... like her grades
-
Forgetful
: She sometimes isn't really paying attention when people talk to her, so she tends to forget things they tell her, like their names or maybe even plans they'd made together
-
Imaginative
: Though this is good, her imagination can sometimes run away with her, causing her to make up scenarios involving the people around her, which can be very annoying or troublesome
-
Random
: This isn't necessarily bad, but she asks a lot of "what if" questions, chimes into a conversation at random times, has random thoughts, and will appear or disappear randomly from people's company.
-
Rude
: She can be rude without really realizing it because she tends to just say or do whatever
-
Naive
: She's almost too trusting of people, which can get her into trouble sometimes
---
---
---
---
Bio
((Again, I am absolutely horrible at these! So if is confusing or needs more info. let me know.))Rose, from very early on, was very disconnected from her parents and, well, reality. Her mom is one of the very controlling types who already has her child's life planned out for them before they even enter kindergarten. For a lot of her life, Rose just floated along doing whatever her mom told her to do. While she went along like a little doll following her mother's wishes, Rose always felt like she was simply just there. She was simply just existing. Nothing more, nothing less. Her mom made all of her decisions for her, did all of the thinking for her, and Rose never questioned it. Rose was a quiet child who you would constantly find staring at nothing for hours, and she didn't express very much emotion. She was quite a stoic child, actually, whose mind was either blank or wandering. One day, however, all of that changed and the doll came to life.
She was walking through the house one day when she was about eleven when she came across her older brother (Nic) flipping through the TV channels. He was spread out across the couch, his schoolbag lazily thrown on the floor. Their mom was out of the house, otherwise he wouldn't be able to act like that. Mom and him would probably get into another fight when she got home. Rose had always thought he was strange. Why didn't he do what mom told him to do? He was always doing pointless things and always got into trouble because of it. But he was always smiling. Despite him always going against their mom, he was always smiling and laughing, kind of like he was now... Why? It didn't make any sense to her. When he noticed her standing there, he'd waved her over with a pleasant but somewhat awkward smile. He sat up to make room for her on the couch and she sat, staring blankly at the screen as he flipped through while trying to make conversation with her. She gave him short answers, not really saying anything, and finally he sighed, giving up and returning his attention to the TV. Not two minutes later, something caught Rose's attention and her hand shot out to point at the TV saying, "Back!"
Her exclamation startled her brother, so he was about to say something back that held some bite, but stopped short when he looked at her. His mouth hung open slightly as he saw his sister acting differently than he'd ever seen her before. Her free hand was gripping her skirt tightly while the other was pointing directly at the screen. She was leaning forward, eyes wide with a spark in them they'd never held before. When he didn't do anything she turned to him with an annoyed expression, cheeks puffed out in a bit of a pout. She pointed furiously at the TV, "Go back!" Again he didn't move, completely shocked at the show of emotion. Finally she simply reached over and swiped the remote from him, flipping the channel to a live concert. She was completely engrossed in it, almost like she was in a trance. When her mom got home, Rose ran to her with a huge smile and started talking nonstop about what she'd seen on the TV. Her mom was a little stunned at fist, but then got angry and told her that those things were a waste of time.
Her mom's response confused her and made her disappointed, but Rose was captured by the musical performance. About the time she saw the live concert on TV was when her imagination woke up and she began to daydream and such. It was like a switch that had been off inside of her was finally switched to on, and there was no going back. Rose's personality changed in the blink of an eye. She would sneak into the music room at school and mess with the instruments, amazed at the sounds she could create with them. She took an interest in drawing and writing as well, and she would both draw and write out what she would dream up. Music, however, was always the most important and what she most obsessed with. She found she had a talent for the arts, but her mother wasn't pleased. After a while, she stopped letting her mom's opinion bother her, and she stopped being mommy's little doll.
They started to get into fights, especially when she announced to her family at age 13 that she was going to have a music career rather than a business career. It annoyed and upset her that her mom was so hard set against it and gave her a hard time about it. Soon she stopped caring and kind of just disconnected from the situation and started to live in her own little world. Her and her brother became closer as she taught herself how to play the guitar, piano, and a lot of other instruments. He supported her while her mother did nothing put put her down. She started to do her own thing with her life, and rather than being the stoic little girl with nothing on her mind, Rose's mind was always going. Her emotions were freely expressed and it was hard to get her down. She was always lost in her thoughts or daydreaming, and people at school started calling her spacey and such. She didn't really mind it, and people seemed to like her better after the "switch" rather than before.
She stopped caring about her grades and school, and started to not pay attention and fall asleep, daydream, or doodle during class time. She started failing most everything, which didn't bode well at home, but she found school to be pointless. Why go to school and study when you're going to become a famous musician, performer, and artist? At 15 some people in her school formed a band and asked her to be a part of it. She gladly accepted, and became the lead singer and sometimes would play guitar as well. The band pretty much became her friend group, and they did all kinds of things together. One of those things ended up being getting tattoos, which set Rose's mom off. Rose went along with most of what they wanted to do, and they always had fun, sometimes Rose's spaciness being an entertaining factor between them. She helped to get them into trouble sometimes, too, though. They were really a close knit group, but then Rose's mom threatened to kick her out of the house and take all of her music and stuff away. She also threatened to hurt her friends and their families.
(Did I mention that Rose's family is rich and that her mom is a powerful business woman and politician?)
So to prevent all of that stuff from happening, Rose agreed to go to a camp thing.
PS. Rose became somewhat like a little animal after the "switch" (maybe like a little cat or a little dog or something?) in that she developed a love for physical touch in the forms of petting, cuddling, and some things more intimate. She's had a couple of intimate relationships, but nothing that's lasted.
---
---
---
---
Talents And Skills
-Sketching
-Writing
-Plays most musical instruments
-Sings
-Being able to fall asleep anywhere
-Good with pressure points and simple body manipulations (her brother, who is in the US marines, taught her)
-Spacing out
-Randomly appearing and disappearing
-Video games
Fears
-Losing her voice or having her music taken away
-Cats, dogs, and other animals that she's allergic to
-Confessing her love to someone
-Sometimes she can be scared of the possibility of something she's imagining coming true.
---
---
---
---
Family
Mother
July Davis
Father
Mark Davis
-Siblings if any-
Nic Davis (older brother by 4 yrs)
Family Description
Well, her family relationships are kind of strange. She adores her older brother, though hardly ever gets to see him because he's in the US Marines. Her mom is pretty controlling and wants Rose to give up music to focus on school and getting into college for a business degree. Her dad, however, is very similar to Rose in personality but tends to go along with whatever her mom wants. Other than that, Rose and him get along. Nothing that goes on in her family really fazes her, though, and she doesn't care about her mom's opinion, but the two females can but heads if her mom ever tries to take away her guitar, song book, notebook, or sketchbook.
---
---
---
---
Reason For Getting There
Well, she keeps falling asleep in all of her classes, which is causing her to fail, well, pretty much everything. That doesn't really bother her; she's more interested in music than school anyways. Having to drop out isn't a big deal to her, so she wasn't going to come to the camp, but her parents threatened to kick her out. She can't really survive on her own yet, and their insistence became annoying, so after they kept pushing her she agreed to go to camp.
Likes
-Music
-Daydreaming
-Sleeping
-Wandering around
-Being inside
-Nature (especially if there is a stream, or river, or the sea.. you get my drift, but she doesn't like animals because she's allergic)
-Video Games
-Following and/or Spying on people
-Physical touch/contact
-Hugging people
-Sweets (she always has a sucker in her mouth)
Dislikes
-Sports (takes too much energy and she sees them as pointless)
-Animals (she is allergic to most)
-Being cold
-People pulling away when/if she touches or hugs them
-Being embarrassed by people (which is easy because people can easily catch her off guard because of her daydreaming tendencies)
-Being accused of something
-Being blamed for something
-Getting lost (which is a probable occurrence)
-Spicy food
-bitter food
---
---
---
---
Hair color
She keeps it dyed a light purplish color.
Eye color
Blue/Blue-Violet
Tattoos/Markings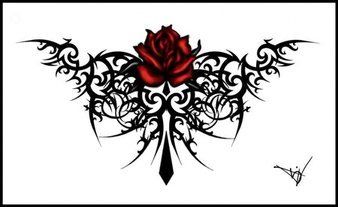 The diamond at the bottom of the tattoo is just above her tailbone. Also, the rose's color is blue rather than red.
Height
5'4" (164.592 cm)
Brief Appearance Description
She is short and petite, but with a curvy figure. Her natural hair color is brown, but she keeps it constantly dyed a light purple color, and she has blue/violet-blue eyes that accent the purple hair color. She has a layed back and comfortable, but somewhat cute style. She tends to dress somewhere between semi-modest and semi-revealing, give or take with your opinions on the two. Her signature look can be seen in her pictures.
---
---